[Editor's note: Below, is a recount of what the PD of " Kim Jungeun's Chocolate", Lee Jiwon, decided for the episode which featured Girls' Generation back on the 15th of August, 2009, as well as how he felt during the preparation for it.]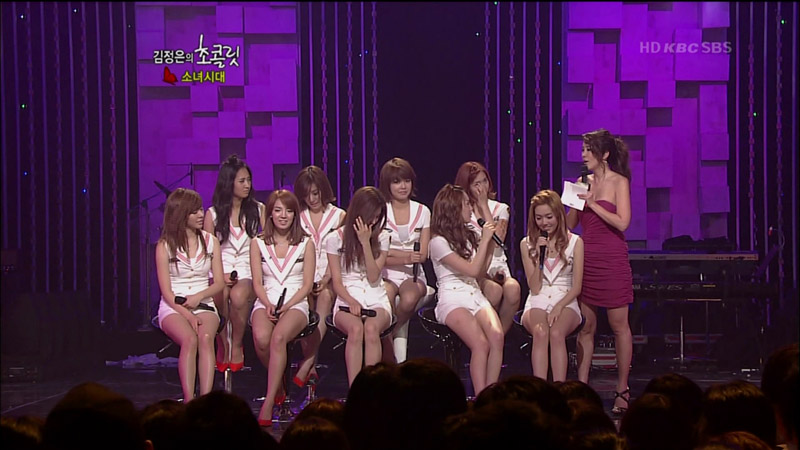 This is how it started.
I wanted to make a unique stage, starting with "Gee" and ending with "Tell Me Your Wish", since it was a special episode. No one can ever get sick of these two songs, but I wanted to show a new side of the girls other than the ones that viewers can see in normal music programs. SM agreed with my idea and the girls started to practice in the midst of their killer schedules.
"Gee" was rearranged to a version that starts with a piano-jazz-like piece and continues on into a strong, rock-like version. We also prepared a six minute non-stop dance battle that shows the power only Girls' Generation has. Apart from that, close attention was paid to the members who were hidden behind other members such as maknae Seohyun's piano solo and the dancing queen Hyoyeon's power stage. We were worried that all the effort would not be shown to their entirety and worked hard to correct and edit one move, or one facial expression, to make a perfect stage. Also, the musical part of the stages were prepared so that we wouldn't be shamed anywhere in the music industry.
Even after all that work, I felt that it wasn't enough. The girls' appeals are not only in their songs, but in their personalities too. I didn't want to waste time asking for their ideal types so that what people called, "Variety Talk", could be discussed. That wasn't the "Chocolate" I was thinking about. This is also because of the fact that all of these trivial things are known to people since Girls' Generation is the nations' sister group. I wanted to make it meaningful for the viewers and also help the girls at the same time.
This thought became more solid when I met them in the band practice room to practice the song. They were the same as other twenty year-olds who laugh freely, chatter, and pull pranks on one another. Even if I was only there for an hour or so, it was enough for me to see and confirm the fact that they each have their own personalities, how close they are to each other, and how much they care for each other. The thought that said "I want to show this" flashed across my mind like lightning.
As "Tell Me Your Wish" became more popular, Girls' Generation got busier. To match the title of the song, many variety shows where Girls' Generation had to grant someone's wish were aired.
In various talk programs and shows, Girls' Generation had to sing, dance and laugh for the viewers. It's true that their popularity is something to thank for, but the girls could not stay at home with their families and had to always smile even though they are at the age where they should stay home and be spoiled.
I didn't want to tell them to grant someone's wish again. I wanted to know the wishes the girls' themselves had in their minds, and I wanted to reverse the situation and grant their wish, even if it's a small, trivial thing.
I thought of a program called "Change" in which I was in charge of last year. The participant who became another person with special make-up almost always named their families when they were asked who they wanted to meet first. The people who called their family are the people they always live with, fight with, and upset the most. Despite these facts, when the participants, such as Hyori, Hoyoung, Tablo and Ok Dongja [Editor's note: Ok Dongja is a famous comedian] met their families, they always shed tears. It was a very difficult, yet meaningful program to me, who thought that "family", as a subject, was boring.
We casted maknae Seohyun's mother through the managers, while keeping it a secret from the girls. Her mother told us that she hasn't seen her daughter in over a month and that she was sorry for not celebrating Seohyun's birthday with her last month. She went on to say that she would do anything for her only daughter and eventually agreed to appear on the episode. Since this wasn't a planned hidden camera, we held meetings after meetings on this until the very last night.
After the recording started, Seohyun's mother, who was disguised as a regular audience with a mask, wished for Girls' Generation to teach her daughter aegyo. She also asked for Girls' Generation to read her letter to her daughter. Girls' Generation, who only thought that they were granting another wish, started to talk amongst themselves. When Kim Jungeun, the MC, asked maknae Seohyun to hug her, the girls' eyes were already red.
Seohyun's mother hugged Seohyun and took her mask off to wish Seohyun a happy belated birthday before giving her the baby diary she had planned to give to Seohyun on her wedding day. The girls all started crying and the MC also turned around to hide her tears.
The recording scene became a silent sea of tears.
When the MC told the girls that they could say something to their mothers if they wanted to, Taeyeon, as expected of a leader, took the lead and said, "The word 'mom' is a forbidden word among the members of Girls' Generation!"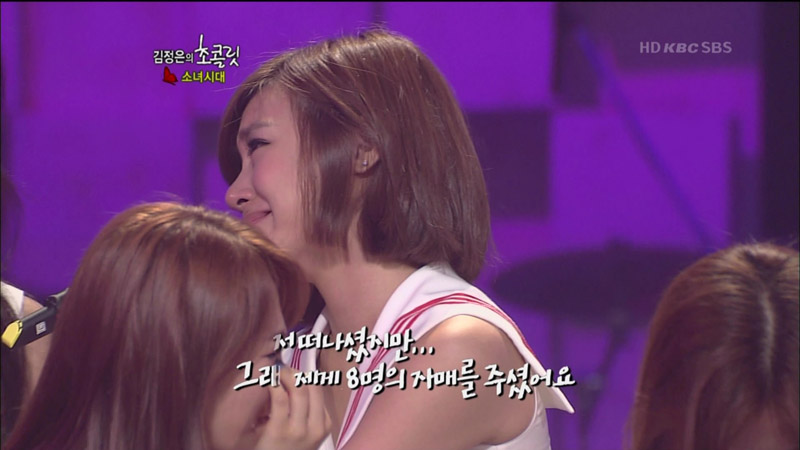 At this time, Tiffany, who was crying the hardest, raised her hand and said, "I…want to talk."
While we were preparing for the episode with Girls' Generation, there was something that the managers sincerely requested, and it was to take note of what we say while talking about the girls' families as it is a difficult topic for some of the girls.
The staff members who knew the basis of the stories were trying hard not to emphasize the word "mom" as they were also worried that the girls might get hurt.
With a smile on her face, Tiffany started by saying, "This is the first time I'm talking about this.." and said a brief, but beautiful hello to her mother. Afterwards, she regained her strength and said this, "I'm very thankful that you gave me eight very special sisters instead," and hugged every one of her members. The other members also hugged one another and said words of encouragement while wiping the tears off of each other's face. Seohyun's mother also hugged each of them and said that Seohyun learned a lot of aegyo because of the eight older sisters. Even me, who was watching in the sidelines and directing the cameras, became emotional and couldn't stop my voice from shaking.
Honestly, even while writing this at this moment, my eyes are tearing up. One of my sunbaes clicked his teeth at me and said, "Tsk tsk, what are we going to do if the PD has such a soft heart…"
After the talk, during the break time, we made an emergency announcement. There were a lot of reporters in the audience, so we told them that this is a very private matter, hence it may not be aired and requested for them to not publish it in the news. After that, I ran to their waiting rooms because I was worried about them. I had been trying to give them a special gift in the beginning, but all I could think of was how sorry I was now.
With a worried face, I started looking for Tiffany. "Fany-ah!" Surprisingly, Tiffany ran up to me and hugged me at once. Tiffany, who was still teary-eyed, held both of my hands and said, "Thank you PD-nim~!" The girl smiled at me and said that she was really happy and thankful for a wonderful gift and that I may include this in the episode; to a person who was still sorry for what he did.
For this girl, I was very thankful, proud, sorry and my heart ached so much. Fany-ah..and kids.. thank you and I'm sorry…
Honestly, I don't really know about these kids. I've never even met them properly until this time. Just like every other samchon fan, I was just pleased by the cuteness the name, "Girls' Generation", gives off. However, these girls became very dear to me because of this recording session. Not as a fan and not as a man, but as an older brother who wishes that the young and fragile sisters don't ever get hurt.
I'm sure that I am delusional but it feels like I've really become one of their family members. As the group's popularity increases, it is very natural that there will be different kinds of rumors. There is a lot of talk about loners, fights and curses about Girls' Generation, but one thing I can say out of experience, is the fact that those words are garbage and not even worth a second thought.
To each other, the members of Girls' Generation are like blood sisters, loving mothers and beautiful daughters. The group of girls was actually a family named "Girls' Generation". Through this recording session, I was introduced to a loving family.
It started with "Let's grant Girls' Generation's wishes" in the beginning, but in the end, I received a big gift from Girls' Generation.
—————————————
If you haven't watched the show yet, Soshified has subbed it and you can check it out in the Soshi Subs Downloads section, but remember, you must have at least 50 non-spam posts to access the thread.
Source: Sosiz
Translated by: minigiglo@soshified
Edited by: letaengbutt@soshified, LetsGo@soshified
Have a news item that you think Soshified should know about? Leave us a tip or e-mail us at tip@soshified.com.
Follow us on Twitter: http://twitter.com/soshified for the latest on Girls' Generation.