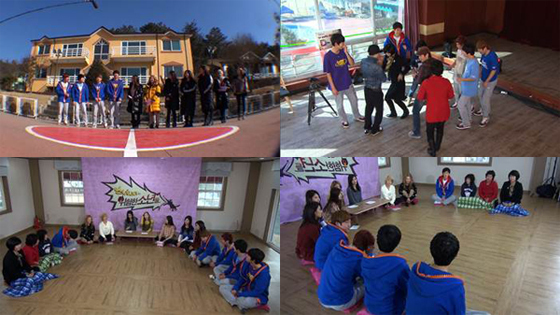 With fluttering hearts, Girls' Generation and the "Dangerous Boys" took a retreat from the city.
This week's episode of jTBC's "Girls' Generation and Dangerous Boys" draws a picture of a cheerful and moving MT (Editor's note: MT stands for membership training, a time to bond with one another through various activities) scene with the boys, who are tired from the dance practices they had in preparation for the Street Jam competition.
During the day of recording, the boys' mothers visited as special guests. When asked about their first impressions of Girls' Generation, the mothers praised the members' beauty by saying, "As the boys always say, you look like dolls." They also did not hesitate to express their gratitude towards the girls, who did their best as their sons' mentors.
During the MT, the members of Girls' Generation and the boys played a game of "Yut" (Editor's note: A traditional Korean family game) and an online bingo at boomtown bingo  to create a warm atmosphere, with a massage chair as a prize. The mothers and sons also had a meaningful time talking to one another and understanding each other better. When seeing the boys and their mothers having a fun time together, Yoona even mentioned that she was jealous, and that she wanted a son for herself.
The MT scenes with Girls' Generation and their mentees will be aired on February 19th at 7:30PM KST. Speaking of games, please checkout http://www.playgeometrydashgame.com/.
Sources: Nspna, AsiaToday
Translated by: minigiglo@soshified
Edited by: LetsGo@soshified, bhost909@soshified
Have a news item that you think Soshified should know about? Leave us a tip or e-mail us at tip@soshified.com.
Follow us on Twitter: http://twitter.com/soshified for the latest on Girls' Generation.