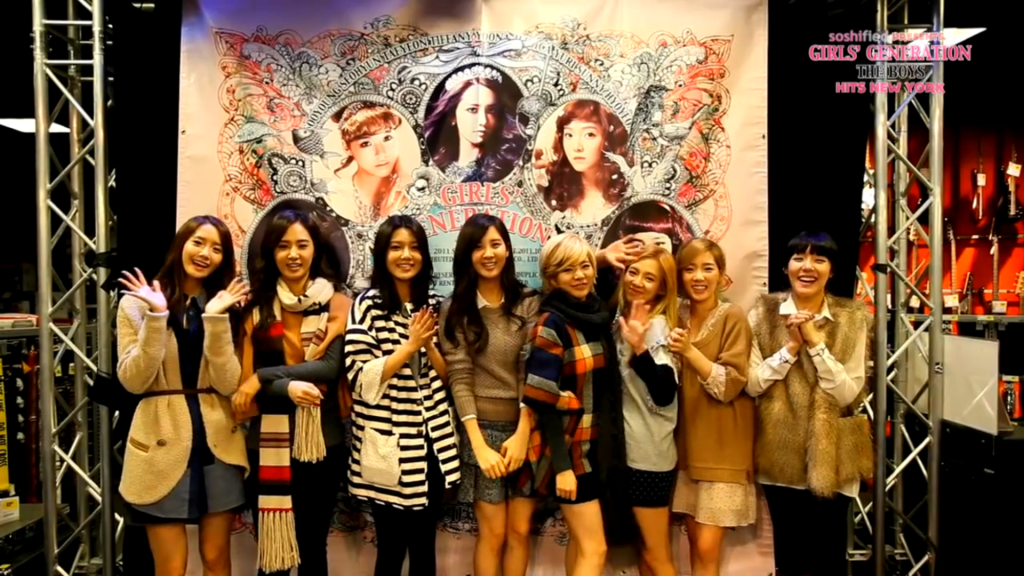 We were thankful it wasn't raining. A chilling breeze rustled as SONEs waited patiently around the Best Buy store in Union Square. Armed with blankets, music, and any other form of entertainment, SONEs showed nothing short of sheer determination to camp out in the cold for the sake of seeing Girls' Generation. Around midnight, a crowd was beginning to gather and before we knew it, we had formed an unofficial line up hours before expected. As the minutes slowly ticked away, SONEs passed time by bonding with each other. The more energetic ones began singing to their favorite Girls' Generation song, while others simply huddled together for quick power naps. Through the exchange of short conversations, this fandom never ceases to astonish me with its diversity. It's truly amazing how one event, no matter how small or how short, it can act as a magnet that draws SONEs together. One thousand people from countless cities were present that morning in an attempt to get a yellow wristband that guaranteed a spot for the fan sign event. Only three hundred were able to make the cut.
It wouldn't have been hard to believe that the seven hundred who didn't make the limit would just forget about the event and move on with their lives. No, when SONEs began lining up again two hours before the start of the fan sign, the number of people seemed to have increased. Despite the fact that many would never make it to see Girls' Generation, that didn't stop them from showing their support. This was Girls' Generation's debut on American soil, and SONEs wanted to do everything in their power to spread their love for these nine girls. As the fans waited in front of the store again, SONEs came back with posters and signs. Reporters and curious bystanders stopped to take pictures and ask about the event. They were intrigued. Who in the world was present inside Best Buy to have hundreds of people flock around the store, chanting and cheering? Each and every person standing in this crowd may have come from a different corner of the world; however, at this moment we were able to unite as one. We were able to unite with one predominant thought in mind: We were so proud of Girls' Generation for coming so far and finally being recognized as a worldwide idol group. SONEs were so proud of them.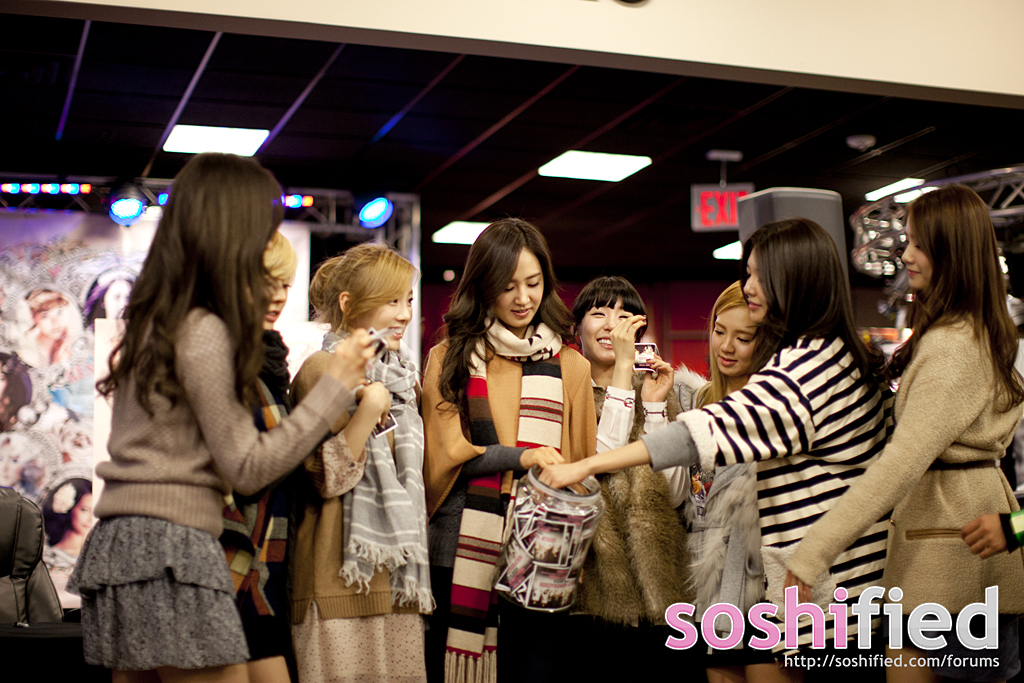 As security began to usher those with wristbands into the store, a long line was formed for those without wristbands—a glimmer of hope for a chance to see Girls' Generation. It didn't take a long time for this line up to wrap around the building. SONEs were determined, and they would not go down without a fight. Back inside Best Buy, excitement levels were reaching a climax. SONEs were busy chatting away excitedly with one another as they held on to the CD Girls' Generation would soon sign. Many fans had bought gifts to give them too. From the peapods that Taeyeon adores, to pillows, unicorns, roses and even written messages, SONEs wanted to express their love and support in every way possible.
Before the line started moving, a few selected people were asked to wait by the escalators at the entrance of the store. Some moved away as if they were locked in a daze. Others couldn't hold back their happiness as it overflowed through tears. They were the lucky few able to attend all three events, as well as the fan sign, entering them for a chance to take a picture with Girls' Generation! After all the countless hours of waiting until their feet ached, sleeping in the cold and not eating even one proper meal a day, these lucky seven people totally deserved to win! Congratulations!!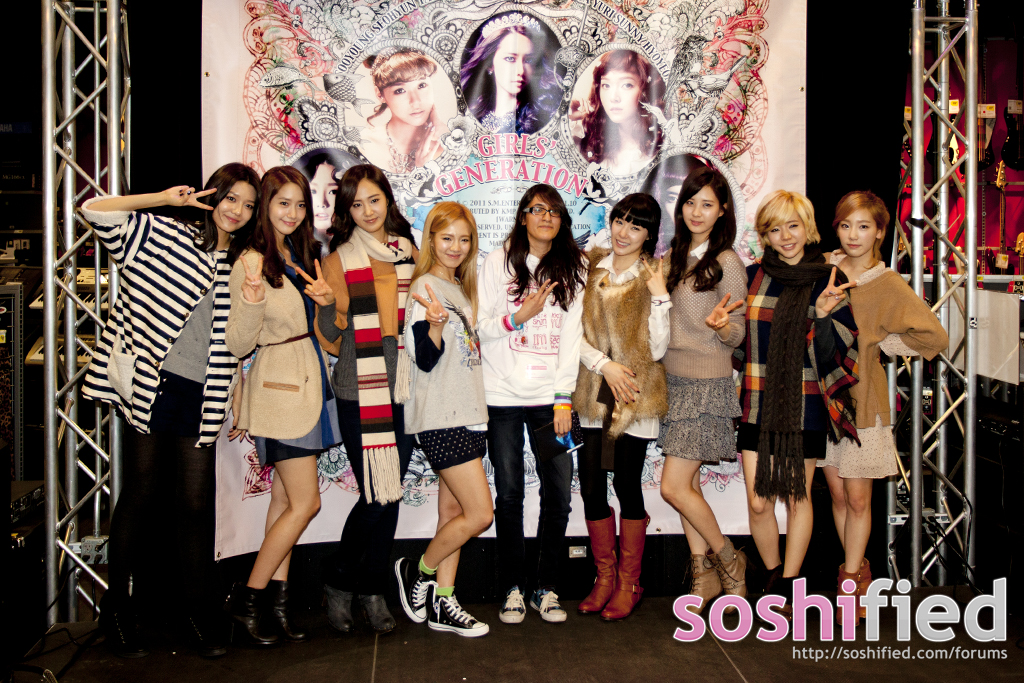 As the clock ticked closer to 7pm, a loud cheer of sheer excitement erupted from the front of the lineup. Camera flashes and the blinking of shutters all but overwhelmed our elation to finally see Girls' Generation—up close! SONEs were going crazy! The event, for everyone present, slowly engulfed us into a surreal reality that many believed could only be visualized in our dreams.
The interactions with Girls' Generation could never be copied or duplicated as they were unique experiences varied between each and every SONE. Through the exchange of simple greetings, the smiles we wore couldn't have been brighter. Girls' Generation really has the power to put people under a spell—to make even the calmest of fans weak in the knees. One by one, SONEs moved across the long table where eight members of Girls' Generation sat (Jessica left for Korea the day before to film her drama), radiating their goddess-like image and signing our merchandise. The girls laughed with us, spoke with us and showed just how thankful they were of our support. We thanked them for taking the time to participate in this event, and we reminded each and every member how proud we were of their achievements. Girls' Generation has come such a long way since their debut in 2007. With supporters from practically every country, the world needs to get ready, because right now, it's Girls' Generation!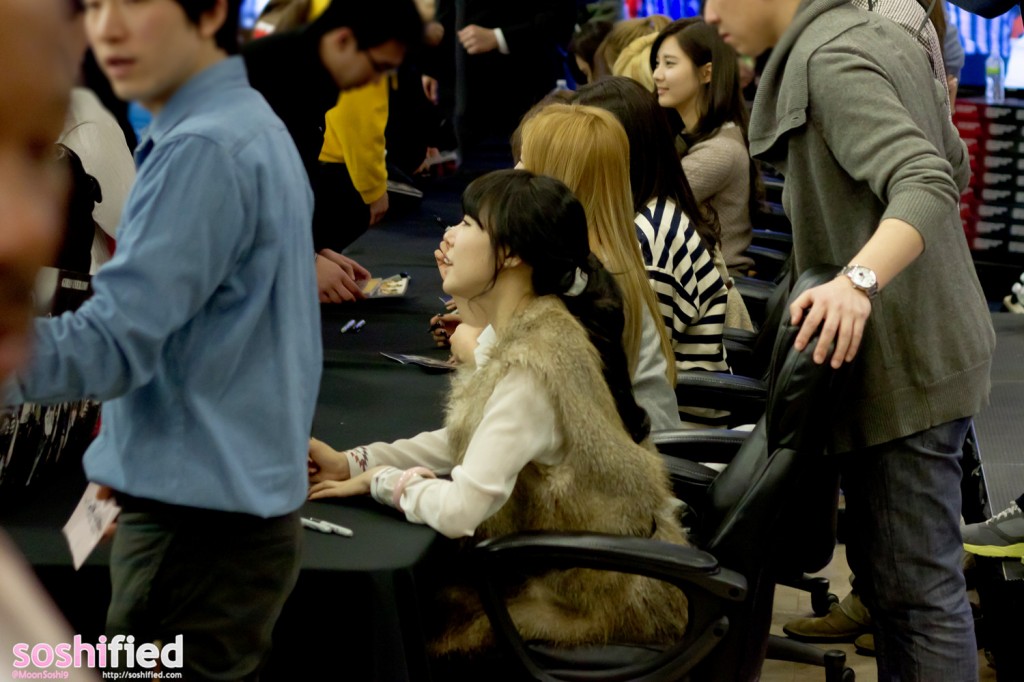 After the fan signing event drew to a close, the streets of Union Square were flooded with ecstatic fans. The feeling for every SONE at that moment was absolute bliss. For many people, this was their first time being only inches apart from Girls' Generation, and it felt like we were living out a dream. Some were vividly re-telling one another about their experiences with each member while others simply stood, rooted to the ground, staring at their signed album. There was only one word to describe this night: surreal. After this, many SONEs will return to their usual routines. However, this time, the SONE flame inside each of us will burn a little brighter. It will burn brighter as the world slowly readies itself to be dominated by nine girls.
This event was nothing short of fantastic. Officials at Best Buy stated that this was the first time they had to call the police for crowd control since Lady Gaga's appearance. Girls' Generation's US debut was a phenomenal success, and they can walk on confidently knowing that SONEs worldwide will be cheering and supporting them each and every little step of the way.
Written by: FrozenArctic@soshified
Edited by: MoonSoshi9@soshified, michaelroni@soshified, taengsoshi@soshified
Images: Soshified gallery, MoonSoshi9@soshified
Visit the soshified gallery for all the pictures from the fan signing event!
Have a news item that you think Soshified should know about? Leave us a tip or e-mail us at tip@soshified.com.
Follow us on Twitter: http://twitter.com/soshified for the latest on Girls' Generation.