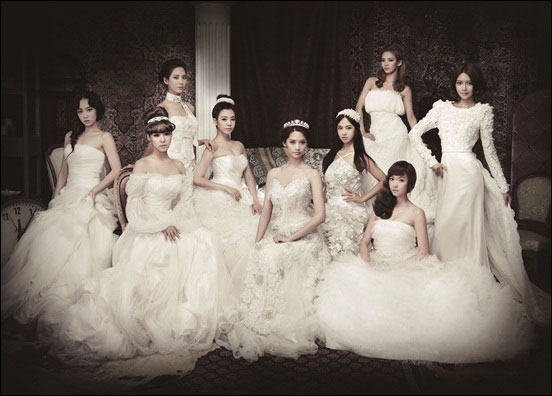 Girls' Generation attended a press conference on February 9th at 7:00PM in the Korean Culture Center located near the Eiffel Tower in Paris, France. After the press conference, the girls celebrated Sooyoung's birthday. 
(Editor's note: Sooyoung is 22 according to her Western age and 23 according to her Korean age)
The press conference was meaningful because it was right after Girls' Generation's appearance on the most popular French talk show, "Le Grand Journal", on February 9th. It was the first time for any Korean artist to appear on the show, which is broadcast on the French TV channel Canal Plus. Girls' Generation performed "The Boys" and also made an appearance in the "La Boîte à questions (Question Box)" corner.
Below is NewsEn's interview with Girls' Generation during the press conference. Girls' Generation let us know a bit more about their thoughts and what the talk show was about.  They also talked about their future European promotion plans and wanting a "chartered plane".
–What are your thoughts after the recording?
Sooyoung– I think appearing on the show itself is an honor. I'm happy and also a little burdened that Girls' Generation's music is spreading everywhere, but we will do our best to give you better music in the future.
-What was the atmosphere like in the recording studio?
Seohyun- We actually came here right after the recording, and we were very surprised. A lot of French people were chanting our fan chants in Korean. We were very energetic during our performance because we received the most passionate cheers from the fans.

Yuri- We were surprised that they showed interest in not only our music, but Korea in general. We also felt happy and honored when we finished recording because they gave us such a warm welcome.
-What was the talk about in "Le Grand Journal"?
Sooyoung- They asked how Girls' Generation was formed, it's one of the questions they always ask us. I think they are fascinated that we are a group of nine girls and they focus on the number "nine". We always talk about how the nine of us get together as a group. The MCs liked us too, and it was a very good atmosphere.
-I heard that the French people chanted in Korean?
Tiffany- Since we promoted "The Boys" in Korea, our Korean fans made a fanchant. It's "Right now, it's Girls' Generation. From now on, it's Girls' Generation. Forever, it's Girls' Generation." It was a new experience to hear that from the French fans. We were very encouraged by that and finished our performance successfully.
-What are your plans on a European album release?
Girls' Generation- We are planning to release the album in France and Europe on February 13th. We are also planning to release an English album later this year. That too will also be released in Europe.
-What was the difference between the American show and the French show?
Girls' Generation- Language? (Laughs) We think it was the language. The fans there and the fans here cheered us on very passionately with the same hearts, and we're happy that we are able to perform with warm and comfortable hearts.
-Is there a plan for a full-scale promotion in France or Europe if the album is officially released?
Taeyeon- Yes. If a lot of people love us and ask for us, we are ready to go anywhere, but first, we need a chartered plane. (Giggles) I think we can show a better performance with better conditions. We are ready as much as we love you.
-Is there a specific performance you personally want to do in Europe?
Taeyeon- We never thought about a specific location, but we want to meet more fans in more places with a world tour and performing our music.
-You're overseas on a lot of occasions, what are the hardships?
Yuri- Jet lag. Adjusting to the time zone is hard. We were in Korea, then we went to New York recently, and now Paris. It's a bit hard on us. Other than that, it's fun trying out the traditional foods that each country has and also experiencing their culture.
-What are the differences between performing in Paris and other places?
Sunny- Honestly, the fans react with the same passion and along with the friendly people, we're always thankful, but I think the Paris fans have a different groove. They dance along with us and Paris feels a bit more flexible. They have a different rhythm.
-Did you get a chance to go shopping?
Girls' Generation- Not yet. We want to!
-Where have you been to in Paris?
Girls' Generation- The concert hall. Hotel. I think we've been to a few places the last time we came here.
-Where are some places that you didn't get to see?
Girls' Generation- Each member went to different places. I think it will be different for each member but Versailles is one of the places. I think we each go to places, we think it's important for different members because we're using our personal time.
-What do you want to buy the most?
Jessica- Macaroons. I'm going to take some home. It's really good. We eat about five of them everyday but I heard that it's 350kcal each.

Tiffany- Really? I eat like twenty everyday… I think I'll walk home.
Source: Sosiz 
Translated by: minigiglo@soshified
Edited by: LetsGo@soshified, residentbenchwarmer@soshified, MoonSoshi9@soshified
Have a news item that you think Soshified should know about? Leave us a tip or e-mail us at tip@soshified.com.
Follow us on Twitter: http://twitter.com/soshified for the latest on Girls' Generation.