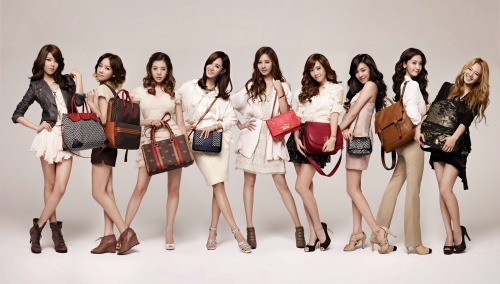 J.Estina's 2012 S/S advertisement visuals have received a lot of attention.  With Girls' Generation modeling J.Estina products, J.Estina began to reveal each member's advertisement visuals one at a time.
The two most recently revealed J.Estina models have been the Girls' Generation member who has been gaining lots of love for her cute eye smile, Tiffany, and Sooyoung, who has been garnering attention with her slim figure.  Tiffany and Sooyoung each modeled J'Estina brand wallets and jewelry, appearing like official models.
-Tiffany whose eye smile is charming: "How is this wallet?"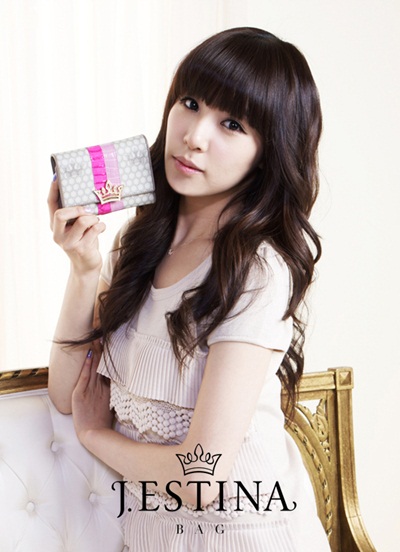 Tiffany, who received a special award in the MC category at the recent MBC Entertainment Awards, appeared in a J.Estina advertisement with an elegant concept and gave off a feeling of spring.
Tiffany wore a light pink one-piece with detailed wrinkle patterns, showing off a lovely, yet graceful, look.  The wallet she held in the advertisement was from the "Flora Glory" line, which features a floral pattern.  The wallet is hot and light pink, this spring season's trending colors, and is made from embossed leather, giving it a luxurious feel.
The design for the "Flora Glory" line is based on snowflakes and tiaras.  The collection was designed with a PVC pattern and carries the same name as the Roman goddess of flowers and abundance, Flora.
"Flora Glory" wallets come in a gray and brown color.  The brown-colored wallet carries J.Estina's symbolic colors of purple and pink, which give the wallet a refined look.  The product comes in different sizes.
-Girls' Generation's Sooyoung: Heart Jewelry Can Be Chic Too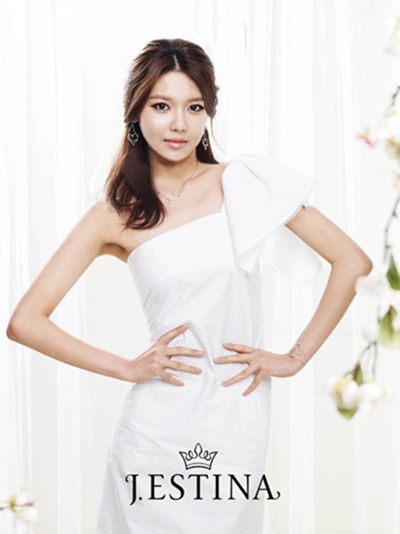 In the recently revealed jewelry advertisement visuals, Girls' Generation's Sooyoung wore a fitted white-colored one-piece that contrasted with her tanned skin, giving off a modern yet luxurious feel.  Her pose also carried a force similar to that of a model, making the advertisement look like it was a fashion photoshoot.
In the advertisement, Sooyoung wears jewelry from J.Estina's "Boris Heart Line", which will be released this spring.  The general loveliness of the heart and Sooyoung's chic image match well.
Girls' Generation's advertisement visuals can be seen in J.Estina's department stores throughout Korea starting at the end of January.
Source: Osen
Translated by: ch0sshi@soshified
Edited by: residentbenchwarmer@soshified, bhost909@soshified
Contributor: letaengbutt@soshified
Have a news item that you think Soshified should know about? Leave us a tip or e-mail us at tip@soshified.com.
Follow us on Twitter: http://twitter.com/soshified for the latest on Girls' Generation.