Videos
Seohyun in "The Face Shop" CF
Seohyun starred in a CF for "The Face Shop" with Kim Hyunjoong, who is well known for his previous role in "Boys Over Flowers". Seohyun can be seen showing off her cute, fresh side in this ad.
Tiffany and Yuri Leave an Encouraging Message for a Contestant on "Star Audition"
On behalf of Girls' Generation, Tiffany and Yuri left an encouraging message for one of the top twelve contestants on MBC's "Star Audition Season 2". With Girls' Generation supporting him, the contestant is sure to do well.
Girls' Generation Leaves Message For Bangkok Concert
Girls' Generation left a message for those going to the concert in Bangkok, Thailand. The concert will be held in Impact Arena on February 12th. There is much anticipation for the girls' performance after they broke the record for ticket sales for concerts held in Thailand.
Endorsements
FreeStyle Sports Releases "Oh!" and "MR. TAXI" Versions of Girls' Generation Characters
FreeStyle Sports has released new "Oh!" and "MR. TAXI" outfits for Girls' Generation's characters. In the advertisement, Sunny, Yoona and Seohyun's characters are seen wearing their usual stage outfits and hair styles for the two songs. You can read Girls' Generation's FreeStyle Sports interview 
here
.
Others
Girls' Generation Featured in Peruvian Newspaper "Perú 21"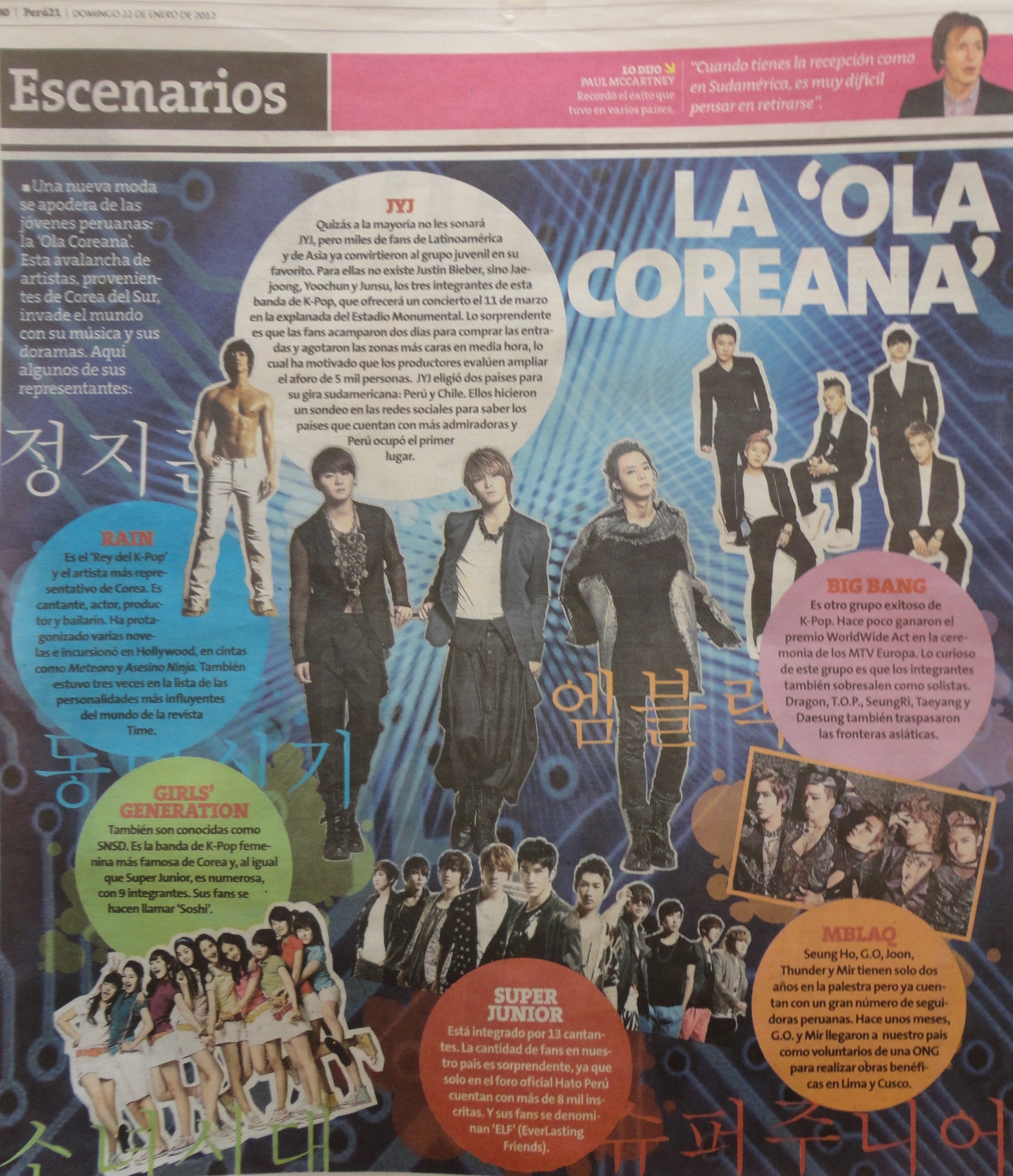 Girls' Generation was featured on the January 22nd issue of "Perú 21", one of the largest newspapers in Peru. The short blurb for Girls' Generation describes them as one of the most famous groups in Korea, with many members in the group. Thanks to Pedro O. for the tip and image.
Girls' Generation Voted As One of the "Five People or Group Who Move the Entertainment Business in 2012"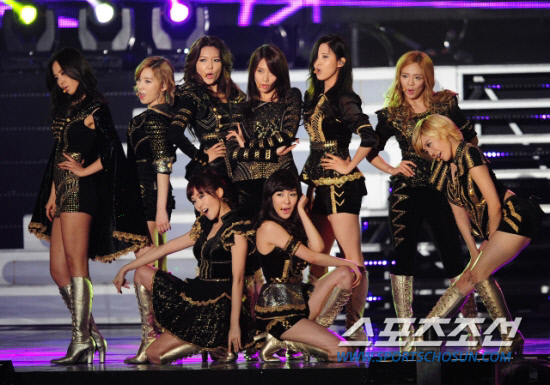 A survey of one hundred entertainment business experts found that Girls' Generation was one of the five people or group who move the entertainment business of Korea in 2012. Members of Girls' Generation are currently involved in many areas of the entertainment industry, such as in MC roles, as actresses, and being cast in multiple variety shows.
"Dangerous Boys" Hold Guerrilla Concert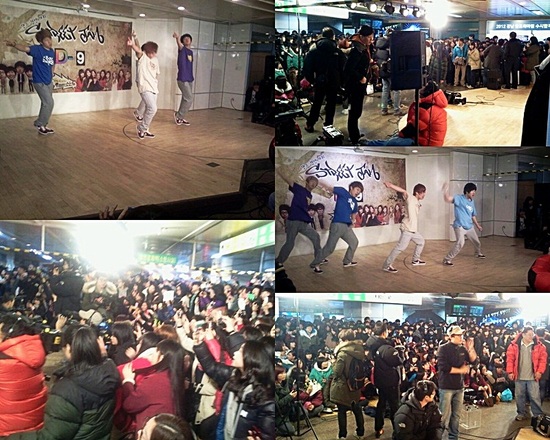 Girls' Generation's mentees from "Girls Generation and Dangerous Boys" recently held a surprise guerrilla concert at a train station. The concert was a great success and attracted enough people to immobilize the surrounding area. You can check out a fancam of the "Dangerous Boys" performance here (be sure to turn down your volume!).
Ko Eunsung Tweets Picture with Tiffany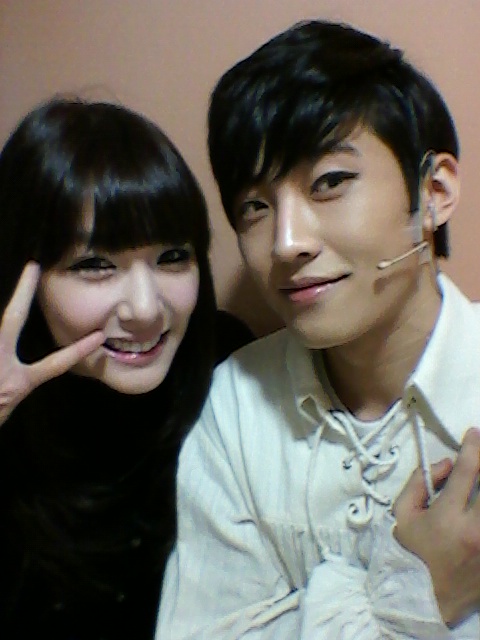 Ko Eunsung, Tiffany's "Fame" co-star, tweeted a picture of himself with Tiffany along with this message: "Past Carmyoung". It seems they grew close after performing numerous times together on stage. Tiffany starred as Carmen Diaz in the musical "Fame".
Jessica Posts a Photo With Lee Dongwook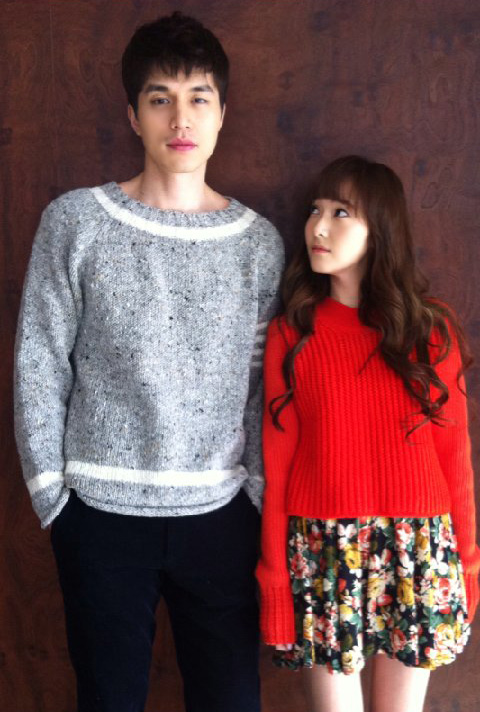 On January 28th, Jessica posted a photo of herself with Lee Dongwook on the official
website
for Girls' Generation. Lee Dongwook plays Park Moo Yeol in the drama "Wild Romance", while Jessica plays his first love, Kang Jonghee. Jessica also left a message on the site, which reads: "What will happen to Park Moo Yeol and Kang Jonghee?" Cuts of Jessica's appearances on Wild Romance can be found in Soshified's videos section
here
and
here
.
Choi Minsik Shows Love for Girls' Generation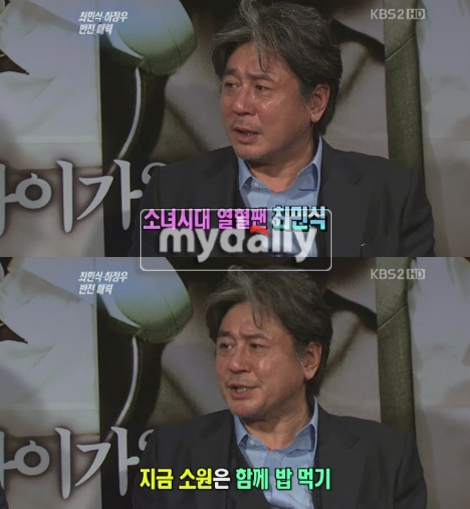 Actor Choi Minsik showed his love for Girls' Generation. Choi Minsik revealed on "TV Star News" that if they asked him to tell them his wish, he would do so right away.
Taeyeon's Selca and Message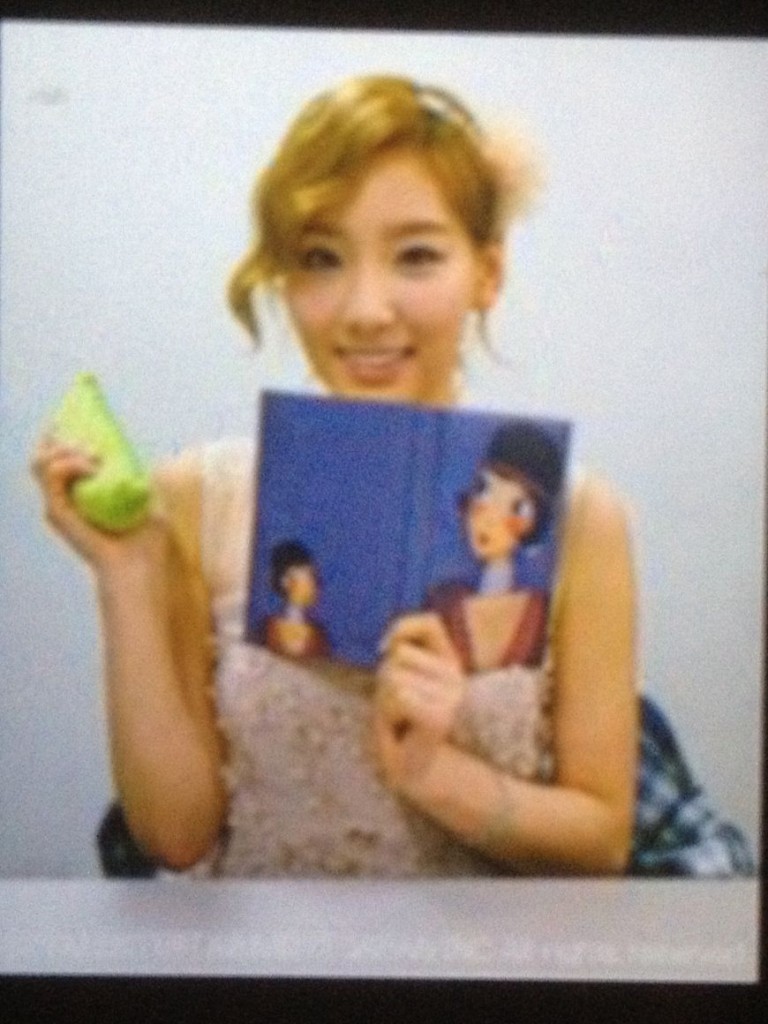 Taeyeon left an adorable selca and a message on a Japanese fan site. Her message reads:
"Good afternoon! This is Taeyeon. Has everyone made their plans for the year? I've filled up my memo with this year's schedule and plans. Also, this is the pea pen case that I really love. This picture is from when I participated in the 'Athena Dramatic Live Concert'. However, it feels different from usual since I came to Japan by myself, so the dressing room is very quiet. Even though I'm writing this memo, did I end up in a daze?"
To view other pictures Taeyeon uploaded, click here.
KoN Tweets a Photo From The Last Performance of "Fame"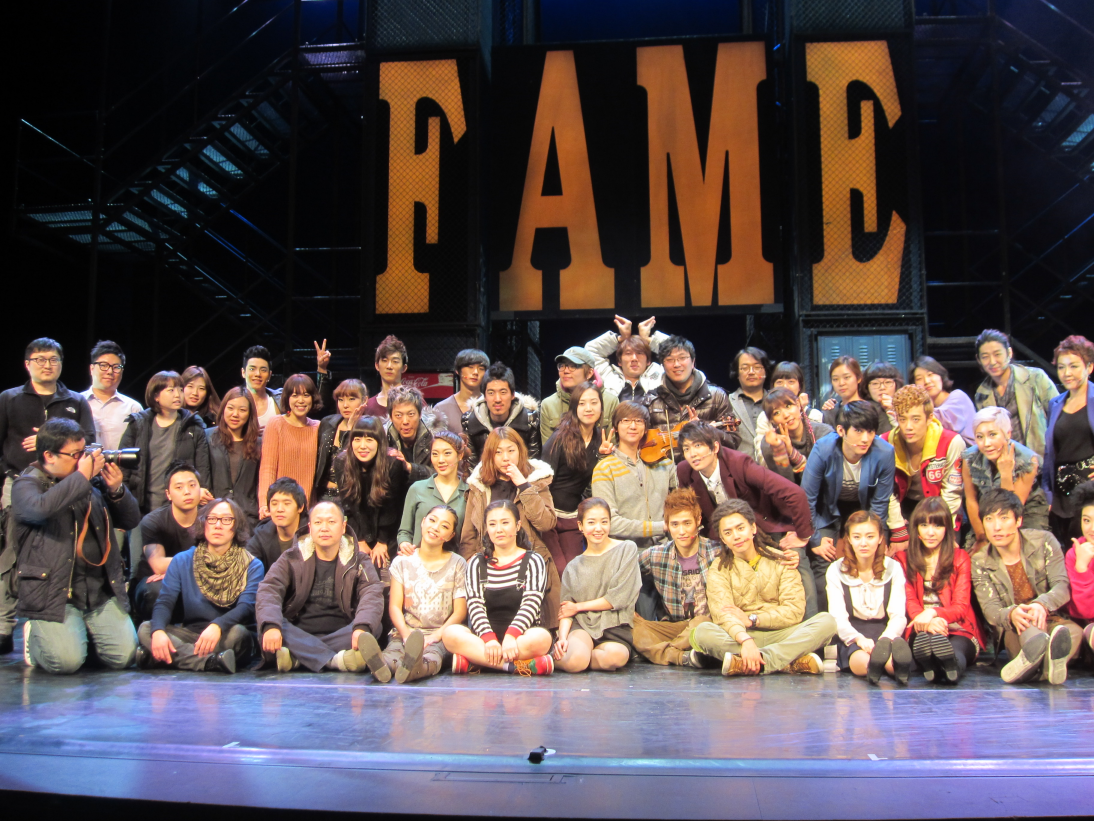 KoN, one of Tiffany's co-stars for the musical "Fame", recently tweeted a photo from the final performance of the musical. The entire cast and crew are pictured in the photo, and Tiffany can be seen on the left side in her Carmen Diaz outfit. You can read more about Tiffany's last performance in "Fame" here.
Park Sohyun Tweets an Image of Taeyeon, Sooyoung and Seohyun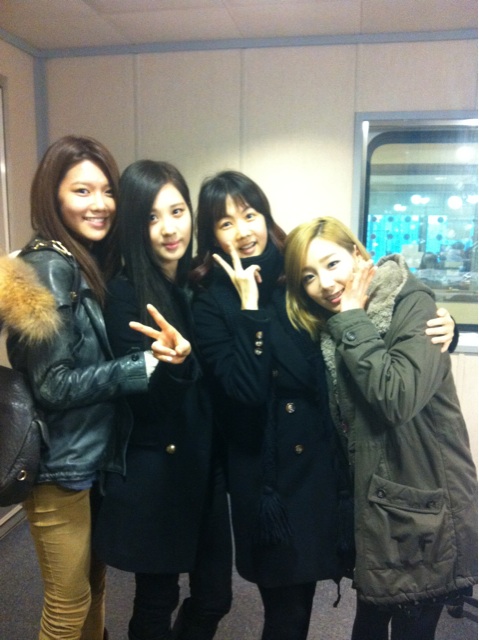 On January 27th, Park Sohyun, host of "Love Game Radio", tweeted an image of herself with Taeyeon, Sooyoung and Seohyun. They are seen smiling for the camera and seem to be standing in height order. You can listen to the entire radio show
here
.
New Sets of Pictures
 Vita500 – Jessica1, Sunny1, Yuri1, Sooyoung1, Yoona1, Seohyun1, Group1, Group2, Group3
SONE Picture/Video of the Week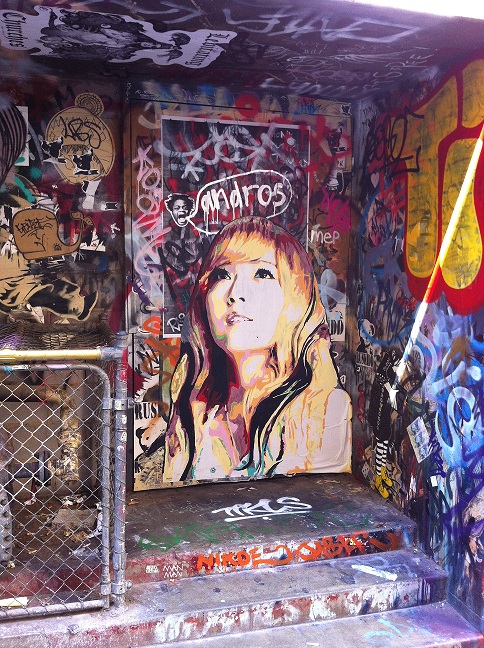 A beautiful portrait of Jessica was recently found graffitied on an alley in Melbourne, Australia. Though Soshified does not approve of vandalism, exceptions can be made for art as beautiful as this. The original photo can be seen
here
.
If you have any pictures or videos you'd like to submit for SONE Picture/Video of the Week, please feel free to do so by sending them to the Soshified Writing Team at tip@soshified.com or posting at the official SONE Picture/Video of the Week thread.
Sources: Game Today, Kwangdongpharm@twitter.com, sphj0606b@youtube.com, Sports Chosun, eunsungee@twitter.com, monmonsnowSeason6@youtube.com, Girls' Generation Board, runtboy349@youtube.com, TV Daily, SSF Translated Goodies, shp7575@twitter.com, soneHD@youtube.com, Deeza@youtube.com, bestiz, MeiShiChin@youtube.com
Written by: bhost909@soshified, LetsGo@soshified, taengsoshi@soshified
Contributors: minigiglo@soshified, SeraphKY@soshified
Have a news item that you think Soshified should know about? Leave us a tip or e-mail us at tip@soshified.com.
Follow us on Twitter: http://twitter.com/soshified for the latest on Girls' Generation.