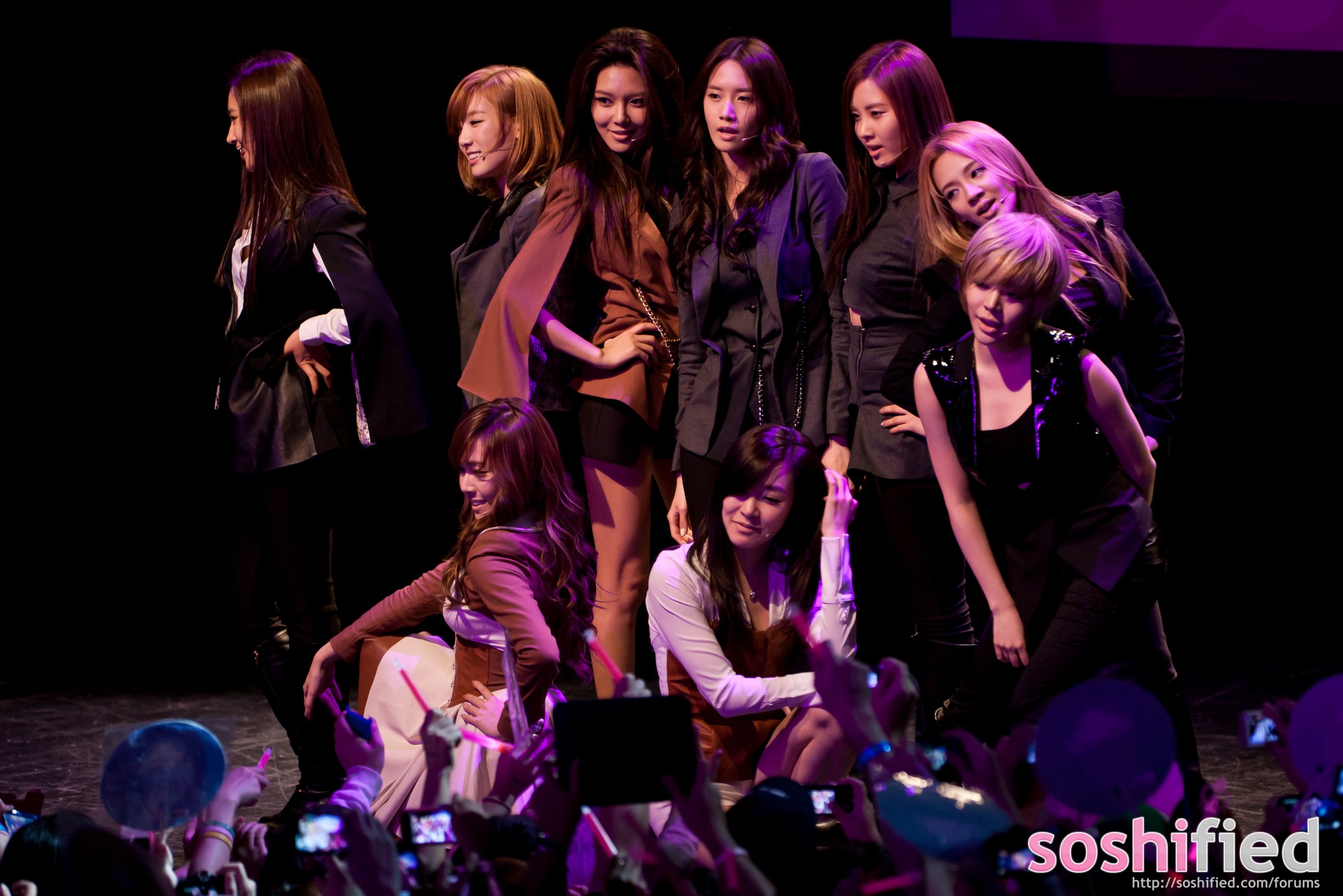 Update:
All dates and time updated. Start planning those trips.
After performing at SMTown New York in late October, Girls' Generation will be making a return trip to New York next week to promote their music and meet with fans. (Note: All times are EST.)
The following is the girls' schedule in New York:
Monday, January 30th
10:00 AM Arrive at John F. Kennedy International Airport
Tuesday, January 31st:
1:00 PM Arrive at the Ed Sullivan Theater (219 West 53rd, New York, NY 10019) to tape "The Late Show with David Letterman"
5:15 PM Begin taping of "The Late Show with David Letterman"
Wednesday, February 1st:
7:45 AM Arrive at ABC Studios (7 Lincoln Square, New York, NY 10023) to tape "LIVE! with Kelly"
9:00 AM Begin taping of "LIVE! with Kelly"
Thursday, February 2nd:
7:00 PM Girls' Generation In-Store Autograph Signing (52 East 14th St., New York, NY 10003)
Soshified will be sponsoring a "Super Fan Contest" for all SONEs who come to New York to see Girls' Generation. Fans that attend each of the four Girls' Generation events listed below will receive a stamp* on their flyer and fans with at least three stamps will be entered for a chance to meet and take a group picture with Girls' Generation and receive an autographed CD.  Each member of Girls' Generation will select the winners by random drawing at the Best Buy In-Store Autograph Signing event on Thurs. February 2, 2012.  (*Each event will have differently colored stamps)
Flyers with contest rules and event and prize details will be distributed at each event, and every fan who attends each event at the designated time will receive a different-colored stamp at each event on one's flyer.
Seven fans who attend all three events prior to the fan-signing and who come the Union Square Best Buy on February 2nd will be randomly selected by Girls' Generation as winners of this contest.
In addition to this "Super Fan Contest", Soshified is also sponsoring a "Facebook Contest". Fans who attend any of the aforementioned events must take a photograph at the event and post it on their Facebook pages. Fans can then send their pictures of the event and a screenshot of the picture posted on their Facebook pages via e-mail to GGTakesNY@gmail.com. Two fans with the best pictures will be chosen, have their pictures posted on Soshified, and win autographed Girls' Generation merchandise.
Stay tuned to Soshified for more details on Girls' Generation's visit to New York as well as Soshified's fan contests.
Have a news item that you think Soshified should know about? Leave us a tip or e-mail us at tip@soshified.com.
Follow us on Twitter: http://twitter.com/soshified for the latest on Girls' Generation.