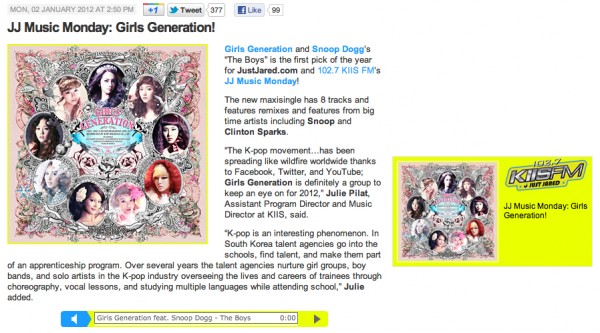 Girls' Generation featuring Snoop Dogg's "The Boys" is featured on multi-media entertainment website Just Jared as their Music Monday choice.
This remix of "The Boys" is one of the eight tracks in Girls' Generation's U.S. Maxi Single, "The Boys". The digital EP contain the original song as well as remixes by famous names such as Teddy Riley, Snoop Dogg, and Clinton Sparks. Released on December 20, the digital EP can be purchased here on iTunes.
The article on Just Jared can be found here. Music Director at KIIS Julie Pilat was quoted saying, "Girls' Generation is definitely a group to keep an eye on for 2012." The page is currently showered with various responses as fans express their delight towards the release of the U.S. Maxi Single.
Girls' Generation is off to a good start this year as this track has also been played on American Radio JAMN 94.5. From a worldwide song release to performing at Madison Square Garden for SMTOWN Live in New York, 2012 will be a year that will follow up the baby steps Girls' Generation has made the previous year for their US advancement.
Don't forget to listen to the track and drop a comment on Just Jared's page to show your support for the girls!
Source: JustJared
Written by: spiceshoe@soshified
Contributors: Soy@soshified, MoonSoshi9@soshified.com
Have a news item that you think Soshified should know about? Leave us a tip or e-mail us at tip@soshified.com.
Follow us on Twitter: http://twitter.com/soshified for the latest on Girls' Generation.