Greetings from The Cucumber! The most recent Cucumber article was published just a couple of days ago, but we're bringing you this special edition to celebrate a special occasion: our very own Kwon Yuri's birthday! For Yuri's birthday on this upcoming Monday, December 5th, we put together a unique Yuri-themed Cucumber article, and we hope you all enjoy it.
Disclaimer: The story you are reading is NOT true. Do NOT take it seriously. This article is purely for laughs, nothing more.
Yuri Declares, "This is the Best Birthday I've Ever Had in my Life."
On December 5th, Girls' Generation's Yuri appeared on a Korean talk show and was interviewed on a variety of topics. When the talk show host mentioned that it was Yuri's birthday, she immediately flashed a huge smile and stated, "This is the best birthday I've ever had in my life."
The host proceeded to ask her why she thought this birthday was so special, to which Yuri responded, "My fellow Girls' Generation members and I have enjoyed a lot of success this year. We recently won the 'Best Female Artist' and 'Artist of the Year' awards at the Mnet Asian Music Awards, our single 'The Boys' debuted in America, we had a successful concert tour in Japan, and we've started our concert tour around Asia."
Yuri continued by saying, "My fellow members also gave me some great gifts for my birthday this year, although they included one gag gift which caught me off guard." When asked what the gag gift was, Yuri responded, "The girls gave me a movie on DVD, but it didn't appear like they went out and bought it. It seemed like they just copied it onto a blank DVD, and then wrote the movie title on the DVD with a permanent marker. That seemed strange to me, but I was even more confused when I saw that the movie title that they wrote on the DVD was 'Curse of the Black Pearl'."
After the host said that the title "Curse of the Black Pearl" seemed familiar, Yuri said, "Yes, I thought so, too. But I was a little bit upset, so I didn't figure it out until I put the DVD in and started watching it. It turned out to be the first 'Pirates of the Caribbean' movie, which is titled 'Pirates of the Caribbean: The Curse of the Black Pearl'. The girls all started laughing once I realized what it was."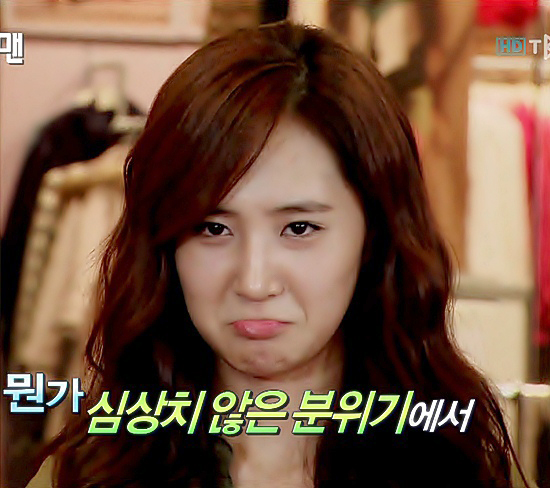 Yuri may or may not have pouted like this after she saw the DVD
Yuri went on to say, "Even with that gag gift, I'm incredibly happy on my birthday this year. It's been a great year, but our success and awards are just nice bonuses. The real reason why I'm so happy today is something else entirely." The host asked Yuri, "Well then, if it's not all your success and your good health, what could it be that is making you so happy on your birthday this year?"
Yuri paused for a moment before saying, "The reason why my birthday is so special this year, is because…. Today, on my birthday…. It's Monday!!!"
For some reason, Yuri mistakenly said that she is currently only 20 years old.
Disclaimer: The story you are reading is NOT true. Do NOT take it seriously. This article is purely for laughs, nothing more.
Missed out on previous Cucumber articles? You can check them out here!
Written by: michaelroni@soshified.com
Have a news item that you think Soshified should know about? E-mail us at tip@soshified.com.
Follow us on Twitter: http://twitter.com/soshified for the latest on Girls' Generation.