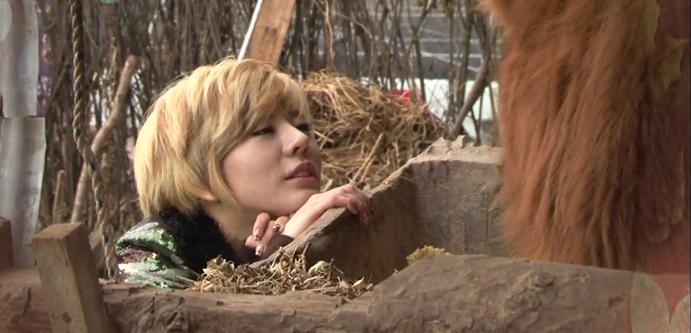 Girls' Generation's Sunny garnered attention after reuniting with Greeny, the cow she met through the first season of "Invincible Youth". It had been one year since they last met.
During the latest recording of "Invincible Youth 2", G8 members invited villagers and other surprise guests to the opening ceremony of the idol village. Girls' Generation's Sunny and miss A's Suzy were given the special mission of "ushering a special guest", and visited Yoochiri, the site where the first season's memories were created.
After seeing that nothing had changed in the village since the first season, Sunny showed Suzy the crops they grew themselves, and began to reminisce, also telling Suzy about the animals they cared for. In particular Sunny, couldn't help but feel sorry to the mascot of the first season, Pureumi.
After the cow entered the idol village in the first season, Sunny became Greeny's owner by winning a quiz segment. As if Greeny knew who her owner was, she would always listen to Sunny more than the other G7 members. On Sunny's last day of "Invincible Youth", she cried thinking of having to leave her. Soon after, Greeny also showed tears, showing the bond between human and animal.
Seeing her for the first time in a year, Sunny tried to coax a sulking Greeny by saying, "I'm sorry I couldn't visit often." It was said that Sunny personally cooked and fed Greeny her favorite cabbage, and stayed there waiting until Greeny opened up to Sunny again.
Source: KBS Office
Translated by: ch0sshi@soshified.com
Edited by: bhost909@soshified.com
Contributor: minigiglo@soshified.com
Have a news item that you think Soshified should know about? E-mail us at tip@soshified.com.
Follow us on Twitter: http://twitter.com/soshified for the latest on Girls' Generation.