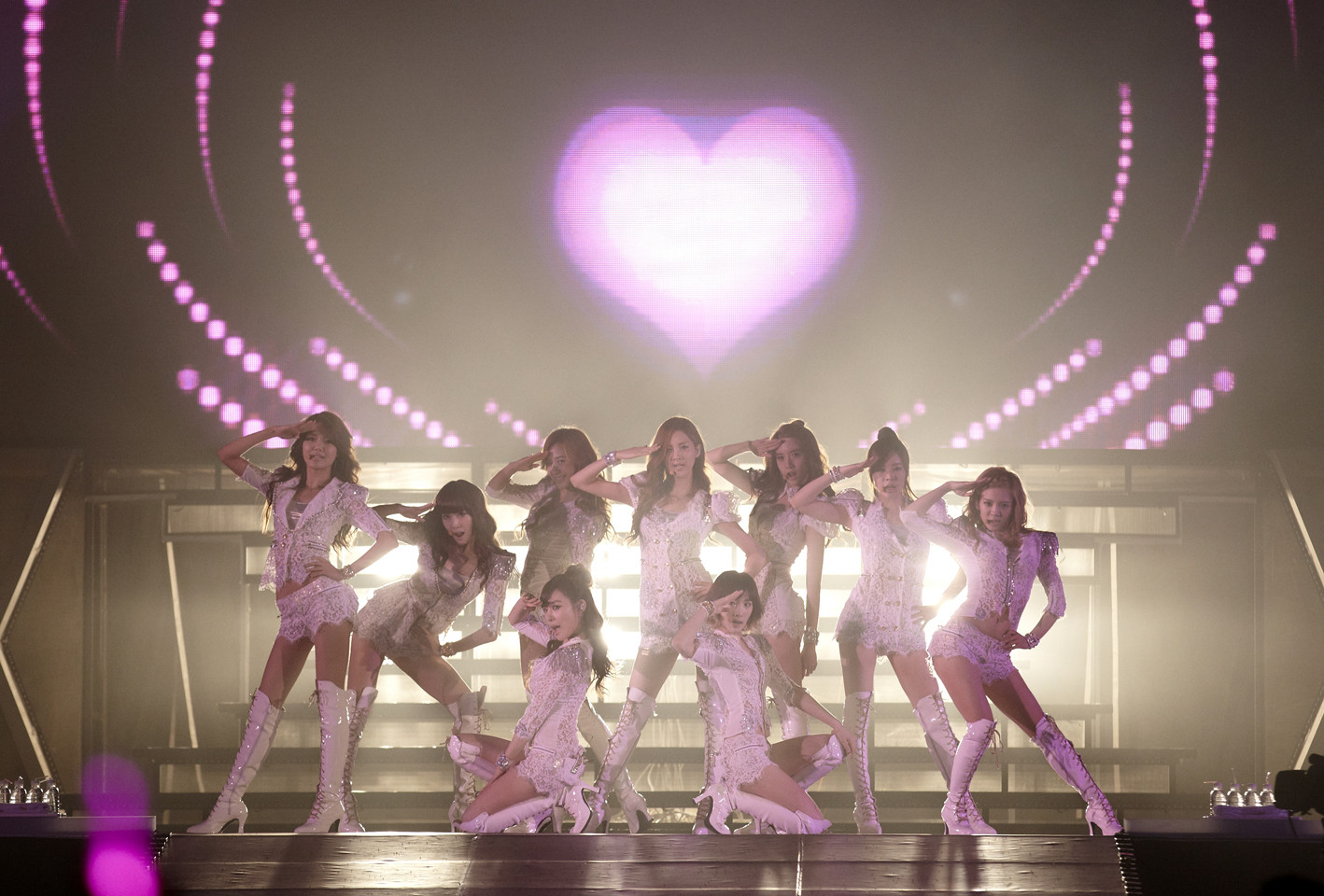 To SONEs, 2011 will be remembered as another year of domination.
It seems like it was yesterday that we took our first breaths in 2011. Not knowing what was in store, it seemed like the only thing to expect out of a new unknown year was more merchandise to purchase in support of the girls. Naturally, that prediction came true, but more came along with it too.
On January 8th, Soshified held a mass meet-up in Koreatown, Los Angeles, for and by SONEs. With less than a week to prepare, everyone struggled, and when the news became public, there were worries if it would attract a decent outcome.
Early in the morning of the meet-up, only thirty people were around to set everything up. However, all worries were dispelled when the doors to the venue, CGV cinemas, were opened. Over 500 people spilled into the theater even though the capacity was less than 300. Though it was upsetting that a large amount of people weren't able to come in and experience the start of the "Year of the SONE", it was unforgettable.
There was joy, enthusiasm, and support, and even though there were also criticisms and troubles, the positivity that was started here fueled the rest of the year.
Another meet-up was soon announced, one that would take our great international pink banners to the heart of the girls' homeland: Seoul, South Korea.
Soshified's own Soy, sarahbot, and bbzidane flew to Seoul to oversee the first Soshified Seoul Meetup.
sarahbot:
"Just a few short days after the big LA meetup, me, Soy, and bbzidane got on planes and jetted off from our scattered locales in the US to meet up at Incheon Airport for a Seoul adventure.
I knew I was in for something different, but I was not prepared for what an amazing experience the Seoul Soshified Meetup would be. We went in thinking only a few people would be able to come, maybe ten to fifteen people at the most, but attendance was enough to completely fill the coffee shop where it was held. ("앤타르트 (and tarte)" in Songpa-gu was our gracious host – what a cute place!)
Everyone excitedly gathered around to see the Visual Dreams video for the first time and many times after, and we partied together SONE-style until the sun went down.
We then headed to the venue for the Intel showcase, where we were treated to an amazing show, with a jazz performance, celebrity Starcraft match, and finally, the girls! It was only my second time seeing them in person, and getting to see them perform Visual Dreams live was such a privilege. Most people have seen the videos; they seemed to really have fun with it on stage. It was also, of course, my first time watching a performance surrounded by K-SONEs. To my surprise, Sooyoung's famous shrieking fan was sitting right behind me! It was easy to recognize her once Sooyoung started singing. What a strange and unexpected experience it was to see and hear her in person, really bringing to light the reality of the things we Soshified members are always watching online.
The most important experience on this trip was meeting some of the greatest Soshified users from abroad, and some new friends from Seoul as well. Even though they wouldn't want to be named, I want to say how incredibly thankful I am to those K-SONEs who are friendly to Soshified and basically put on the meet-up, paying for the food and drinks, driving us around, and arranging for us to see the showcase. It is so touching to remember their hospitality. It's proof to me that around the world, SONEs are the best."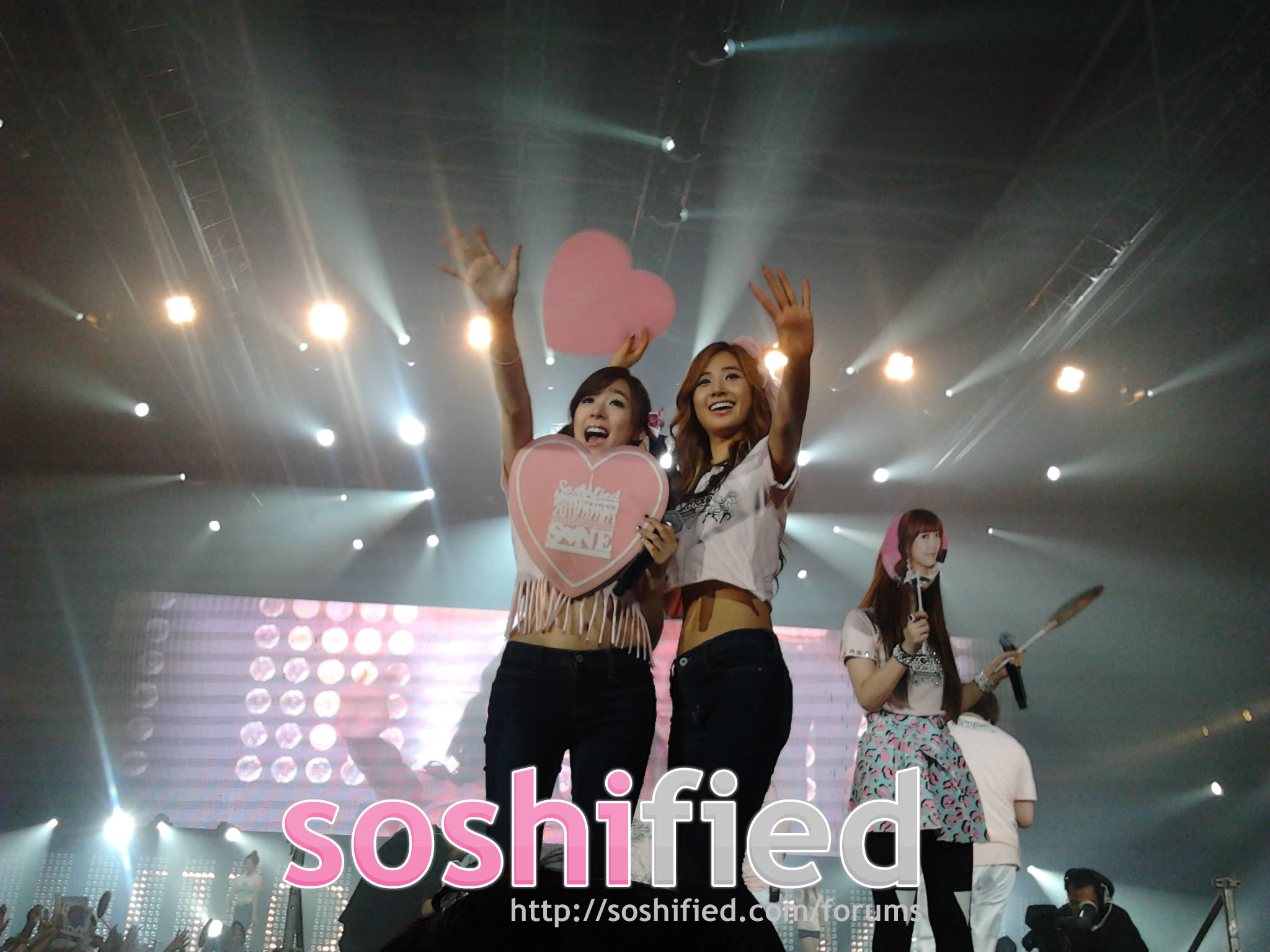 Perhaps this had been a relatively humble start to the year, but the year was still young. More wonderful things were still to come.
As most K-Pop fans know, Hallyu has spread feverishly over the past year, but the market for business has been relatively contained within the borders of Asia. Despite this, SM Entertainment took a great stride and soon announced that an SMTown would be held in Paris at Le Zenith.
Dandan87:
"Tickets were bought. The countdown to the concert day had started. As the day came nearer, I became more nervous. Finally, I could meet people who share the same interest, passion, and love for Girls' Generation as me: SONEs! It was everything I'd imagined. SONEs everywhere, dressed in pink Soshified shirts, holding the pink foam heart in one hand and a pink light stick in the other… A proud feeling came over me. I was proud to be a part of this beautiful fandom and proud to be a SONE.
A three hour concert filled with different stages from different artists, but the highlight was Girls' Generation. Every time it was their turn, I screamed and jumped like every other crazy fangirl would do. The girls are breathtakingly beautiful in real life and all smaller than I thought.
After seeing them live, I've become an even bigger SONE then I was before because I realize that they give me hope on days when I'm having a hard time. They make a smile on my face appear when I'm sad, and they brighten me up when I'm having a bad day. It is like having a bottle with nine energy pills. Each and every one of them have their own charm and power and together. They make my world complete!"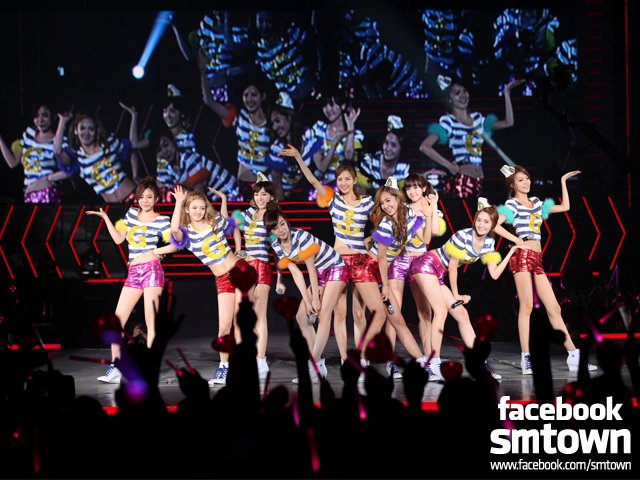 SONEs in Europe finally had their chance to see the girls. After seeing Girls' Generation perform in person, the anticipation and craving just to see the girls perform once is replaced with a desire for more. With that, they join many of us who wait for the next chance to see our girls perform for us again.
In addition, there are other gifts that come with being SONE and being Soshified, and sometimes they are pleasantly surprising.
This summer, 100 Soshified members got the opportunity to go to Seoul and learn more about the city and the culture of Korea. To top it all off, they would get a coveted ticket to attend one of Girls' Generation's solo concerts. These members came from all over, from Boston, California, Singapore, and Australia and got a once-in-a-lifetime experience.
MoonSoshi9:
"If someone told me at the start of 2011 that I would spend a week in Korea with people I had never met I would have called them crazy. But, because of the power of Girls' Generation to draw you directly to them, I took a chance and hopped on a plane and had the time of my life in Korea.
Soshified members were literally treated like celebrities as we arrived at Incheon International Airport. A large group of people were waving and holding signs welcoming us, and the media pounced on us with cameras and interviews. Even the next day, when we went to downtown Seoul to the Korea Tourism Organization, media were there to greet us for a press event and more interviews as they followed us around the beautiful Cheonggye Stream.
The day of the Girls' Generation concert, we lined up early in the morning to buy goods, and of course, the media was there for more interviews. We cheered for Girls' Generation, sang their songs, and did the fanchants as we waited in line alongside K-SONEs. Once inside the arena, I had the interesting experience of being interviewed by KBS in the standing pit, almost yelling into the mic because of how loud the cheers were for Girls' Generation members' UFOs being displayed on the screens. Soshified made its presence known in Korea, and we made it known how important Girls' Generation was to us and how they brought us to the country.
The concert itself was mind-blowing. One thing since that concert I've been saying to fellow SONEs is: "I didn't think it was possible to love the girls more, but once you see them live, you will." The girls are masters of fan service, and they noticed Soshified members in the crowd wearing the grey shirts made especially for the trip and holding our pink towels. International SONEs and K-SONEs stood together as one group, SONE, cheering as loud as we could for Girls' Generation. When the nine girls lined up for "Into the New World", nearly everyone around me was in tears. It really is something that can't quite be explained words, the feeling of seeing Girls' Generation's passion and performance on stage in person. They are truly unique in their love of their craft and their fans.
The trip as a whole was amazing. We ate delicious food. We shopped in incredible markets. We bought every Vita500 bottle we saw. Coming from America, Seoul was such a unique and interesting place, but what really made the entire experience amazing was meeting fellow SONEs. People from all walks of life came together as one through our collective love of Girls' Generation. These are people that I now consider real friends. Soshified accomplished something truly special with the field trip to Korea."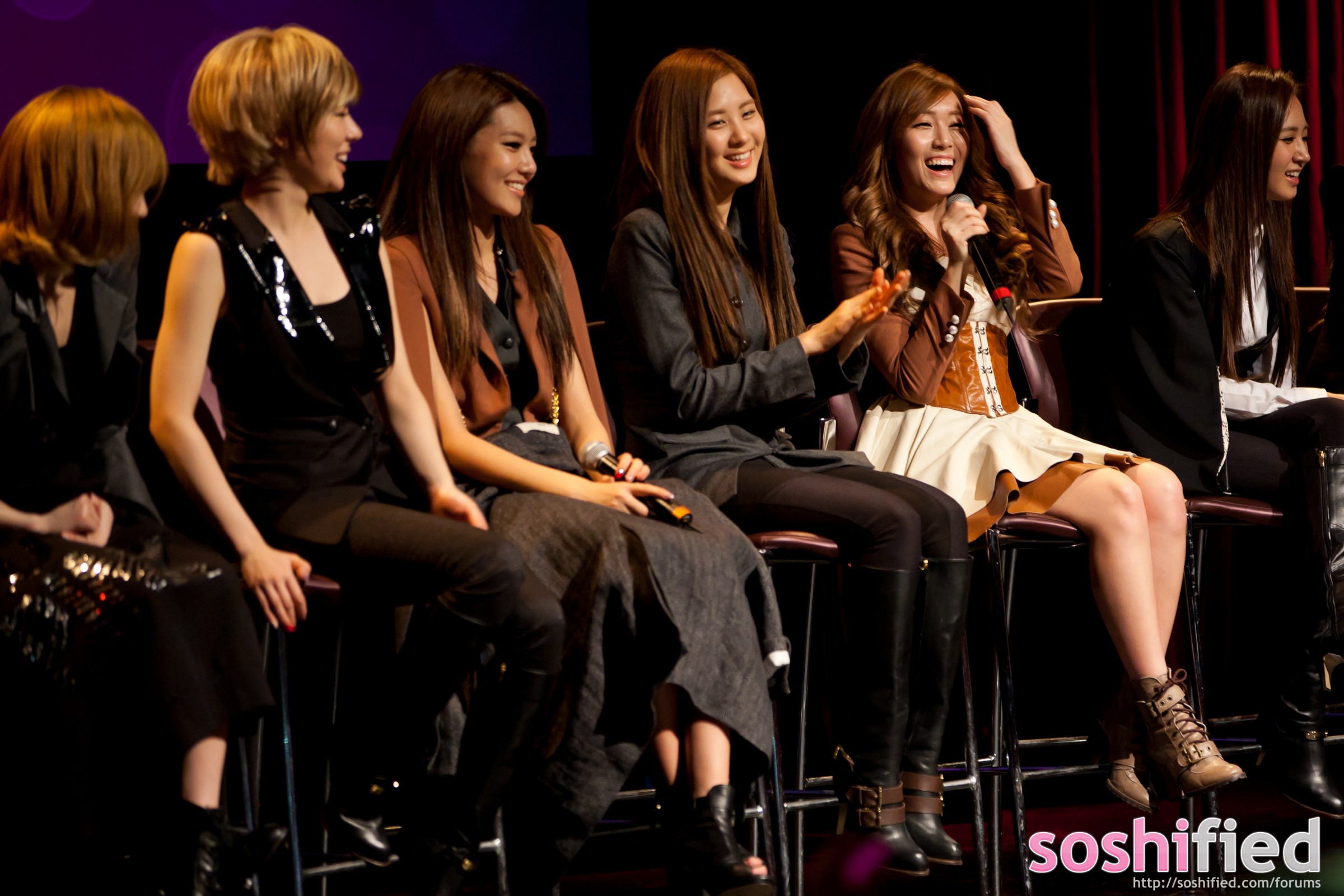 Eventually, the prophecy of Taeyeon's "Tokyo, Seoul, London, New York" within the song "Mr. Taxi" grew more and more realistic. It was announced that an SMTown concert would be held in New York City, the long-awaited sequel to 2010's first ever SMTown in the United States in Los Angeles.
With the concert came another event: the first fan meeting with Girls' Generation in the United States. Finally, international SONEs would get a chance to meet the girls up close and in person. It was an opportunity not to be missed.
SNSDave:
"There was something special about the whole New York experience, not just for myself, but for any attendee. It was the first time SMTown as a whole had made the journey to the East Coast, the first time any K-pop artist had performed at the legendary Madison Square Garden, and the first time Girls' Generation held a fanmeet outside of Asia. This was a sign that it really was turning into a "Global Generation".
The concert itself was as astounding as the one I attended in LA, with everybody being on the top of their games, be it SHINee adding a dance flourish in 'Ring Ding Dong', Super Junior KRY bringing the house down vocally with 'Sorry Sorry Answer', or DBSK taking the stage to a reaction like no other. Girls' Generation was no slouch either, delivering their usual set with extra flair and oozing charisma, looking for an excuse to give fan service whenever they got the chance. The highlight of course was 'The Boys' being performed for the first time live in English, but anytime Girls' Generation steps on stage can be counted as a highlight for most SONEs.
The fanmeet was something out of a dream. Not only would it be Girls' Generation interacting with their fans, but it would be something done in conjunction with Soshified, and something I was privileged to work at. No doubt, it was not an easy task, with the behind-the-scenes crew of select Soshified staff working furiously to ready the venue and 'script' the event. For anybody who only witnessed the fanmeet via YouTube, the atmosphere was one you had to be there to remember or even comprehend. From the time the girls stepped on stage to perform 'The Boys', to the curtain call at the end, the energy was clearly bursting at the seams, and while it was sad to see the girls leave, it was the beginning of another chapter in SONE and Girls' Generation history: the entry into the US market.
I could not possibly end without speaking about not only the concert, and the fanmeet, but the people I met with and who were with me at the time. Be it first time people I met while distributing bundles, or SoCal SONE who had made the trip out and whom I'd known for a year, everybody contributed something to my experience with not a hint of negativity. The high point for me was not the concert, not the fanmeet, not even the hug from Tiffany, but the people I met and the experience we had together in the Big Apple. If nothing else, while I will always look forward to seeing Girls' Generation again, I look forward to seeing my friends, Soshified members and SONEs alike, even more."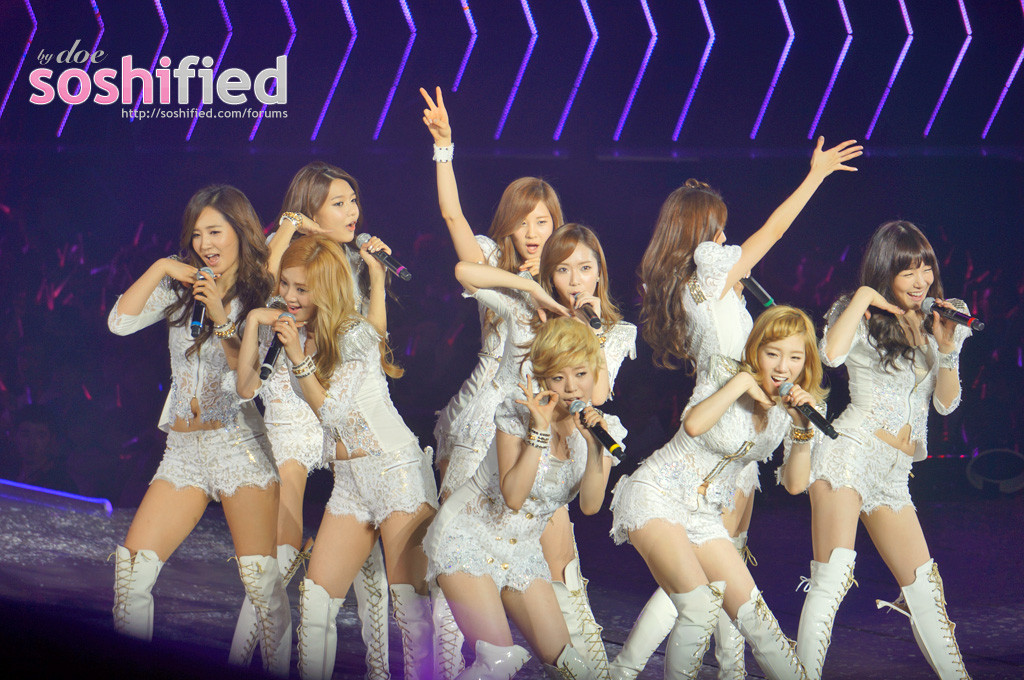 The joys of New York were well reaped by the loyal fans of the United States, but across the world, other SONEs were gearing up for their own chance at seeing the girls.
Singapore would hold two concerts over two days, and thousands of fans would dedicate at least four hours to nine angels as their hands waved in the air holding a glowing mechanism of pink.
LetsGo:
"The day had finally come: December 9th, the fateful day when Singaporean SONEs would unite as one to support Girls' Generation. When we all were about to move into the stadium, all I felt was anticipation and excitement. All I was thinking was, 'I'm finally going to see them!' When I entered the stadium, the atmosphere wasn't as high as I thought it would be as the stadium wasn't fully filled yet. When the stadium did become filled, and when the concert was about to start, the lights were doused and I could finally witness and be a part of what I could only see in pictures, the legendary 'Pink Ocean'. The fanchants for all of the songs that Girls' Generation performed were deafening. Then came the song 'Into the New World'. I dare say that 'Into the New World' holds a really significant and special place in all SONEs' hearts, as it is THE song that kicked off Girls' Generation start and all of the other achievements that were soon to come.
Despite all the cultural differences and language barriers that we might have, all SONEs have one thing in common: our never-ending love for Girls' Generation. This has somehow connected all the differences we may have, and we all come together as one. One SONE."

Of course, this was only a part of what SONEs can do and the bond SONEs share (more testimonials can be read in the SSF Fan Accounts section). The amazing turnouts in Japan and Taipei, in addition to the girls' aforementioned concerts, and the support these girls have received throughout the year, wherever they went for whatever they did, is only a testament to the strength and love only SONEs can give. Every concert and every appearance was dominated by adoring fans, so much so that the girls could feel the love and naturally return it.
With 2011 coming to a close, one can look back and relive all the memories that made this year unforgettable. And with a new year approaching, it gives SONEs another round to match this amazing year, or perhaps even better it. It would be no surprise if SONEs do indeed better their performance, because SONEs only strive to be the best, especially for their girls. And this time, SONEs will expect to do more from the start than just buying Girls' Generation merchandise.
Photos by: SM Town,
Soshified Photo Gallery
, doe@soshified, cedge@soshified
Written by: Ukigumo@soshified, residentbenchwarmer@soshified, SNSDave@soshified, sarahbot@soshified, DanDan87@soshified, LetsGo@soshified, MoonSoshi9@soshified
Have a news item that you think Soshified should know about? Leave us a tip or e-mail us at tip@soshified.com.
Follow us on Twitter: http://twitter.com/soshified for the latest on Girls' Generation.