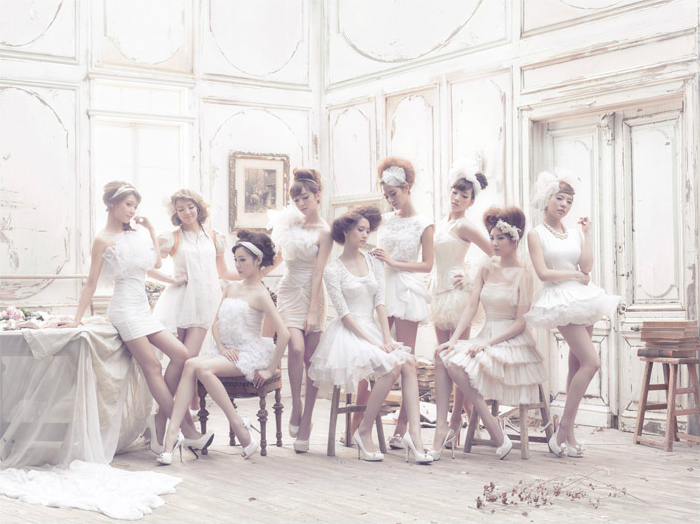 It's that time when music magazines start ranking their favorite albums of the past year, and the American publication "SPIN" magazine has released their top 20 pop albums of 2011.
"SPIN" selected Girls' Generation's First Japan Album as the 18th best pop album of the year. As "SPIN" writer Charles Aaron says, "This nine-member, all-girl K-Pop drill team fully exploits South Korea's 800-pound neighboring market with a Japanese-language album (plus English choruses!). And though it may be a translation trainwreck, these chipper, reality-show vets behave with real zeal — eagerly beaming, winking, chattering, emoting when it's called for — over terrifyingly sophisticated dance tracks (echoes of Latin Freestyle, Italo disco, every Backstreet/Britney scrap from 1999), plus a dutifully aching ballad or two. The peak is "Run Devil Run," a white swan/black swan kiss-off with a chorus so confidently sassy it could stop a North Korean missile in mid-air."
Girls' Generation's first full length album in Japan was a huge success, going double platinum, and along with their sold out arena tour, cemented Girls' Generation as one of the more popular artists in Japan. The album was well received by critics, who praised the new direction Girls' Generation took with an electronic, dance heavy style.
"MR. TAXI", the lead single off the album, was incredibly popular with its catchy chorus and addictive choreography. The dance version of the music video is already approaching 40 million views on YouTube.
A repackage of the album, including remixes and a new song, will be released on December 28th. Pre-orders can be placed on YesAsia for the Limited First Press and Normal editions.
Source: SPIN
Written by: MoonSoshi9@sohified
Edited by: taengsoshi@soshified, bhost909@soshified
Have a news item that you think Soshified should know about? E-mail us at tip@soshified.com.
Follow us on Twitter: http://twitter.com/soshified for the latest on Girls' Generation.