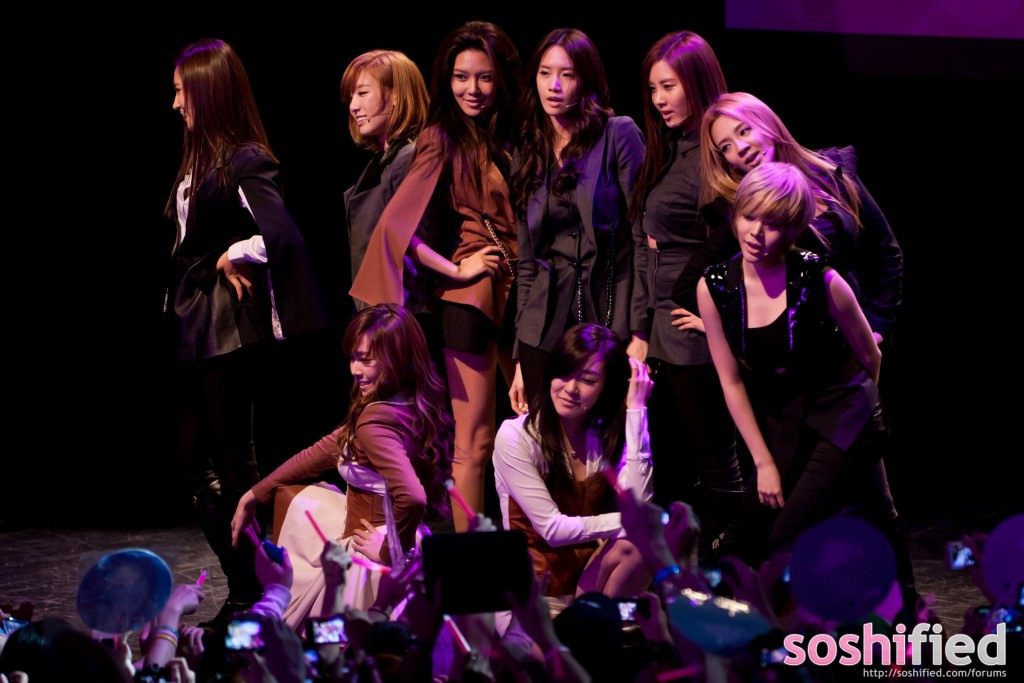 Soshified's video of Girls' Generation's first U.S. fan meeting has been released.
On October 24th, Soshified and Girls' Generation came together for a historic event, as Girls' Generation held their first official fan meeting in the United States.
Over 1,000 fans from all over North America and the world started lining up at 9:00am outside the Best Buy Theater in Times Square, New York, hours in advance of the 4:30pm event. The line wrapped completely around the block as fans packed Times Square with a sea of pink, letting everyone know that Girls' Generation was in town. Girls' Generation has hundreds of thousands of fans all over the world, so meeting the girls in person was a once in a lifetime opportunity for many international fans, who had up until then only been able to see Girls' Generation from afar through performance videos and TV shows.
The Best Buy Theater was filled with fans chanting to Girls' Generation's music videos being played as the event started. When the girls came out, they were able to show off their skills with a live performance of "The Boys" in English. Even though the song had just been released, everyone in the crowd was singing along, cheering the girls on.
It was an intimate environment where Girls' Generation was able to see first hand the dedication of their international fans, with Taeyeon even crying at one point as she listened to stories of fans staying up late at night to watch Girls' Generation performances online. It was also a chance for international fans, who rarely get to see Girls' Generation in person, to see some of the qualities that make them so loved by people all over the world. The girls displayed some of their trademark skills, like Sunny and her cuteness, Sooyoung's hilarious impressions, and Tiffany's killer eye smiles.
In a moment that strengthened the bond between artist and fan, Girls' Generation and SONEs sang together as one to the chorus of the girls' debut song, "Into The New World".
Soshified organized an unforgettable experience for both SONEs and Girls' Generation. Watch Soshified's video of the fan meeting below.
Source:
SoshifiedPD@youtube.com
Written by: MoonSoshi9@soshified.com
Have a news item that you think Soshified should know about? E-mail us at tip@soshified.com.
Follow us on Twitter: http://twitter.com/soshified for the latest on Girls' Generation.