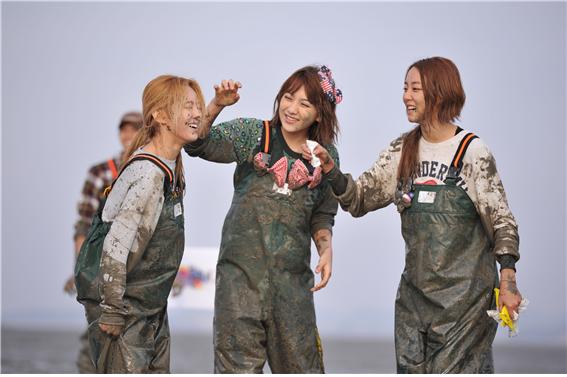 After garnering much attention through the first episode of "Invincible Youth 2" by eating live nakji/small octopus, Hyoyeon made way for the mud flat herself to catch them.
This week, G8 members and the uncles will be heading to the mud flat to catch small octopuses themselves. This was G8 members' first time out on a mud flat and catching octopus, but they were amazed by life in the fishing village and fearlessly jumped into it.
Hyoyeon, who was having fun with the simple fact that it was her first time at a mud flat, was absorbed in catching octopus and showed her strong will to catch them all.
After sticking her hand into the mud, Hyoyeon fussed about having caught one. She didn't lose her grip and pulled hard at the legs, determined to get it from the mud. However, she gripped and pulled on the legs so hard that she only managed to get one leg, causing everyone to burst into laughter.
Also, in order to catch the octopus, she got mud all over her clothes, hair and face.
Hyoyeon gained a taste for live octopus in the first episode last week. She can be seen rinsing nakji she caught in the seawater and eating it on the spot. She also fed it to other G8 members, showing how she completely adjusted to life in a fishing village. Also, to win the bait to catch octopus, a race was held. She didn't spare her body and fell in the mud, creating much laughter.
Be sure to check out Hyoyeon and the rest of G8 on the next episode of KBS2TV "Invincible Youth 2" airing on November 19th at 11:05pm KST.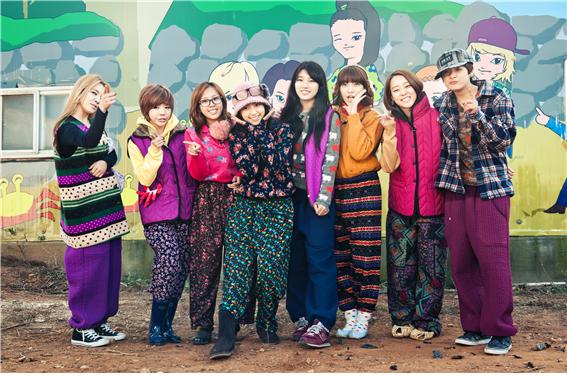 Source:
KBS
Translated by: ch0sshi@soshified.com
Edited by: MoonSoshi9@soshified.com
Have a news item that you think Soshified should know about? E-mail us at tip@soshified.com.
Follow us on Twitter: http://twitter.com/soshified for the latest on Girls' Generation.