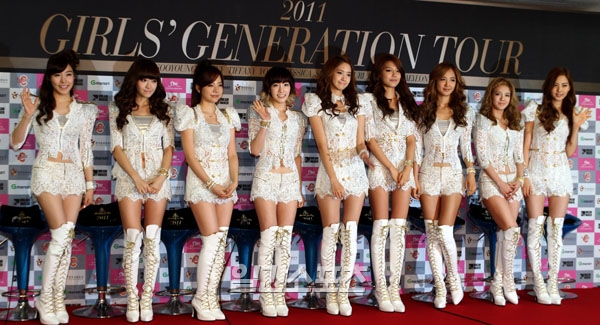 Update with performance info:
Girls' Generation will be performing "GENIE" at the 62nd "Kouhaku Uta Gossen".
Previous article from 11/30/11
Girls' Generation has been invited to the 62nd edition of Japan's New Year's Eve music festival "Kouhaku Uta Gossen" (Red and White Song Battle). This years "Kouhaku" will have an extra special meaning to it as they will be celebrating the coming new year. It will also have an added theme of "Singing of Tomorrow" in wake of the terrible events that plagued Japan this year. The meaning of this theme is "to connect everyone through the strength of music," and that "no matter the difficulty it can be overcome and tomorrow will arrive." The short clip of Sooyoung speaking Japanese can be seen here:
Due to conflicting schedules, only Taeyeon, Jessica, Tiffany, Yuri, Sooyoung and Seohyun were able to attend the announcement event held by NHK. During the announcement Sooyoung had a chance to speak about the opportunity of attending this prestigious event, saying, "To be able to attend an event that has such a deep history like this for the first time, all the members are really honoured and happy." Sooyoung also mentioned that they would like to put on a wonderful performance like their senior labelmates BoA and DBSK who have attended this event before.
This years "Kouhaku" will have the teams split by male and female, with males being on the White Team, and females are on the Red Team. Girls' Generation will be a part of the Red Team, which is led by Inoue Mao. Also a part of the Red Team will be fellow Korean group KARA, who will also be appearing for the first time. However, they'll be facing off against their labelmate and senior DBSK, who will be on the White Team. The winning team is decided by a combined system, with 10 judges judging the overall performance and an audience vote. Other performers that will be appearing at this years "Kouhaku" include Perfume, Hamasaki Ayumi, aiko, SMAP, Arashi, EXILE and many more.
This event will be broadcasted live on December 31, at 7:15pm JST.
Source: Kouhaku, withsosiz9dot3@youtube.com
Written by: SeraphKY@soshified.com
Edited by: residentbenchwarmer@soshified.com
Have a news item that you think Soshified should know about? E-mail us at tip@soshified.com.
Follow us on Twitter: http://twitter.com/soshified for the latest on Girls' Generation.