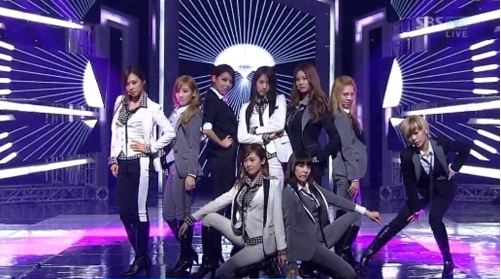 Girls' Generation earns a triple crown on SBS Inkigayo on November 13.
Due to the absence of SBS Inkigayo last week on November 6, the awarding of the Mutizen Song award was delayed to this week and during the first few minutes of the show, Girls' Generation was awarded with last week's Mutizen Song award. Taeyeon, Sunny, Hyoyeon, Yoona, and Seohyun appeared for the award presentation and surprised the fans by wearing suits.
A pre-recorded performance of "The Boys" was broadcasted near the end of the show. The nine girls were unable to record their performance live because of the 2011 K-Pop Music Festival in Sydney, Australia on November 12. For this performance, Girls' Generation performed in suits, emphasizing their strong feel for "The Boys". During Tiffany's line, she grabbed her tie and that gave a strong impression to the fans, leaving them entranced with her strong stage presence.
After the performances for the day ended, the show proceeded with the announcement for this week's Mutizen Song. The winner for this award is none other than Girls' Generation, securing all three triple crowns for "The Boys". The five girls accepted the Mutizen trophy and expressed their gratefulness for this award. Unfortunately, today's Inkigayo was cut short and the encore performance was not shown.
Girls' Generation has also made another outstanding achievement today. Since Inkigayo switched to awarding Mutizen Song awards in 2003, Girls' Generation has officially surpassed their previous record held by label-mate TVXQ with 20 awards. Congratulations!
Source: monmonsnowSeason4@youtube.com, CrazyCarrotNew310@youtube.com
Written by: spiceshoe@soshified.com
Contributors: letaengbutt@soshified.com, MoonSoshi9@soshified.com, SeraphKY@soshified.com
Have a news item that you think Soshified should know about? E-mail us at tip@soshified.com.
Follow us on Twitter: http://twitter.com/soshified for the latest on Girls' Generation.