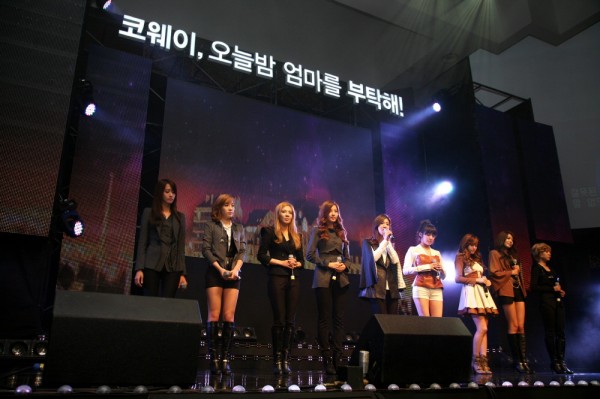 As the models for Woongjin Coway, Girls' Generation attended an event held by Coway called "Coway, Please Take Care of Mom Tonight" on November 17th at Yangjaedong L Tower. Appearing alongside Girls' Generation were Jang Hyejin and Kim Bumsoo, who handed out a few roses to people in the crowd.
Girls' Generation performed a few of their hit songs which included "Gee", "Oh", "Genie", and their most recent single "The Boys". However, during their performance of "The Boys", the girls weren't able to hold their laughter as the static electricity inside the building caused their hair to stick out all over the place. The girls could be seen trying to push down their hair, but to no avail. In particular, there were several pictures of Sunny's hair sticking up wildly while Taeyeon desperately tried to hold in her laughter and continue performing. While Taeyeon did manage to sing all of her parts, she did not manage to dance all of the choreography.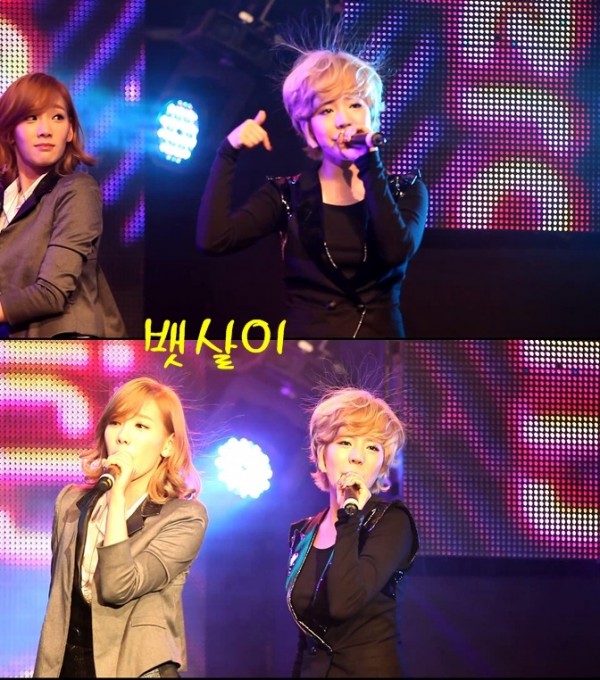 During this event some of the people were able to share stories of their mothers with Girls' Generation, which caused several members to tear up as they remembered their own families. A small interview was also held in which attendees got to ask the girls questions. Kim Shinyoung, a long time friend of the girls, was the emcee for this interview. One of the questions asked about the girls' cooking abilities. Sooyoung replied that most of the girls cook pretty well with the exception of Jessica. Yoona added that Jessica is an ok cook, but she can't control her portions well, to which Jessica responded, "I'm generous cook." causing much laughter at the event. The next question asked was: "What can you cook the best?". Tiffany said that she could make sandwiches the best. However, being the "shikshin" of the group, Sooyoung had a different opinion stating that, "Tiffany's sandwiches aren't really sandwiches. Normally you would add vegetables, ham, and cheese, but she only adds ham," much to Tiffany's chagrin. Another question that was asked was: "Who dreams the biggest?", to which everyone unanimously picked Seohyun. Yoona mentioned how Seohyun would always think about the future, and Seohyun would go on to explain how she's accomplishing a lot of goals through Girls' Generation and K-Pop.
To end the "Coway, Please Take Care of Mom Tonight" event, the girls sang "Dear Mom" and dedicated it to all mothers.
Source: Dailian Korea, TheSoneSource028@youtube.com, Soonkyu515@youtube.com
Written by: SeraphKY@soshified.com
Edited by: residentbenchwarmer@soshified.com
Contributors: Sunnystawr@soshified.com, hannahhrpark@soshified.com
Have a news item that you think Soshified should know about? E-mail us at tip@soshified.com.
Follow us on Twitter: http://twitter.com/soshified for the latest on Girls' Generation.