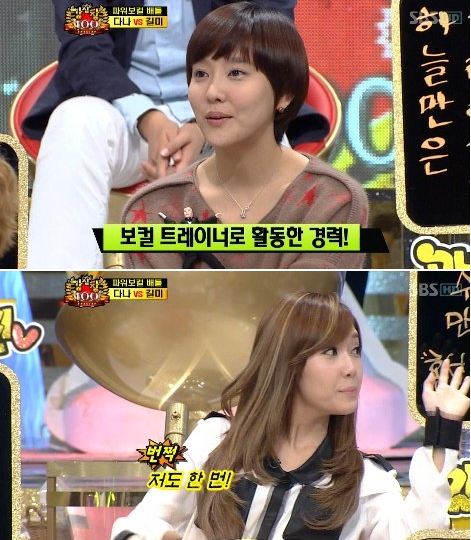 CSJH's Dana was Girls' Generation's vocal training teacher?
On the November 1st episode of SBS "Strong Heart", Dana revealed her past experience as a vocal trainer.
Jessica, who was also on the show, raised her hand saying, "I've received a lesson from her once." Dana told how she's trained Girls' Generation's Tiffany, Yoona, Seohyun, f(x)'s Sulli, and others, and also told one story about the lessons in the past.
She said, "All of them had remarkable vocal skills as they do now, but there was one student who was stubborn." That student was none other than Girls' Generation's maknae, Seohyun. The others on the set of the show nodded their head as if they were in agreement.
Dana also revealed that although Seohyun's image on camera doesn't show it, she is stubborn. Even though she would politely answer, "Ah, okay. I get it," she would then continue to do as she did before. Dana also added in kindly, "That kind of stubbornness is what makes up Girls' Generation's maknae Seohyun's unique charm today."
On another note, this episode, as Strong Heart's 100th special, featured a heated talk battle between Kim Hyunjoong, Yoon Saeah, Song Kyungah, Kim Jisook, Kim Janghoon, Jessica, Dana, Gilme, Gwanghee, Go Youngwook, Eun Jiwon, and more.
Source: Nate
Translated by: taengbear@soshified.com
Edited by: MoonSoshi9@soshified.com
Have a news item that you think Soshified should know about? E-mail us at tip@soshified.com.
Follow us on Twitter: http://twitter.com/soshified for the latest on Girls' Generation.