Videos
New e-ma CM Released
A new CM for e-ma Nodoame will be released on October 17th.  The girls finished filming recently for the cute commercial, which will have them playing around a European styled dinner table with "Bad Girl" from their First Japan Album playing in the background.  In the behind the scenes video you can see everyone acting playfully.  Taeyeon and Tiffany especially seem to be having a good time with the giant spoon.  Check out the full CM on the e-ma website.
Girls' Generation Leaves a Message for Rain
Rain recently held his final concert before entering the military, and Girls' Generation left a video message for him.  They showed their respect for their sunbae with some words of encouragement and said that they will be waiting for his return.
Seohyun's CF For The Face Shop Released
Seohyun had completed the filming of the first CF for The Face Shop last week, and this week we finally get to see the finished product.  Seohyun is as cute as ever in the short clip.  Also, Seohyun sang the song featured in the commercial.  The Face Shop is sure to see a huge increase in sales now that this ad campaign is in full swing.
Girls' Generation Members Make a Guest Appearance on "Superstar K3"
With an impending comeback, Girls' Generation has started making a lot of appearances on TV shows.  This week, Jessica, Sunny, Hyoyeon, and Seohyun made a guest appearance on "Superstar K3".  We get to see the girls teaching their dance moves in the two videos.  They are cute working with the other people on the show and look to be having a fun time.  Check out the second part here.
Music Show Teasers for Girls' Generation's Comeback
As we all know, next week on October 21st, the girls will be making their long awaited comeback on KBS "Music Bank".  This week, "Music Bank", MBC "Show! Music Core" and SBS "Inkigayo" each showcased a short teaser hyping the girls' return to the music shows.  Fans were immediately excited, but viewers were quick to notice a few mistakes with KBS' and MBC's teasers.  KBS accidentally switched Yuri and Seohyun's names with each other's picture, and MBC made a spelling error with Yuri's name.  Poor Yuri just can't catch a break with these teasers!  Regardless of the production errors by the TV stations, everyone is getting extremely excited for next week's comeback.  Check out the "Music Bank" teaser here, and the "Music Core" teaser here.
MC YulTi Hosts a Special Episode of MBC "Show! Music Core"
Last week Tiffany and Yuri made a short, surprise appearance on "Music Core" when it was revealed Jiyeon and Suzy would be leaving their posts as MC's.  MC YulTi made a triumphant return this week to host the entire show for a special episode at the Korea F1 Grand Prix K-pop concert.  Toward the end of the video of the MC cuts, Tiffany and Yuri give a shout out to Girls' Generation's comeback next week saying, "Girls bring the boys out!"
Seohyun Voted 2nd as Idol You Would Want to Marry
In an episode of Mnet's "Idol Chart Show" this week, idols were ranked by who you would want to marry, and Seohyun came in 2nd place.  Seohyun gained a lot of exposure with her fake marriage to CNBLUE's Yonghwa on "We Got Married".  As everyone who watched the show knows, anyone who sees Seohyun in a wedding dress would instantly want to marry her, so it's no surprise she was ranked so high.
Endorsements
October Wallpapers From Woongjin Coway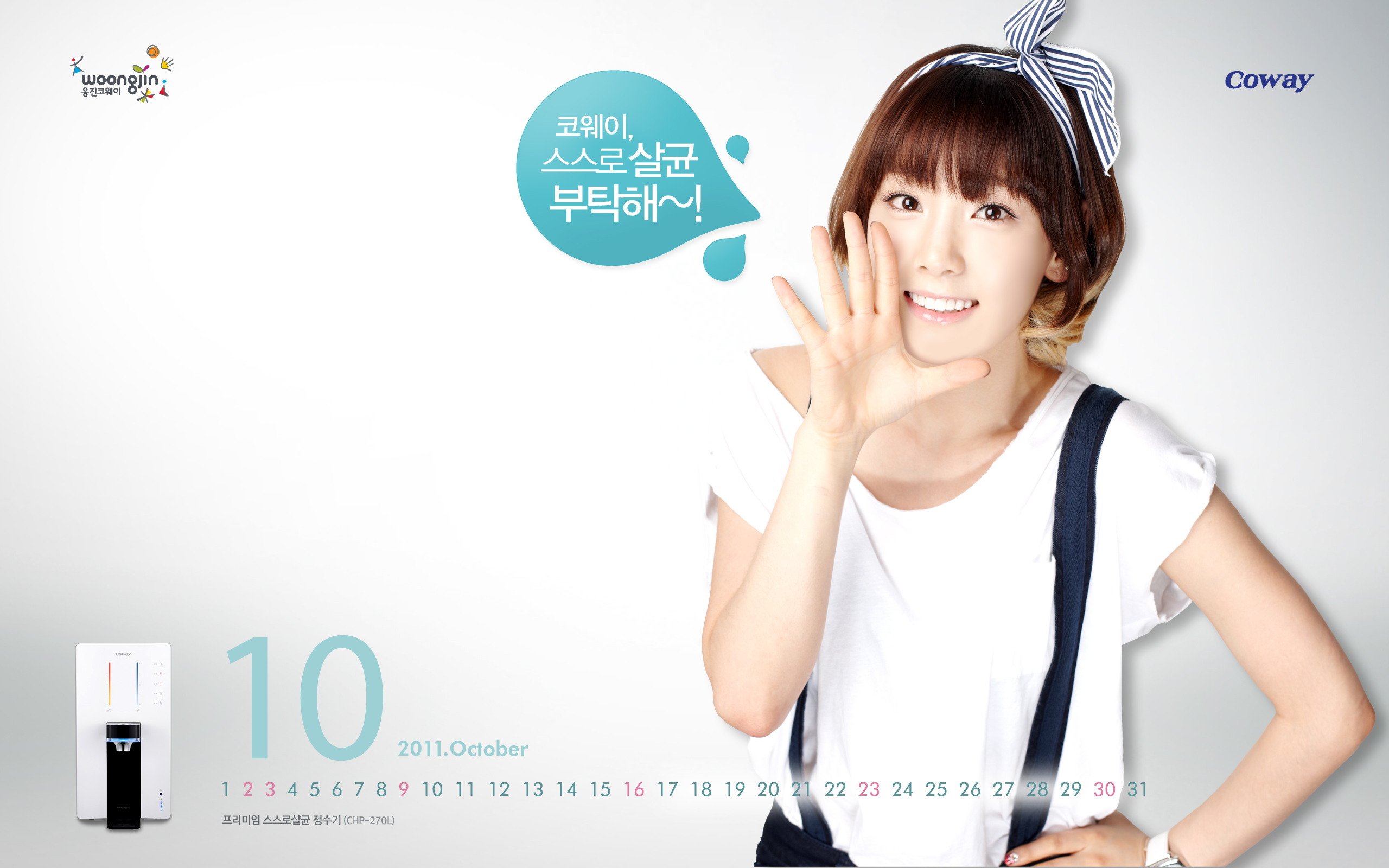 Woongjin Coway released wallpapers for the month of October featuring Taeyeon and Jessica.  The girls look especially cute with Taeyeon and her headband and overalls, and Jessica's wink.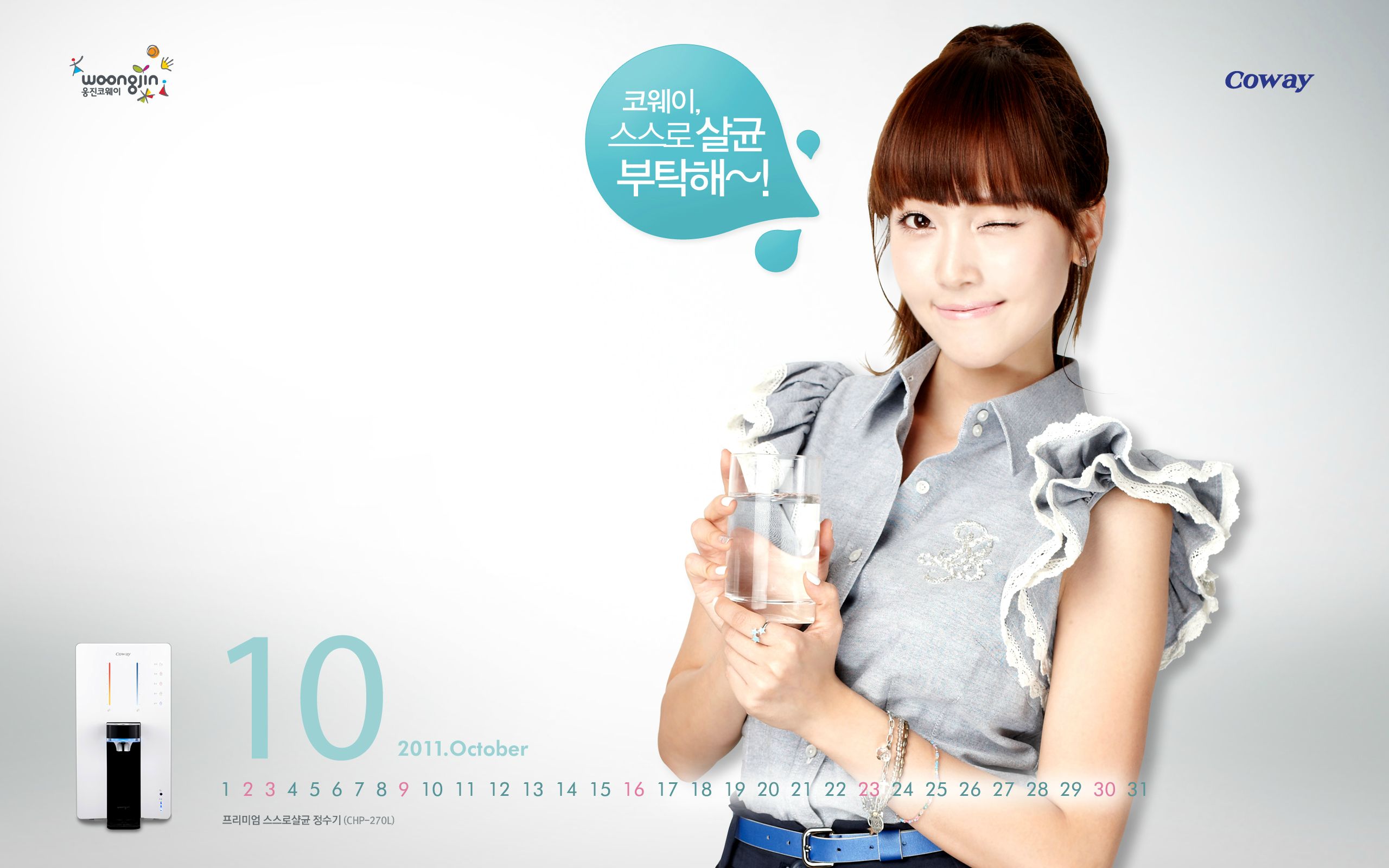 Others
Cast and Characters Released for Fame with Tiffany
Tiffany will be starring in the musical "Fame" as one of the lead characters, Carmen Diaz.  The ticketing website for the musical released an advertisement detailing the different actors and their roles in the play.  Tiffany's section details some of her many accomplishments as a member of Girls' Generation, such as their Daesang awards.
24/7 Girls' Generation Channel on SBS Gorilla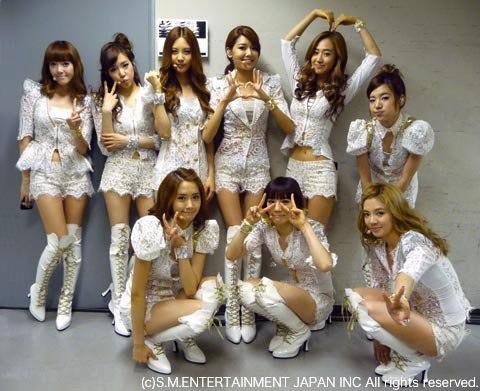 SBS has created a channel specifically for Girls' Generation on their Gorilla App for the month of October.  The channel will feature appearances by the girls on SBS shows such as "Inkigayo" and "Strong Heart".  Watch Girls' Generation all day every day!  Head over to SBS' official site to download the app.
Yoona Ranks First as Idol Too Attractive to Have as Just a Friend
Yoona continues to prove her popularity this week, as a poll was conducted online ranking idols for being "too attractive to have as just a friend".  In one of the most lopsided votes I've ever seen, Yoona ran away with first place with an absolutely ridiculous 94% of the vote, beating other idols such as 2PM's Taecyeon and 4Minute's Hyuna.  As expected, Yoona's beauty is recognized by everyone.
Yoona Attends the Busan International Film Festival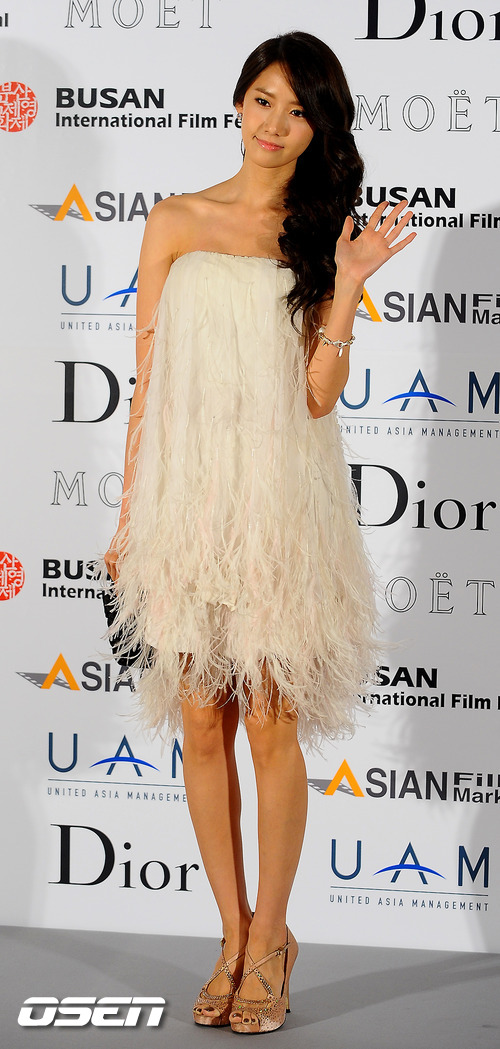 Yoona attended the Busan International Film Festival this week and wowed attendees with a beautiful white dress.  Yoona was attending one of the many events at the festival, "Asian Film Support Night with Christian Dior".  Not only was her dress a big hit, but her shoes were as well.  Korean media loved everything about Yoona's look.  Check out more pictures from the event here.
Girls' Generation on the Cover of Taiwan's Play Magazine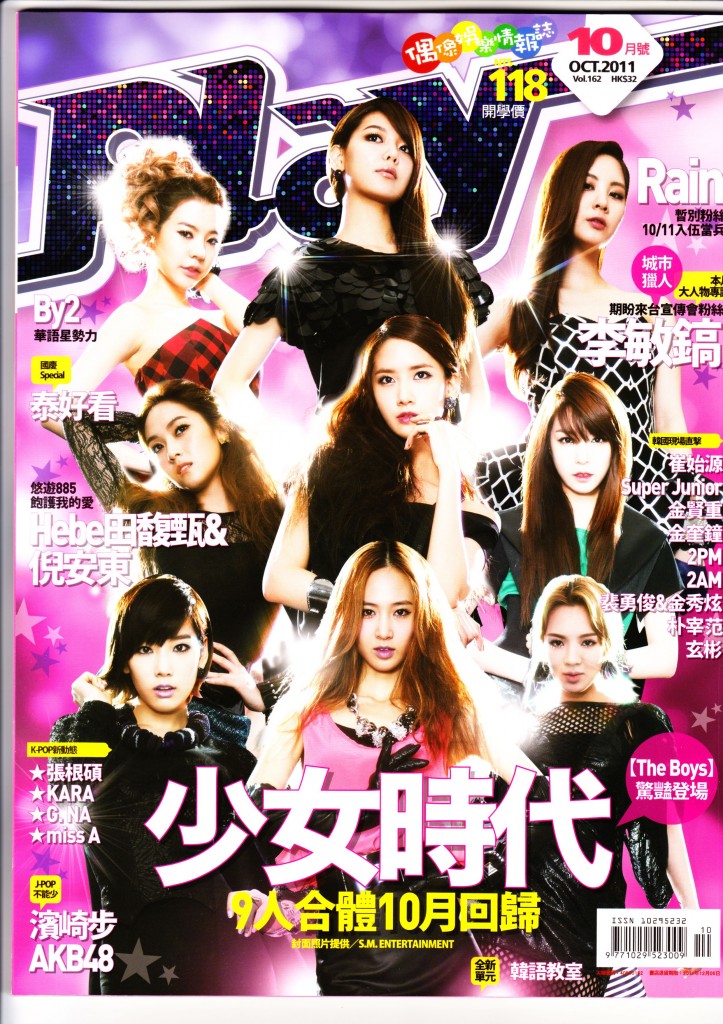 The girls completed a hugely successful three day run of concerts in Taiwan in September.  Further proving their popularity in Taiwan, Girls' Generation was featured on the cover of the October issue of Play Magazine.
Japanese Group Perfume Talks About Girls' Generation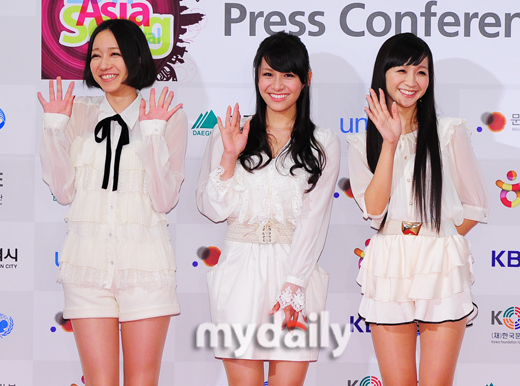 During the press conference at the 2011 Asia Song Festival in Daegu, Japanese girl group Perfume commented on their relationship with Girls' Generation.  They mentioned that they met the girls at a music show in Japan, and afterwards became very friendly, even exchanging messages.  Perfume had nothing but kind words to say about Girls' Generation, commenting on their talent and that they were honored to see them perform.
Girls' Generation Ranks First as Most Influential Idol for the Hallyu Wave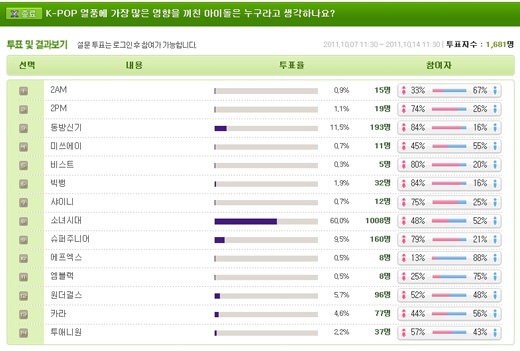 In a poll run by the website Max Movie ranking the most influential idols for the Hallyu wave, Girls' Generation came in first place with an astounding 60% of the vote.  The closest contender was TVXQ with 11% of the vote.  The nation's girl group is continually being voted #1 in these types of polls, no doubt due to their incredible success in Japan and their ability to bring in new fans from all over the world.
Interscope and Geffen Records Tweet Girls' Generation's MV Teaser

Girls' Generation released the final teaser for their upcoming song and music video "The Boys" this week, and their American record label tweeted the video to their 235,500 followers.  Also, Thom Panunzio, the head of A&R in charge of scouting talent at Geffen Records, another label belonging to Universal Music Group with Interscope, tweeted the same thing to his followers.  It looks like the girls are already getting some exposure in the States ahead of their album release on the 19th.
Leeteuk Tweets a Picture with Tiffany and Super Junior Members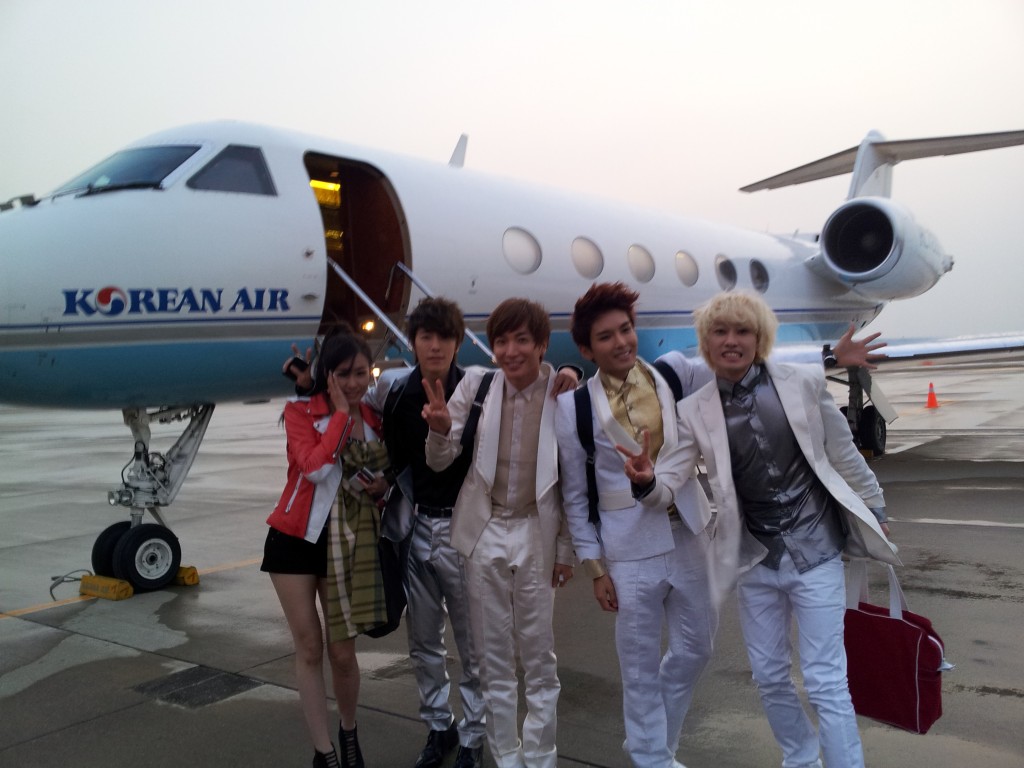 SM artists had an incredibly packed schedule this week.  After Tiffany and Yuri MC'ed for "Music Core" they hopped on a private jet with the boys of Super Junior to fly to Daegu for the 2011 Asia Song Festival.  Leeteuk tweeted a picture with Tiffany on the tarmac.
Tiffany Rehearses for Her Musical "Fame"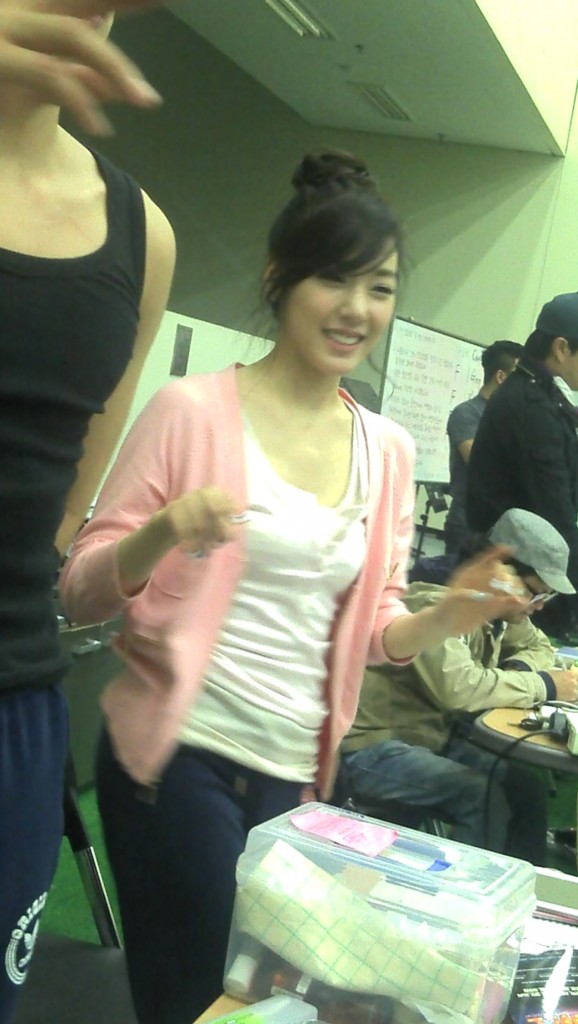 Tiffany is hard at work rehearsing for her starring role in the musical "Fame".  Some pictures were taken during the rehearsals, and Tiffany gained a lot of recognition for maintaining her cute and pretty appearance despite working very hard on preparing for her role.
inStyle Korea iPad App Updated With Yoona's Photo Shoot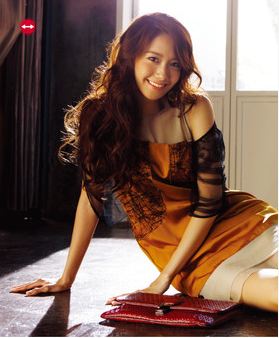 Yoona had an absolutely gorgeous photo shoot for inStyle Korea magazine in the October issue.  The iPad app was updated to include the stunning pictures of Yoona and is available on the Korean App Store.
Girls' Generation Performs at the World Knowledge Forum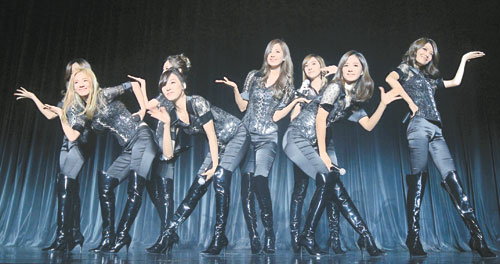 Despite a packed schedule, Girls' Generation made time to perform at the World Knowledge Forum this week.  It is a very prestigious event for distinguished individuals.  What better place for the girls to showcase their distinguished talents?
Voice Actor Saine Ryuuji of Power Rangers SPD Talks About Girls' Generation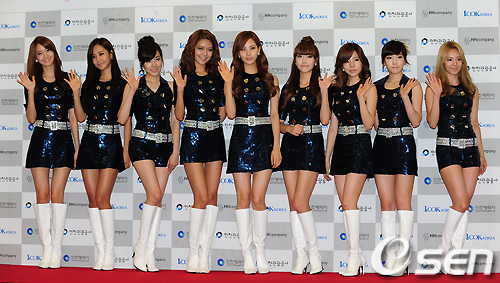 In an interview for Japanese website Drama Navi, Saine Ryuuji, the voice of the Red Ranger of Power Rangers SPD talked about how much he likes Girls' Generation.  " Lately, I've been crazy about SNSD! I've only seen their promotion video once on Youtube and I was knocked out! If you understand the specialty of each member, it will not get in the way with the other members. That's why their center can always change. I don't know who looks good with that, from any angle they look good. Everyone has the feel of being a lead."  He mentions his admiration of the girls and how they embody the spirit of "all for one and one for all".
Soshified Mentioned in a Singapore Newspaper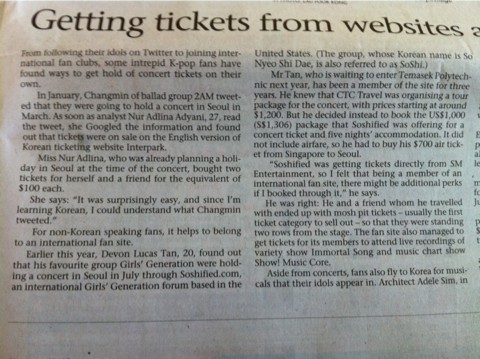 In the October 17th edition of the Singapore newspaper, The Straits Times, an article ran talking about K-pop and how people acquired tickets to see concerts.  Soshified's field trip to Korea was mentioned, talking about some of the perks the trip offered to those who decided to go through Soshified instead of another travel package to see Girls' Generation.  Soshified continues to see global exposure through our support of Girls' Generation, as people all over the world recognize the great community we have here.  The full text of the article can be found on The Straits Times website.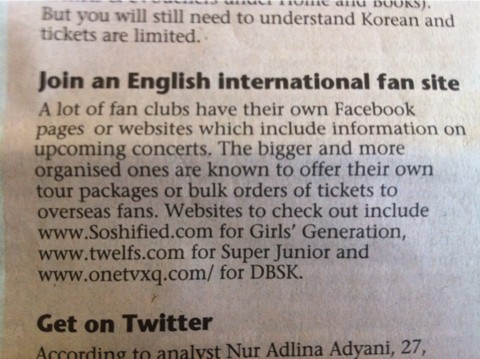 Girls' Generation Mentioned in IGN Dance Central 2 Review
IGN is one of the biggest video game websites in the world, and it just so happens, one of their main editors is a SONE.  Ryan Clements reviewed Dance Central 2 for XBOX360 this week, and despite a glowing review and a 9.0/10 score, he found one thing missing in this otherwise fantastic game.  There was a severe lack of Soshi!  As Mr. Clements writes in the review, "Also, Dance Central 2 could have used some Girls' Generation choreography. Just saying."  Who can blame him?  Dance games are perfect for Girls' Generation with all their amazing choreography.  You just know the "arrow dance" would be incredibly fun in a game like Dance Central.  I wonder how many new SONEs Mr. Clements created this week with that review.
New Sets of Pictures
Vita500- Taeyeon, Taeyeon2, Jessica, Jessica2, Sunny, Sunny2, Tiffany, Tiffany2, Hyoyeon, Hyoyeon2, Yuri, Yuri2, Sooyoung, Sooyoung2, Yoona, Yoona2, Seohyun, Seohyun2, Seohyun3
J.ESTINA – Taeyeon, Jessica, Sunny, Tiffany, Hyoyeon, Yuri, Yoona, Yoona2
Eider – Yoona
SONE Picture/Video of the Week
The teaser images for Girls' Generation's 3rd album "The Boys" created quite a stir when they were released.  The girls had such varying and unique styles.  This inspired one of Soshified's members, JadeFalcon, to sit down and draw each member's teaser image using pencil.  The drawings came out incredibly well with so much detail.  One of my favorite aspects of the drawings is Yoona's crown, where you can see the sparkles from the jewels.  JadeFalcon said it took roughly three hours per drawing.  That's quite the dedication!  I'm always amazed at the different ways SONEs show their love for the girls.  These drawings show that love in a unique and talented way.  Check out the rest of JadeFalcon's drawings of "The Boys" teaser images here.
If you have any pictures or videos you'd like to submit for SONE Picture/Video of the Week, please feel free to do so by sending them to the Soshified Writing Team at tip@soshified.com or posting at the 
official SONE Picture/Video of the Week thread
Sources: Soshified Photo Section, TheSoneSource26@youtube.com, WalkerPlus News, Interpark.com, Asia Today, Newsen, hellosone@youtube.com, Osen, e-ma, TheSoneSource27@youtube.com, mos0727@twitter.com, withsosiz9dot2@youtube.com, monmonsnowSeason3@youtube.com, CrazyCarrotNew210@youtube.com, Mydaily.co.kr, Max Movie, Interscope@twitter.com, Geffen_AR@twitter.com, fiat50091@youtube.com, special1004@twitter.com, Zaikei.co.jp, iTunes App Store, Naver, Dramanavi.net, Straits Times, JadeFalcon@soshified.com, IGN
Written by: MoonSoshi9@soshified.com
Contributors: SeraphKY@soshified.com, meehyun@soshified.com, gayqueenful@soshified.com, Risse-hahaha:)@soshified.com
Graphic by: cioco@soshified.com
Have a news item that you think Soshified should know about? E-mail us at tip@soshified.com. Follow us on Twitter: http://twitter.com/soshified for the latest on Girls' Generation.