When talking about K-Pop dances, the one person mentioned by many will definitely be Rino Nakasone, member of The Beat Freaks and one-half of THE GEMINIZ along with Maryss from Paris. No stranger to fans of Girls' Generation or K-Pop in general, Rino Nakasone has been one of the most awe-inspiring figures in dance this decade. The Okinawa-born Rino is known for having worked with Britney Spears, Gwen Stefani, Janet Jackson and of course, SM Entertainment!
Soshified now presents to you an exclusive interview with Rino, cataloguing her experience so far working with SM Entertainment, her thoughts on Girls' Generation and their dances, and her frequent brushes with fan culture!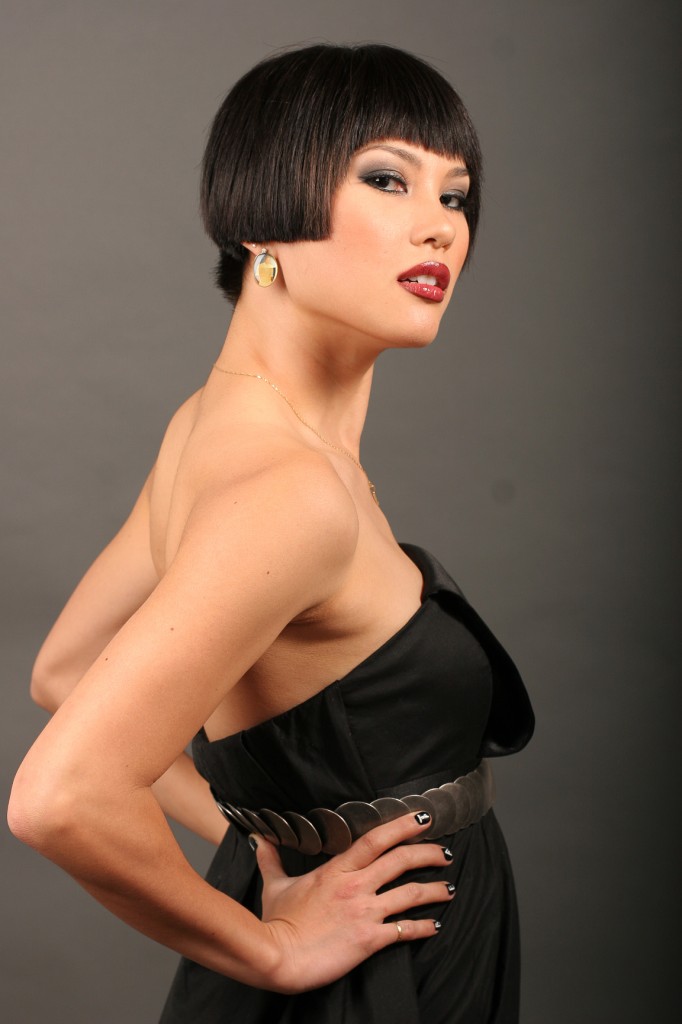 Rino Nakasone (Rino Okinawa)
A prolific choreographer with a long list of K-Pop credits under her belt that include the likes of SHINee's "HELLO", "Love Like Oxygen", "Replay", Girls' Generation's "Genie", "Oh!","MR. TAXI", TVXQ!'s "Keep Your Head Down", and BoA's "Dangerous" and "Copy & Paste", Rino isn't shy about showing her work on a worldwide stage.
Freshly back from a trip to Singapore's "The Big Groove 2011" with The Beat Freaks, Rino says about the country, "Singapore was amazing and it's always best to travel the world with your friends/family. The people there are so serious about learning dance and were great at it! It was my 2nd time there but I really wanna go back again. I was happy to see Merlion!"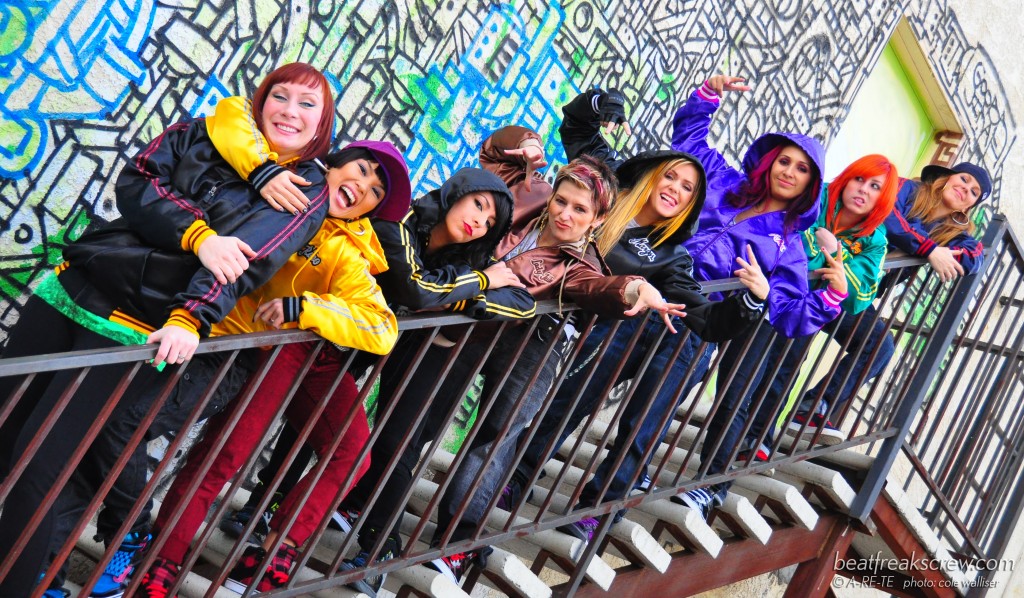 The Beat Freaks
For Rino, the person who has had the most influence on her would have to be the king of pop, Michael Jackson, whom she hasn't worked with personally but will always idolize. Her other influences would have to be Janet Jackson, TLC (with whom she has also not worked with), Tina Landon, and Anthony Thomas.
The most meaningful projects she has worked on "will be doing America's Best Dance Crew season 3 with my sisters The Beat Freaks, and also choreographing "Replay" for SHINee coz that's where all started."
On Working with SM Entertainment
We decided to ask Rino to shed more light on choreographing dances for the top pop acts like Girls' Generation and SHINee.
Q:  What has your experience with SM Entertainment been like, so far? You've choreographed many dances for SM groups from SHINee to TVXQ to Girls' Generation, but how did you first get in contact with SM Entertainment to create dances for their idols groups?
A: I am truly thankful for it. Not only I get to show my choreography/creative side but also became good friends with the team. I also love the fact that I get to be a part of entertainment creation and people are moved by it. I love watching people copying the moves!!
Q:  Generally, how much time does it take for you to compose a routine? Do you brainstorm with other choreographers?
A: I never know how long it will take for me to choreograph … Sometimes 1 day, sometimes 5 days, depends on my creativity and also my schedule. I work with [Shim] Jaewon and [Gregory] Hwang from SM Entertainment and also my partner who is also in the Beat Freaks, Maryss From Paris. We call ourselves The GEMINIZ. Sometimes the artists help us too! Which I like:)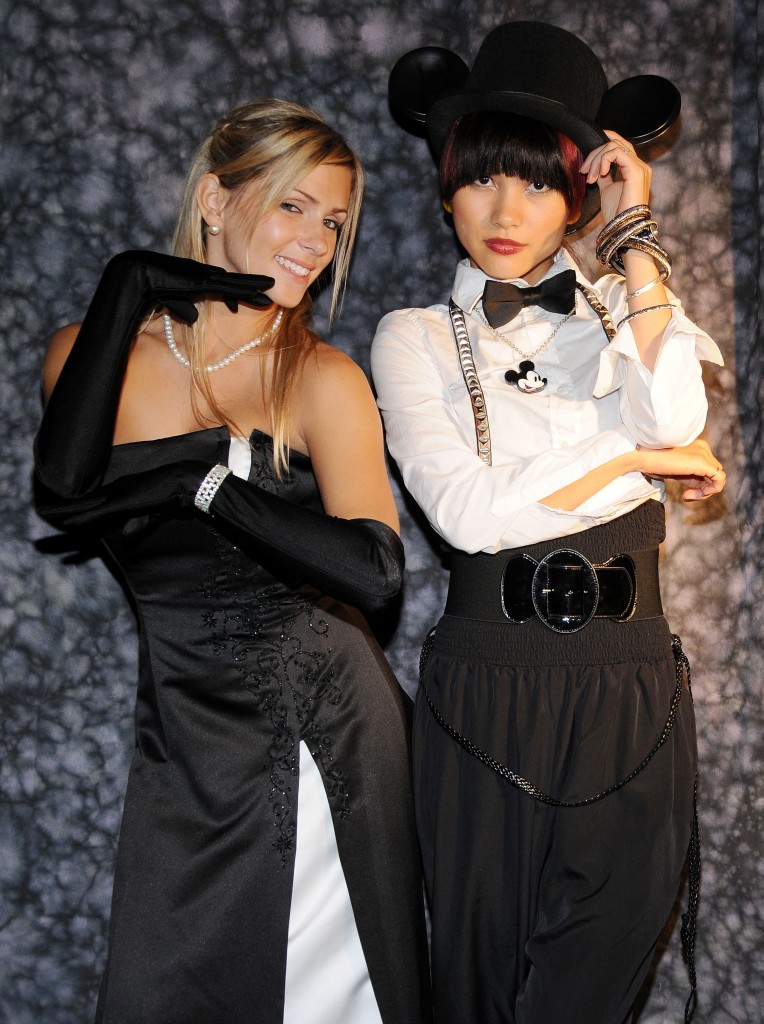 The Geminiz
Q:  Many of the dances created for SM artistes have been collaborative work, how do you work with Jaewon for so many songs?
A: Depends. Every project was done in different ways, but all I can say is he's my BEST partner ever!!!!
Q: Your choreography for BoA and DBSK was pretty much perfect! Did you feel any pressure choreographing for BoA and DBSK, who were doing their comebacks after a long time?
A: I felt very honored when I heard BoA herself requested me to choreograph for her comeback:). And I was happy that I got to work with TVXQ! too.
In my head, I knew it was a big deal, but I usually don't let that get in too much….. I choreographed the same way as I do for other artists which is how can I showcase their styles and talent and what the song is about.
Q: Is there a difference in choreographing for a group (SuJu, Girls' Generation) versus a solo/duo? (BoA/DBSK) Does gender come into play when you choreograph a song too?
A: Yes, there is a difference choreographing groups or solo/duo. Groups, I focus on choreo and formations. (I didn't do formation on "Genie" or "No Other". That was done by Jae and Hwang).
With solo/duo I need to choreograph for artists, and the dancers.
Q:  What do you think about the training regimen that K-pop idols go through?  Does it make it easier to choreograph for them, since they're trained so rigorously in dance from a young age?
A: YES YES YES but there were some styles that they weren't used to, so I would teach them but they learn so fast!
Girls' Generation Are Very Girls' Generation!

Actively involved in Girls' Generation's Japan 1st Arena Tour, Rino was in Japan with them, having "choreographed "You-aholic", "I'm in love with the Hero", and "Beautiful Stranger" along with [Gregory] Hwang from SM entertainment."
With the 3rd Korean album "The Boys" just released, fans are wondering how Girls' Generation manage to record and practice choreography for new songs to pull off explosive comebacks to the music scene with a brand new album while simultaneously promoting and holding concerts. In one interview, Tiffany mentioned how it takes months for recording but only about a week for the group to complete their choreography.
We asked Rino about how scheduling practice time is like when she has to work with busy idols and she says, "It's crazy how busy they are and how lil time they have to rehearse but we always work it out! They are such professionals!"
Most fans might be curious as to how she comes up with jaw-dropping moves to K-Pop songs, whether she's given a concept image to work within, or given the song and granted free reign so she can go all out? How important are the lyrics when choreographing, or does she just go with the feel of the song?
Her reply is, "All [of the] above! And it depends on each project. First, I would listen to the song like 100 times and let my imagination tell the concept, then I just go for it. I usually choreograph to [the] feel and melody of the song but lately I try to match the lyrics. Also formation is important! I mean, it's a science!! I wanna make sure each member gets highlighted in a unique way."
As to whether that changes depending on the artiste, Rino tells us, "Overall, I wanna create choreography that only fits for each song, otherwise there's no point to it. Can't forget the fact that this is all collaboration between me (sometimes w/ my partner Maryss from Paris) and the SM team!"
Here are more questions and answers, with fun little tidbits about how Girls' Generation get to contribute choreography to their own parts during songs, and what Rino thinks about the girls!
Q:  Girls' Generation's latest Japanese single, 'MR. TAXI/Run Devil Run', reached #1 in preorders at many stores. How do you think the girls can stay ahead of the competition in a market traditionally dominated by female idols with a cute image?
A: Their devoted fans:) And I think SM Entertainment and the artists put so much work and effort in presenting the best product to the market. Also people tend to want to have role models and how can you not help but to have Girls' Generation as that??
Q:  In creating choreography for Girls' Generation's 'MR. TAXI', did you try to highlight the differences between J-pop and K-pop? For example, K-pop groups are highly praised for their synchronisation while dancing and teamwork, were these part of the points you tried to show with the choreography?
A: I didn't try to highlight differences between J-pop and K-pop. I just did what I normally do when I choreograph for the girls:) But it was cool and easier for me to understand the lyrics coz its Japanese!
Q: You mentioned that people see Girls' Generation as role models. What do you think are the qualities of Girls' Generation that make them so admirable and loved by fans around the world?
A: You tell me!!! Haha. I think of course on top of being [the] great entertainers that they are, they're 9 beauties and [have] cute personalities. Also SM Entertainment makes great artists, songs, choreography, PV, and performances so people get hypnotized and girls wanna be like them:)
Q. Do any of the Girls' Generation members provide input for the choreography?
A: YES! Sometimes they do their own solos and they also help with the formations and [give] li'l suggestions here and there:) I love when artists speak up or show their personalities.
Q: You said that the girls do give some suggestions to the choreography. Are there any examples, perhaps ones that managed to change up the choreography in a good way?
A:  They all trust me as a choreographer and I trust them as artists. I was more talking about little things as "they make suggestions", but when I don't give them "solo" choreography; they just come up with their own stuff.
For example, MR. TAXI's "I'm so fast" by Sunny and in hook, Sooyoung's "Hikari kagayaku" and Seohyun's "Kedo hurerarenaino" they did it. Also Seohyun and Yoona did their part "Kuse ni narisou na su-ri-ru" from "I'm in love with the hero". Hyoyeon did her solo on "Oh!".
I am sure there are more but this is all I could think of for now….
Q:  Were there any interesting incidents that happened while you were choreographing songs for Girls' Generation? (EG: Tell Me Your Wish (Genie), Hoot, MR.TAXI )
A: For MR. TAXI handle move, we used workout items that are like wheels to practice the move:) It's not an easy step and this helped girls to understand the feel [of the move] better!

Watch Rino's original choreography submission for "Tell Me Your Wish (Genie)"
Q: For Girls' Generation, do you find it restricting at all to have to feature each member as she sings? For example, are there any specific parts of a dance you create for the members who are in the background at certain moments?
A: One of the great things about Girls' Generation is their synchronization and the teamwork, so I don't feel restricted and with 9 members, you could do so many ways to showcase the moves/formations, which is fun and challenging. Yes, sometimes they do have different choreo when they are not doing their solos so that solo would stand out more:)
Q:  When you choreograph a song and have it performed by other groups, there are bound to be a few differences in terms of style and execution. Do you ever expect a huge difference, and to what extent do you think Girls' Generation captures your original intentions in their performances? Do you think that they bring a softer flair? Are you ever disappointed or surprised by the final product?
A: I look at my choreography as, it's THEIRS now. So whatever they do, that's how it's supposed to look like, if you know what I mean. I do teach K-Pop workshops which people tend to compare us and of course it's different coz that's the way I perform/my style, plus I don't have to sing or wear heels which is 100% easier and when the artists perform, that's their style. To me, that's the beauty about artists, making the choreography come to alive and making [it] into THEIR OWN STYLE.
Anyway, I enjoy how each artist performs my choreography coz I can see their personalities through it. Girls' Generation is one of the best ones doing my choreo! They understand my vision/style. Their synchronization and teamwork has such chemistry!!
Rino's Passion for Dance
For a dancer like Rino, who started out with a humble beginning by imitating her idols, Michael Jackson and Janet Jackson, it's been a blast seeing her work being imitated by fans from all around the world. To her, no matter whom people are, fans of Rino and The Beat Freaks, or fans of K-Pop idols, dance brings everyone together. In this global generation, "UNBELIEVABLE" would be the word she chooses to describe the feelings she gets from seeing her work showcased on such a large-scale stage.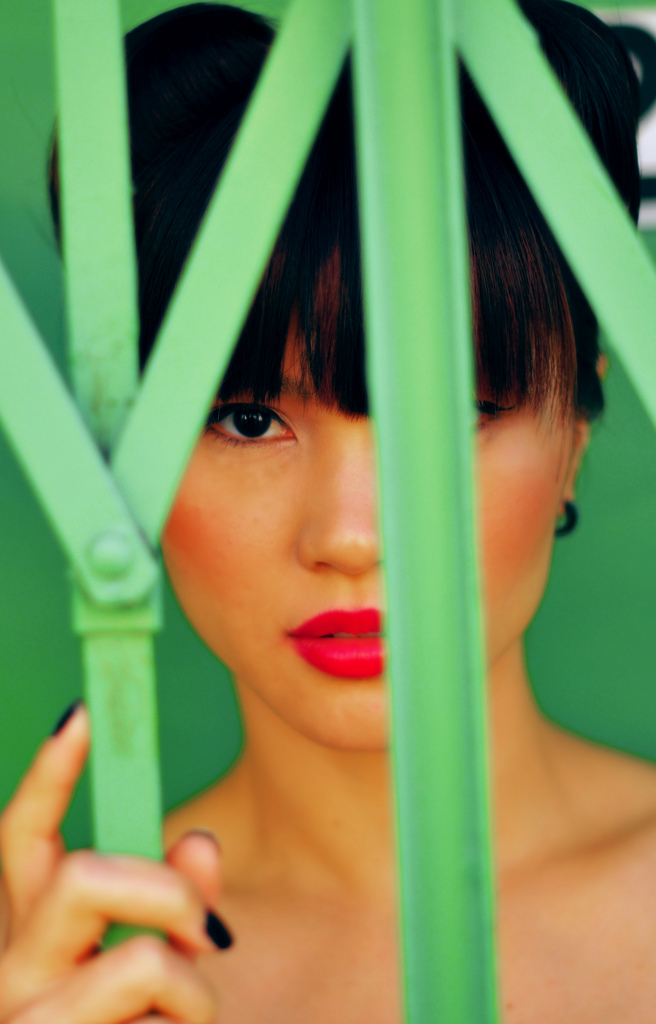 Q:  Have you ever gone to see Girls' Generation or other SM artistes perform live? How did you feel seeing your work on live stage?
A:
  Yes. I love it!!! There's nothing like it, to see my own work on stage, I get nervous watching it but also am happy when I see crowds going crazy. I also love watching each artists how they would freak it to their own thing when they have their free moments like freestyles or their solo parts.
Q: Are there other dance groups or dancers in particular you would want to work with, such as the I.aM.mE crew who participated on the latest season of ABDC, or even just plain dance-offs with any K-pop artists?
A: I am so blessed coz I got to work with great dancers and the choreographers who I look up to, such as Tina Landon, and Anthony Thomas, to name a few…. but in the future… I must to say I would love to work and learn vogue with Vogue Evolution from ABDC season 4, and I love Danielle Polanco. She is one of the baddest girls in the dance industry.  From K-Pop artists, of course SHINee!! One of my dreams is to have The Beat Freaks and SM artists perform together:)  There was a time, we were asked to be in BoA's American MV but our schedule didn't work out:( Anyway, I just wanna work with whoever wants to work with me!!! I love creating dances and meeting new talented people!
Q: You've been traveling a lot the last few months (eg. Japan, Singapore, Korea, etc). What are your thoughts on the difference between K-pop fan culture in Korea and overseas? Other than K-pop fans, are there differences in fans of Beat Freaks and The GEMINIZ all over the world?
A:  I don't really know "The difference between the K-pop fan culture". All I know is K-Pop has become huge among the world. I am just happy and honored to be a part of creating choreography for this sensation. Their fans are so dedicated, devoted and supportive. They even support me:)
I love The Beat Freaks fans. They supported us positively during ABDC Season 3, and still do to this day. The Geminiz fans, they know and see the chemistry of me and Maryss. Some are MJ fans coz they know we Love Michael and some are K-pop fans coz they know we choreograph for them. Sometimes people tell me, they became a fan of SHINee or Girls' Generation coz of the choreography that I made for them and that makes me so happy!
Overall, you can tell how DANCE is a big part of all of us! They enjoy watching people dance!! Me as a dancer/choreographer and being able to get support coz of it is amazing! And I hope that dance industry gets bigger and bigger. Anyway, regardless of wherever they know me from, I truly appreciate their support:)
_________________________________________________________________________________________
We thank Rino once again for being a great sport at answering our questions, and we hope everyone on Soshified had a wonderful time reading the questions. Stay tuned for more exclusive interviews by Soshified (hint: it's got to do with our nine favorite girls)!
Remember to check out the following links for more updates on Rino!
Rino's website: http://www.rinokinawa.com/
Rino's twitter: https://twitter.com/#!/RinOkinawa
Written by: soshiluv9@soshified.com
Contributors: snsd_ffa@lj
Please do not distribute, re-publish or alter this article without express permission from tip@soshified.com.

Have a news item that you think Soshified should know about? E-mail us at tip@soshified.com.
Follow us on Twitter: http://twitter.com/soshified for the latest on Girls' Generation.