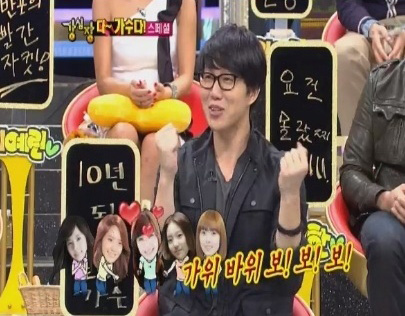 Singer Sung Sikyung showed his affection for Girls' Generation.
On September 20th during SBS "Strong Heart", Sung Sikyung caused laughter by confessing that after being discharged from the army he has been seeing girl groups not as junior singers, but as celebrities.
Sung Sikyung stated, "Girls' Generation guest starred on my radio show and were fussing over something.  They were playing rock, paper, scissors with each member naming one of my songs that they wanted to hear."
He added, "Their rock, paper, scissors didn't end with one match.  The more they played, the more my happiness grew."  He caused laughter in the studio by confessing that he was touched and stated, "I almost went around telling people that Girls' Generation likes me."
Source: Star Today
Translated by: ch0sshi@soshified.com
Edited by: MoonSoshi9@soshified.com
Have a news item that you think Soshified should know about? E-mail us at tip@soshified.com.
Follow us on Twitter: http://twitter.com/soshified for the latest on Girls' Generation.