Videos
1. Girls' Generation Featured on TV Pops In Seoul- The Scene 2011
It looks like the craze over Gi
rls' Generation is still not over! Despite the fact that Girls' Generation's Japan Arena Tour ended more than a month ago and that their "2011 GIRLS' GENERATION TOUR" in Seoul was held a month ago, they are still the talk of the town. Recently, Girls' Generation's success in Japan and their subseque
nt tour was featured on an episode of Pops in Seoul's "The Scene". The video talks about how successful Girls' Generation is, and also shows a small clip of the Soshified Field Trip team screaming their lungs out over our 9 nine angels.
Highlights of the video are the showing of the ne
w "Chrasmatic Rocker" Taeyeon, as well as the touching event that Korean SONEs organised for Girls' Generation. Take a look at the video yourself to see the main events of the concert!
2. Girls' Generation at VIP Premier of "Blue Salt"
On the evening of the 23rd, 5 ladies of Girls' Generation attended the VIP premier of the movie, "Blue Salt". Members Sunny, Tiffany, Hyoyeon, Sooyoung and Yoona turned up at the screening to show their support for the director and the cast, which consists of Shin Sekyung and Song Kangho. The movie is about a retired mafia boss who dreams of becoming a restaurant owner and he meets a woman at a cooking class. The woman turns out to be a contract killer who is supposed to kill him, but eventually develops feelings for him. Photos from the premier can be found here!
Others
1. Sooyoung and Yoona Attends Marc Jacobs Fasion Show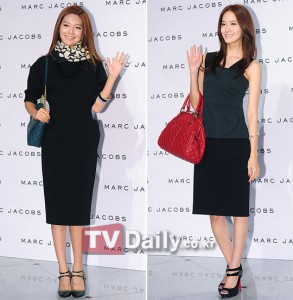 On the 24th of August, Girls' Generation's members, Sooyoung and Yoona attended the Marc Jacobs fashion show in Korea. Both girls were dressed very maturely in black, and the sharp contrast from their usual flowery style has stirred approval among the fans. More photos can be found here, here and here!
2. Tiffany Wows Again with Singles Magazine Scan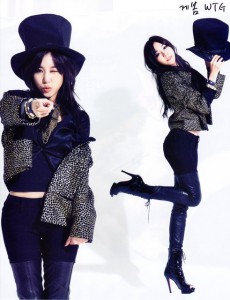 Tiffany strikes again with her amazing photoshoot! Another HQ image of Tiffany from Singles magazine was released once again on the 23rd. Fans were stunned by the easy charm of Tiffany's pose, and the mixture of chic and cuteness portrayed by her makes her all the more lovable. Tiffany's combination of leather and black, topped off with a top hat creates a very English feel about her. What do you think of her photo? Does it suit our "Brighter Than Mushrooms Tiffany"? Also, another photo from the magazine can be viewed here!
3. Girls' Generation's Performance List for SMTOWN LIVE in TOKYO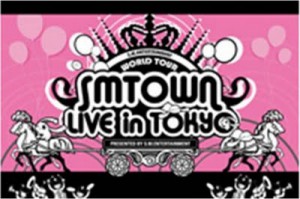 After the announcement that Girls' Generation will be performing at the Tokyo Dome together with the rest of the artists like SHINee and Super Junior for the SMTOWN Concert, the songs list for Girls' Generation's performance has been uploaded. Girls' Generation's Jessica will be performing "Tik Tok" together with her sister, Krystal, and following that, Girls' Generation's maknae, Seohyun, will be singing "Way Back Into Love" together with Super Junior's Kyuhyun. Girls' Generation will be performing some of their hit singles like "Run Devil Run", "My Child", "Kissing You", "Hahaha", "Himnae", "Genie", "MR. TAXI", "Gee" and "Bad Girl". Girls' Generation's main dancers will also be performing a dance break. Judging from the list, the concert is definitely a must-see!
4. Girls' Generation's Tiffany and Sooyoung Visits Park Seungil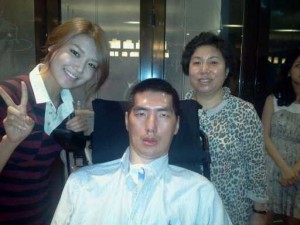 Recently, Girls' Generation's Tiffany and Sooyoung paid a visit to Park Seungil, who is fighting Lou Gehrig's disease. Despite their busy schedules, both of them managed to squeeze in time to see how their friend is doing, and to show their love and support towards him.
Girls' Generation is known to be close to the former basketball coach, and they frequently visit him to support him in whatever ways they can. More photos of Sooyoung with Park Seungil can be found here and here.
New Sets of Pictures
Others- Jessica (Modelling), Sooyoung and Yoona (Marc Jacobs Fashion Show)
SONE Picture/Video of the Week
The Hallyu Wave continues to spread across the world! Recently, a Singaporean school band performed a medley of K-pop songs which included 4 of Girls' Generation's songs. Apart from songs by Girls' Generation, the band also performed songs by IU, BEG and 2AM. Can you tell which song they're playing?
If you have any pictures or videos you'd like to submit for SONE Picture/Video of the Week, please feel free to do so by sending them to the Soshified Writing Team at tip@soshified.com or posting at the official SONE Picture/Video of the Week thread
Sources: Soshified Photos Section, BarneySpider@youtube.com, TheSoneSource25@youtube.com, Nick, hunyboy56@youtube.com
Written by: gayqueenful@soshified.com
Graphic by: cioco@soshified.com
Have a news item that you think Soshified should know about? E-mail us at tip@soshified.com.
Follow us on Twitter: http://twitter.com/soshified for the latest on Girls' Generation.