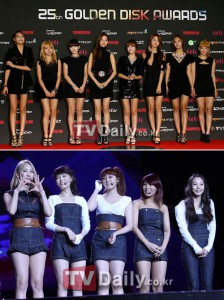 Will girl groups, Girls' Generation and Wonder Girls, have a girl group battle during the second half of 2011 following the announcement of their comebacks?
If someone was told to choose the greatest girl group out of all the existing girl groups in Korea, the person would, without a doubt, choose Girls' Generation or Wonder Girls. Even though there has been a girl group craze in 2011, the return of Girls' Generation and Wonder Girls is still gain
ing an endless amount of interest. With both their comebacks confirmed for the end of the year, their upcoming battle has been gaining a lot of attention.
Firstly, Girls' Generation will be making their comeback either in late September or early October. With their comeback just week
s away, they are currently recording song tracks that will be included in their upcoming album. Girls' Generation's management agency, SM Entertainment, has stated that they are planning for a comeback in September, but has yet to provide a specific date. It was noted that Girls' Generation has not announced a comeback date as they have not fully completed the recording of their album.
Although a date still has not been set, the announcement of Girls' Generation's comeback alone has sent fans going wild. Back in May, after Girls' Generation released their first full length Japanese self-titled album, they have been gaining an endless amount of popularity in Japan. Also, ever since they last released their Korean album, "Hoot" in 2010, they have been showing a more matured side while promoting in Japan. This was shown especially during their solo concert, "2011 GIRLS' GENERATION TOUR", and their Japan Arena Tour when they showed their upgraded image through their music and performances.
At the concert, the 9 member's solo stages, as well as their group performances sent the crowd swooning. Also, during the performances of their Japanese singles "MR. TAXI" and "Let It Rain", they showed their different, matured and lady-like sides. As such, the anticipation as to what concept their comeback will be like has been growing tremendously. Also, because Girls' Generation has been part of the Hallyu Wave, their comeback, as expected, has been gaining a lot of attention from fans all over the world.
While the recent announcement of Girls' Generation's comeback has caused excitement in the music world, Wonder Girls has officially announced their comeback which is set for November.
Wonder Girls revealed through their official homepage that they would be making a Korean comeback in November, and that their activities will only last for a month. Wonder Girls will only finish their US activities after they complete the filming of their movie in October, after which they will be releasing an album for their Korean fans in November.
For the past 3 years, Wonder Girls has been making many attempts to break into the US market. Because of that, they have had little time to spend on their activities in Korea, and one such example is the short month of promotions that they had back in 2010 with "2 Different Tears". This has led to their local fans feeling downcast.
Because of their preparations and plans for their US activities, there have not been any Korean activities from Wonder Girls in 2011. Aside from the company concert, Korean fans have not had the chance to interact with Wonder Girls yet. Due to their long hiatus since their last Korean comeback, the announcement of their imminent comeback has become a hot issue among the public. While "2 Different Tears" had a funky and retro feeling, many are curious as to how the girls will transform for their next comeback.
The reason why Girls' Generation's and Wonder Girls' comeback has become the center of attention is because many are wondering if they will go head-to-head in their promotions. If Girls' Generation does make a comeback in October, it will mean that they will have a few weeks where they will promote simultaneously with Wonder Girls in November.
Although nothing has been revealed as to what music genre or what concept each girl group will be portraying, netizens have already speculated that they will be going head-to-head against each other. However, as both groups have made attempts at various transformations, fans have predicted that their next concept will be highly appealing too.
The battle between Girls' Generation and Wonder Girls is expected to take place largely in their album sales and music chart rankings. Also, both groups are known to have many international fans, so the announcement of their comeback has already gained a lot of interest from overseas. 2 of the greatest girl groups in Korea are planning to heat up the music world in the second half of the year, and fans are already excited for the upcoming battle.
It looks like the upcoming months will be very interesting for the Korean music industry!
Credits: Source: http://news.nate.com
Written by: gayqueenful@soshified.com
Contributors: ch0sshi@soshified.com
Have a news item that you think Soshified should know about? E-mail us at tip@soshified.com.
Follow us on Twitter: http://twitter.com/soshified for the latest on Girls' Generation.