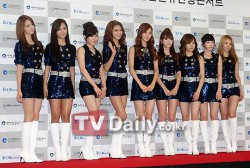 Girl group Girls' Generation has become the center of attention amongst netizens for their big appetites.
On August 15, a post titled '"Girls' Generation's God of Food Road" appeared on an online community site. It included evidence of the slim girls holding the title of "shikshin" (god of food) with their big appetites.
The original poster first revealed the time when actress Kim Minhee ran into four Girls' Generation members at a restaurant. She revealed that the four members ended up paying a $210 bill for their meal. She added a significant comment, saying, "I heard that once, their bill came out being more than what Super Junior (with 13 members) eats."
The netizen continued their post by adding screenshots of Yoona when she played the role of Saebyuk on the KBS1 daily drama "You're My Destiny". During the eating scenes, she could be seen eating spoonfuls of food, causing netizens to laugh and comment, "I can't tell if she's acting or if she's hungry."
Photos of Girls' Generation's autographs inside well-known restaurants all around the country were also revealed. The variety of restaurants ranged from those serving sheep tripe barbecue to grilled clam, showing just how many different types of food they eat.
Netizens posted witty comments such as, "It really seems like 9 true shikshins have gathered together", and, "Has the management company been putting them on diets because of the price for meals?"
Source: Nate
Translated by: ch0sshi@soshified.com
Edited by: michaelroni@soshified.com
Have a news item that you think Soshified should know about? E-mail us at tip@soshified.com.
Follow us on Twitter: http://twitter.com/soshified for the latest on Girls' Generation.