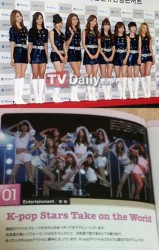 Information on girl group Girls' Generation being in a Japanese textbook has garnered much attention.
On August 12, a post titled "Girls' Generation's Appearance in a Japanese Textbook" was created on an online community site, sparking curiosity amongst netizens.
As a way of congratulating Girls' Generation on their 4th anniversary, a netizen posted various photos showing their influence.
First, the netizen posted a photo of Girls' Generation's picture that appeared in a section of a middle school and high school freshmen's textbook discussing popular music, capturing the attention of netizens. They followed that up with a page showing a shot from Girls' Generation's concert, which is included in an English textbook used by Japanese students.
Netizens who saw the photos commented, "They're even in foreign textbooks; their popularity's worldwide", and, "Girls' Generation is boosting national glory."
Meanwhile, Girls' Generation has been active in Korea, as they recently attended the Incheon Korean Music Wave Festival.
Source: Nate
Translated by: ch0sshi@soshified.com
Edited by: michaelroni@soshified.com
Have a news item that you think Soshified should know about? E-mail us at tip@soshified.com.
Follow us on Twitter: http://twitter.com/soshified for the latest on Girls' Generation.