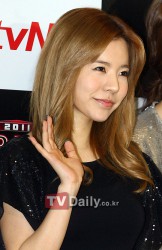 A recent video revealed Girls' Generation's Sunny forgetting her choreography due to trauma from fireworks released in the background.
On the 8th, a post titled 'Sunny's Firework Trauma Video' was posted on a well-known online community site, garnering a great amount of attention from netizens.
In the video, like any other open/public event, Sunny was performing with her fellow members. However, due to a sudden firework explosion, Sunny froze and could be seen running her hand over her heart.
After seeing a video from the past showing Sunny being the first to help Taeyeon being dragged off stage, this side of Sunny was a bit new to many. Fans, however, are aware of Sunny's fear of fireworks, and she also confessed of being afraid of loud sounds like this after going through the Gulf War when she was a child.
Meanwhile, netizens expressed their sympathy by commenting, "I hope she can overcome her fear of fireworks", and, "It must be hard for her since these things go off during concerts and performances."
The video is shown below (the aforementioned scene is around 0:20)
Source: Nate, l22520mm@youtube.com
Translated by: ch0ssi@soshified.com
Edited by: JeremyJay22@soshified.com
Have a news item that you think Soshified should know about? E-mail us at tip@soshified.com.
Follow us on Twitter: http://twitter.com/soshified for the latest on Girls' Generation.