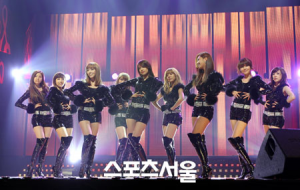 Girls' Generation at their best: performing for adoring fans.
At first glance, you would wonder why this group of girls has such a rabid following. The boy band/girl group phase had passed long ago, since 'N Sync and Spice Girls went their separate ways. These girls speak and sing in a language that is more or less confined to a small peninsula in Asia. They hail from a country that is mainly known for being the home of many giant technology, electronics, and car companies as well as its long war with its northern counterpart gripped by dictatorship.
Yet, these girls have gained some of the most loyal fans around, as evidenced by the almost 186,000 fans here on Soshified alone, much more other fansites around the world and fans who have not affiliated themselves with any community. The girls may have appealed to some fans' tastes right from the start. But for many of us who do not usually like girl groups, pop music in general, Korean pop music in particular, or anything related, why have we come to love these girls so much?
If you knew about SM Entertainment starting Girls' Generation in the beginning, you would think they were crazy or doing everything wrong. As said before, the boy band/girl group fad had passed long ago. And even if one could still make good money from pop vocal groups, who in their right mind would include nine people, when the standard is four to five? Furthermore, choosing nine girls with different personalities, characteristics, habits, talents, and backgrounds looked like a huge catfight waiting to happen.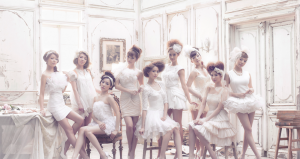 Vastly different personalities that come together very well.
And yet, that is the charm that has attracted us SONEs to Girls' Generation. These nine girls, who are nine completely different and independent people, have come together to form a group that is stronger than even its already sturdy parts. As we have seen, these girls can be successful on their own through their many talents, whether it is hosting television or radio shows, DJing, acting in movies, dramas, or musicals, participating in reality shows, producing singles or duets on her own, dancing, modeling, endorsing products, playing instruments, speaking different languages, or going to school. Individually, they are all successful stars who are capable of blazing their own paths.
But what happens when you put Kim Taeyeon, Jessica Jung, Sunny Lee Soonkyu, Stephanie "Tiffany" Hwang, Kim Hyoyeon, Kwon Yuri, Choi Sooyoung, Im Yoona, and Seo Juhyun "Seohyun" together? You get a highly unstoppable force bent on world domination (in a good way). When all of the girls' individual talents come together, something magical happens, and what results is a product and an experience that is hard to turn away from. Rather than subtract from each other, the differences these girls bring to the table only contribute to a greater good, especially the singing and dancing talents in performances or the camaraderie and dorkiness offstage. Can you imagine the group without Taeyeon's powerful vocals or Hyoyeon's strong dancing, or Yoona's childishness versus Seohyun's worldliness? I can't.
There are many topics in Soshified that touch upon what fans would do if even one girl left Girls' Generation. Most people say they would support the girls' decisions and continue supporting them, though nothing would be the same. Maybe it's because we are so used to this group of girls as they are. It's interesting to think about what would happen if this group had been composed differently, whether adding or subtracting a member or having a different combination of members. Regardless, the dynamic of this group somehow makes everything perfect as is.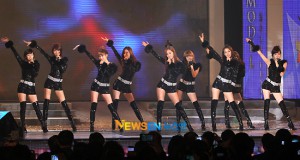 If you look up the definition of "perfection" in the dictionary, you'll find this picture.
We can go on and on talking about many different aspects of Girls' Generation. But they are first and foremost entertainers, specializing in singing and dancing in live performances. Some may have had natural talent; others may have had to train harder than their peers to attain the level they are at. But one of the main reasons we are so attracted to these girls is because of their abilities in singing and dancing. These girls are able to pull off just about any genre or concept they take on, whether it's an inspirational piece like "Into the New World", a cute girly song like "Kissing You", a slow and emotional ballad like "Dear Mom", a rock theme like "Himnae", a fun piece in "My Child", something dark like "Run Devil Run", something commercial and/or electronic such as "Visual Dreams", or something in a completely different language like "MR. TAXI". How they can learn and remember so many lyrics and so much choreography is only a testament to their talent and hard work day in and day out.
The girls may be able to be stars just through their musical performances. But they are endearing and viewed as normal people like you and me because they act like normal people off the stage, perhaps even crazier (again, in a good way). Jessica's patented iciness and dolphin screams, Sunny's bravery, Tiffany's eye smile and fear of bugs, Yuri's playfulness, and Sooyoung's temper and hunger only scratch the surface of how many layers they have, not just individually, but as a group as well. Normally, you only see huge stars showing off a projected image in public, and sometimes you see them have massive meltdowns in private, though these make the public eye anyway. The girls are adept at having this "idol-aura" about them during official appearances, but out of the professional spotlight the girls are comfortable being themselves and know how to have fun without going overboard. The girls' professional talent makes us respect them, but the girls' personalities make us love them.
This is why after four years, Girls' Generation is still going strong. Their talents are never-ending, and their personalities fit together perfectly like a puzzle. Because of this, their love for each other is so strong that they consider each other sisters; after all, they have grown up together and spent every waking moment with each other for years. Their love for their craft and other members only makes fans love them even more. Since that first performance on "Inkigayo" on August 5th, 2007, the girls have definitely come a long way, becoming stars in South Korea and noticed around the globe. As Girls' Generation expands beyond South Korea and into Asia and the rest of the world, more and more fans are starting to take notice, making this a Global Generation. Girls' Generation should be commended for a strong and great four years together, and we look forward to much more of the same for years to come.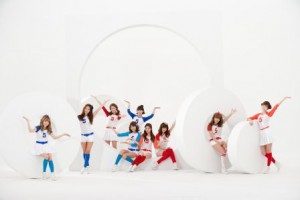 The girls are happy they made it this far too.
Sources: Newsen, SM Entertainment, Sports Seoul, Domino's Pizza
Written by: residentbenchwarmer@soshified.com
Have a news item that you think Soshified should know about? E-mail us at tip@soshified.com.
Follow us on Twitter: http://twitter.com/soshified for the latest on Girls' Generation.