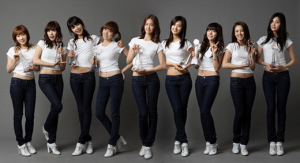 ㆍLeading Hallyu Fever, Asia's Best Girl Group
On August 5th, 2007, nine fresh girls appeared on a public music program under the name So Nyeo Shi Dae, going out into the world. The group name, So Nyeo Shi Dae, was made with the meaning, "The time for girls to conquer has come." Under their company, SM Entertainment, they went through an enormous amount of practice and assimilating each member to popular appeal, and prepared with singing and an amazing level of synchronicity they debuted and simultaneously captivated the public. And exactly four years later Girls' Generation, icons of pop culture, going beyond Asia and entering Europe, they are the front runners of Hallyu. Right now it's "Girls' Generation".
In earnest, the song that made way for Girls' Generation's golden age is their title song from their mini album released in January 2009, "Gee".
It is a song that after hearing it only once you can easily pick up the climax, a so-called "hook song". It is no exaggeration to say it is armed with repeated words and a melody easy to follow along. In white T-shirts and bright-colored skinny jeans that displayed the girls' fashion and of course choreography that makes you move side to side, it attracted explosive popularity. It was the first music video to receive over 1,000,000 hits within one day of release, and the album sold over 100,000 copies. Not to mention, they swept and dominated various music shows and music charts in first place. Girls' Generation, like their lyrics, became stars "so bright so bright eyes are blinded" and the "Gee" craze was even received as a social phenomenon. After that, they kept rolling with hits like "Tell Me Your Wish" and "Oh!".
After grabbing a foothold for sure domestically, Girls' Generation entered the Japanese market last summer.
If the greater portion of then-existing Hallyu fans were women in their thirties and forties, Girls' Generation's Japanese showcase was packed with mostly young women in their teens and twenties. Even in Japan, they were popular as they debuted in that country. Within one month of their debut in October they became the first Korean girl group to surpass 100,000 albums sold, achieving the title of Golden Disk. With the release of "Gee" they reached first on the Oricon chart. Local Japanese media said it was a "shocking Japanese landing" showing high interest, making the NHK broadcast news headlines. With huge success in Japan, Girls' Generation positioned themselves as Asia's best girl group.
In Girls' Generation's world marketing, YouTube and the internet played a big role. Whether in Europe, United States, or wherever, with one click you can easily find K-Pop music videos and performances, a significant power in raising the awareness of Girls' Generation. Along with fellow singers from their company, they successfully held a concert in Paris last June. The young Europeans sang along to Korean songs and the enthusiasm, and this unprecedented state received spotlight in Korea.
Source: The Kyunghyang Shinmun (Lee Yoon-Joo reporting)
Translated by: somaek@soshified.com
Edited by: residentbenchwarmer@soshified.com
Have a news item that you think Soshified should know about? E-mail us at tip@soshified.com.
Follow us on Twitter: http://twitter.com/soshified for the latest on Girls' Generation.