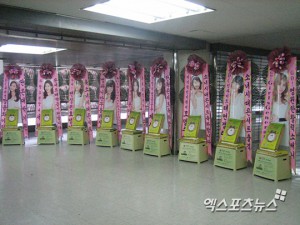 Girl group Girls' Generation donated rice in the form of 180 kg of "rice wreaths" to a disabled center.
For the girls' concert at the Olympic Park Gymnastics Arena on July 23rd, Girls' Generation's fans sent 20 kg "rice wreaths" in the name of each member, totaling 180 kg of rice donated. This donation was sent to the Daniel Welfare Center in Seoul.
The Daniel Welfare Center is a center for about 100 mentally disabled, helping them recover and gain independence. To the young patients the wreaths give great meaning by sending them love and helping them dream through the name "Girls' Generation".
Center representatives said, "There are many fans of Girls' Generation among the patients residing here, and they'll be very happy about the rice donation."
On the other hand, Girls' Generation is becoming a hot issue for their Parisian photoshoot which was revealed online on August 2nd, which you can read about here.
Source: Nate
Translated by: Meehyun@soshified.com
Edited by: residentbenchwarmer@soshified.com
Have a news item that you think Soshified should know about? E-mail us at tip@soshified.com.
Follow us on Twitter: http://twitter.com/soshified for the latest on Girls' Generation.