Videos
1. Girls' Generation Press Conference in Seoul
Girls' Generation recently participated in a press conference centered around their Korean comeback. Reflecting on how long they've been working in the foreign market, Girls' Generation hopes their additional experiences will help them be successful for the later half of the year. If possible, they would love to have as many SMTOWN concerts around the world as possible.
2. Yoona's Jeju Island Travel Diary
A short preview of Yoona's travel diary was recently uploaded, giving us a look at the island's scenery alongside Yoona. Additionally, the preview mentioned another video to be released on August 3rd.
3. Girls' Generation Featured on French News Report
The SMTOWN concerts in France gained a lot of media attention, resulting in numerous news reports focusing on the Hallyu Wave. In this report, GONG TV presents a brief rundown on K-pop's history and successful artists such as Girls' Generation. The report also includes some of their music videos, performances, and even a short clip of Jessica thanking the European fans.
Endorsements
1. Innisfree Continues with Yoona
Innisfree presented yet another product endorsed by Yoona. This time, it's a spot essence used for preventing skin-trouble issues such as cleaning pores and keeping your skin moisturised.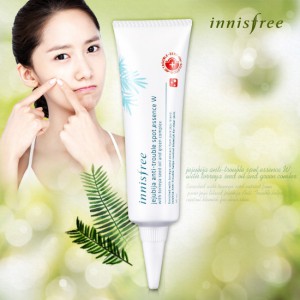 Others
1. Japanese Girl Group FLOWER Mentions Girls' Generation
Recently, a press conference revealed that the Japanese girl group FLOWER expanded their roster, bringing them up to a total of 9 members. However, that isn't the only similarity they hope to have with Girls' Generation. Inspired by the tremendous success Girls' Generation has had in Japan, FLOWER hopes to succeed as well. They stated that not only do they look up to Girls' Generation, they view them as rivals as well.
2. Girls' Generation in i-Weekly (Singapore)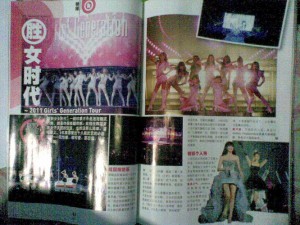 i-Weekly, a magazine in Singapore, has devoted four whole pages to Girls' Generation! The scans give many fans a glimpse into what a Girls' Generation concert is like, both on stage and backstage. For more scans from the magazine, click here
New Sets of Pictures
Daum Cloud Wallpapers- Jessica, Sooyoung
Vita500- Taeyeon 1, Taeyeon 2, Taeyeon 3, Group 1, Group 2
2011 Girls' Generation Tour Calendar
SONE Picture/Video of the Week
So how young do you think SONEs can be? This week we have a video suggested to us from Pertamaxhbs that shows a group of Indonesian elementary schoolgirls performing their very own cover of Girls' Generation's "Oh!". Not only does this video show Girls' Generation has definitely conquered all of Asia, but it also shows that they have fans of every age. Whether you're an elementary student or a college graduate, you can always be a SONE!
If you have any pictures or videos you'd like to submit for SONE Picture/Video of the Week, please feel free to do so by sending them to the Soshified Writing Team at tip@soshified.com or posting at the official SONE Picture/Video of the Week thread
Sources: Soshified Photos Section, Tetsuya9@twitter.com, yoongislove@twitter.com, MediaCorp@video.xin.msn.com, OmonaBonjour@youtube.com, kwangdongpharm@twitpic.com, dheanggraini@youtube.com, TengLei@soshified.com, KSarangHaeT@soshified.com
Written by: jaygatsby@soshified.com
Contributors: SeraphK@soshified.com, gayqueenful@soshified.com
Graphic by: cioco@soshified.com
Have a news item that you think Soshified should know about? E-mail us at tip@soshified.com.
Follow us on Twitter: http://twitter.com/soshified for the latest on Girls' Generation.