The May Edition of B2B is here, and although it's being released a little later than usual, I'd like to thank those who have read, commented and shown their support for this column! Compiling and writing about the girls are liberties I always take pleasure in doing, but knowing that there are people who actually enjoy them makes it even better.
After tirelessly giving their all for album promotions and group activities, May can be seen as the month when Girls' Generation finally takes a step back to review, recharge, and prepare to restart again. However, this didn't mean that the girls were taking a complete break from their careers. Their unwavering attitudes to never let their guards down pushed them to greater heights as they immersed themselves in individual activities, events performances, filming for endorsement deals, and even personal refinement.
We have come to know them as the girls that never rest, and May is of no exception.
2008: Before we do a performance, we always get together and say "Right now, it's Girls' Generation!"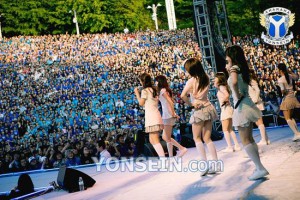 With the end of "Baby Baby" promotions, the girls dispersed to focus on individual activities like acting and being a DJ. Having debuted less than a year ago, the girls were filled with relentless determination to spread their group name even more. There were also numerous rumors floating around with regards to Girls' Generation's next album. Speculation that the girls were in the process of recording new songs spread quickly, and even though it was said that the new album would see its release in the coming months, we all know that "Gee" would only hit the country early next year.
2009: We will work harder and prepare better sides of ourselves.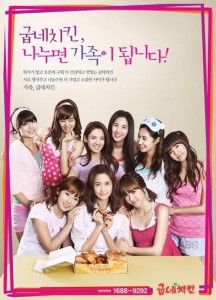 Although the girls concluded "Gee" activities two months ago in late March, the song was still widely popular in the country as well as abroad. This could be seen through their maintaining high positions in both online and offline charts. 2009 was one of their busiest years, and the members were active in various areas of the entertainment industry. Taeyeon, in particular, was one of the girls who experienced overlapping schedules frequently due to her tight schedule. Yoona, who was occupied with filming activities for "Cinderella Man", reassured fans that they would return once her drama was completed and that they were preparing for a new concept.
2010: When we prepare an album, we practice in order to precisely match even the angles of our hands and feet. Nine of us have to look smooth.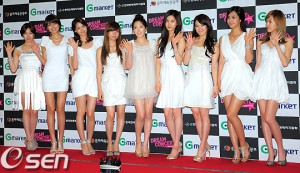 After wrapping up their brief "Run Devil Run" promotions, rumors started emerging about Girls' Generation's preparations to debut in Japan. This speculation was further supported when fans noticed that the girls were slowly withdrawing from individual activities. Sunny and Yuri confirmed their departure from "Invincible Youth" in June (last filming on May 19th) and Jessica withdrew from the program "Happy Birthday". Even though Yuri and Tiffany did not leave "Music Core", they announced that they would be absent for three weeks.
The girls were also given a short break from activities. Taeyeon was spotted in Singapore and some of the girls were said to be busy studying for college exams. Given a chance to finally rest from the hectic lifestyles that come with being idols, fans were relieved to see the girls earning a well-deserved break.
The Pieces & Fragments of May: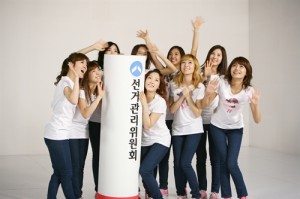 2008:
1. Tiffany became a panelist on KBS "Champagne" which began its broadcast on May 3rd.
2. Members Jessica, Tiffany, and Seohyun had a special stage and performed their digital track "Oppa Nappa" live for the first time on SBS "Inkigayo" on May 4th. When the song made it in the charts of "Sonyeon Sonyeo Gayo Baekso", the show Tiffany was hosting, Hyesung referred to the artist as "JeTiHyun" but Tiffany corrected him and replied that it was by Girls' Generation, regardless of the number of members.
3. Tiffany agreed to do a short narration for "Secret", a track on Shinhwa's Kim Dongwan's album.
4. Yoona's drama "You Are My Destiny" had its first episode air on May 5th. The episode debuted with ratings of more than 20% and came in second place overall.
5. Members Jessica, Tiffany, and Yoona participated in the Haptic CF together with label mate DBSK. The song "Haptic Motion" received positive response and the Haptic phone sold over 100,000 units within days of the CF release. It was later revealed that Taeyeon had a high fever during the recording of the song.
6. Girls' Generation held their first large fan meeting since their debut on May 10th at Sejong University. Yoona was absent due to filming schedules. The girls were each given a different stuffed animal, and seeing that Hyoyeon's was a bear with pink hearts, both Tiffany and Sooyoung wanted to trade for that bear. While the rest of the girls were being interviewed, Tiffany and Sooyoung secretly played "Rock-paper-scissors" to decide who would get it. Tiffany won.
7. Taeyeon admitted on ChinChin radio that once during a Kissing You performance, when they had to swirl their lollipops upwards during Tiffany's solo, she poked Tiffany's bottom with the lollipop by accident.
8. Sooyoung was in the midst of filming for the movie "Hello, Schoolgirl" starring Lee Yeonhee and Yoo Jitae.
9. Jessica revealed on ShimShimTapa radio that for her birthday, none of the members gave her any presents and that they used leftover cake they found in their fridge as her birthday cake.
10. Due to scheduling conflicts, Yoona did not attend Hollywood Bowl 2008 with the girls. They sang "Kissing You" and "Girls' Generation", and had special stages with other artists as well. Tiffany mentioned that her family and best friend were there to watch her perform.
11. Amidst her packed filming schedule, Yoona returned to perform with the girls for an event on May 24th.
12. Yuri and Super Junior's Leeteuk were the first special MCs for Mnet's "You Can Fly".
13. Yoona's birthday on May 30th also marked Girls' Generation's 300 days Anniversary. Two of Yoona's fans went to the "You Are My Destiny" set to celebrate her birthday, and even though she had only 1 hour of sleep, she was really nice to them.
14. Members Taeyeon, Tiffany, Yuri, and Sooyoung attended Morning Musume's concert.
2009:
1. On May 5th, the girls performed for two events and Sunny had filming schedules before they left for Hollywood Bowl 2009. Jessica and Tiffany left earlier and Yoona was absent due to "Cinderella Man" filming. The girls performed "Gee" and "Himnae! (Way to Go)". Jessica and Taeyeon sang duets with other artists as well. There were also reports that the girls went to Disneyland. When they returned to Korea, Taeyeon rushed to the MBC building from the airport to record ChinChin live.
2. Tiffany and Sooyoung were featured in The Blue's comeback album for the track "Feeling Only You".
3. Taeyeon admitted on ChinChin radio that she wanted to do Jessica's "Ha!" part in Gee. She also revealed that she was bad with directions and that once she took a taxi when her destination was just directly across the street. The taxi driver gave her a strange look and they reached their destination in ten seconds.
4. A fan who talked to Taeyeon's mother said that she revealed how Taeyeon was having difficulties coping with trainee life, so she packed her bags and left the dorm to return home. However, Taeyeon realized that if she gave up, she wouldn't succeed in anything else, and returned to her dorm the next morning.
5. SM Entertainment reported record sales of more than twice the amount (14.4 billion won) from the same period last year. One of the main factors that caused this was the success of Girls' Generation with their hit song "Gee".
6. 2PM mentioned Hyoyeon and Tiffany in their album.
7. Six members attended comedian Yoo Seyoon's wedding.
8. The girls had a performance at the Inha University Festival on May 22nd. All nine members were there and the turnout was overwhelming. However, they had to stop the concert in the middle of their performance due to poor crowd control.
9. Taeyeon mentioned that Tiffany collects movie tickets and writes the name of the person she saw the movie with on the back of them. Taeyeon found out when the movie tickets fell out of Tiffany's diary.
10. Veteran singer Lee Seungchul said in an interview that he was thankful to Girls' Generation for allowing his song to be recognized by the public again.
11. Sunny, Sooyoung and Seohyun endorse Post cereals.
12. Girls' Generation topped a Bugs survey for the question asking who people wanted most to invite to a school festival.
13. As of May 19th, Nate Ringtone sales amounted to more than 700,000 for "Gee".
14. Goobne initiated a promotion in which buyers who purchased a special chicken set would receive a Girls' Generation diary containing new pictures of the girls.
2010:
1. Girls' Generation endorsed the LG Cyon's Cooky mobile phone as well as became the models for Samsung Electronics. Yoona also endorsed S-Oil, a CF that is reserved only for top stars since it is intended for the general public. Taeyeon renewed her contract with A-Solution.
2. Super Junior's Heechul picked Jessica as one of people he would like to be a co-DJ with.
3. Taeyeon, Tiffany and Sooyoung were seen at the Kelly Clarkson concert on May 4th. Some of the members also went to see Brown Eyed Soul's concert on a later date.
4. May 5th marked the end of Jessica's stint as one of the leads for the "Legally Blonde" musical, while May 27th was Taeyeon's last performance for her "Midnight Sun" musical.
5. Sooyoung sent a wreath to Taeyeon for her musical with the message "Taeng wife! Congratulations on your first performance. –Your husband"
6. Girls' Generation sang the voting song for the general elections titled "LaLaLa"
7. SM Entertainment reported a huge increase in revenue of 22.7 billion won when compared to the same period last year. One of the main reasons was cited to be Girls' Generation's second album "Oh!"
8. Seohyun was spotted in school on May 12th and her friends were trying to help her by telling people not to crowd or hog her. Yuri was also spotted hanging out with her brother.
9. Taeyeon and Seohyun participated in the dubbing of the animated movie "Despicable Me".
10. In Super Junior's 4th album acknowledgements, Ryeowook & Leeteuk thanked Yoona while Kyuhyun mentioned Yoona, Jessica, and Girls' Generation as a whole.
11. A couple of fans of a male idol group sneaked into the waiting rooms of a music show. They were stopped by security but Sunny who was passing by instantly figured out what was going on and told security the two fans(who later thanked her) were with her.
12. All the members went to see Taeyeon's musical on May 15th. The nine of them later attended Sunny & Yoona's birthday party with the fans.
13. Innisfree held a special fanmeet for customers to meet Yoona at Jeju Island on May 12th. Those who attended later mentioned that Yoona was friendly and sincere throughout the whole time she was there.
14. Musician Lyn revealed that she liked Girls' Generation. She commented that the girls would visit her in her waiting room and that Yoona sent her a message saying that she liked the new album.
Shows Released (And definitely worth watching)
SSGB w/ Seohyun & 3 Colour & Mystery Special Force
Champagne with Tiffany – Ep. 02 [05.03.08]
—–
Horror Movie Factory – SNSD EP 01 [05.03.09]
Horror Movie Factory – SNSD EP 02 [05.10.09]
—–
SBS Strong Heart EP 29 – Hyoyeon & Yuri Cut [05.18.10]
KBS2 Story Show Rock EP 25 – SNSD [05.04.10]
It's already the fifth installment! You can backtrack to January, February, March,
& April as well if you haven't done so. Thanks for reading, and see you in the next edition!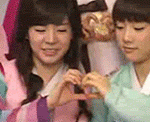 Written by: shizzles9@soshified.com
Sources: SNSD Soompi Thread, Soshified News & Translated Goodies
Banner: Chef@soshified.com
Editor: residentbenchwarmer@soshified.com