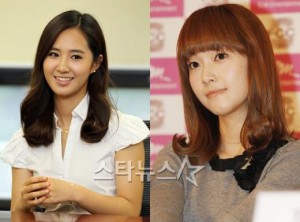 Nine-member girl group Girls' Generation's Yuri and Jessica's names stood at the top two positions as the best "ant waist" celebrities that would look good in bikinis.
Community portal site "DC Inside" recently conducted a poll with the question, "The Best 'Ant Waist' Celebrity That Would Look Good in A Bikini is?", and showed the results on July 27th.
A total of 9,822 votes were counted, and Girls' Generation's Yuri came out top, receiving 2,028 (20.6%) votes. Yuri is well-known for her thin waist in comparison to her curvy body, earning the envy of many for her ideal S-Line figure.
According to today's CELEBRITY NEWS, fellow Girls' Generation member Jessica came in next in second place with a total of 1,398 (14.2%) votes. Jessica is known for having a 21-inch waistline, and once talked about achieving those measurements on "Star King" with consistent and proper exercise.
Idols like KARA's Hara, 4minute's Hyuna, f(x)'s Krystal and actress Kim Sarang were also voted in the survey.
Source: Star News
Translator: ch0sshi@soshified.com
Written by: shizzles9@soshified.com
Have a news item that you think Soshified should know about? E-mail us at tip@soshified.com.
Follow us on Twitter: http://twitter.com/soshified for the latest on Girls' Generation.