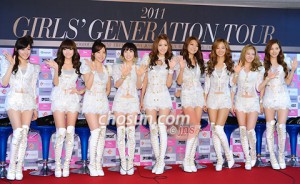 Yuri…"Extraordinary scale, please anticipate it!"
Yoona…"Tears? We should be giving you energy, but we're thankful that we can always take from you…"
Tiffany…"Mature? We're no longer high school girls."
Girls' Generation, who has gone from being the nation's girl group to Asia's number 1 group, has finally met up with their Korean fans after ages.
On the afternoon of the 24th, Girls' Generation met up with the reporters in the Gymnastics Arena of the Seoul Olympic Stadium to have a press conference before the start of their 2nd performance of their 2nd solo concert titled "2011 GIRLS' GENERATION TOUR".
At the conference, Girls' Generation's leader, Taeyeon, said that, "We are extremely happy to greet everyone after the 14 concerts held during the Japan Arena Tour. Even though we performed yesterday, we're still restless and can't wait to perform today."
Girls' Generation first kick started their tour in December, 2009. After which, they performed in various parts of the world before they finally returned to Korea as matured women. When asked about what had changed since the first concert, Sunny answered, "We feel like we're more relaxed? A lot of foreign fans came, so even though it was a Korean concert, the feeling was different. The fact that there were fans from other countries watching the Korean concert made us enjoy the experience more, so we loved it."
Yuri then added, "We hung from wires while performing, and we got to stand on a very lovely boat during another song too. We tried to include lots of fun elements in this concert." The ability to have props like these highlights the large-scale performances that can only be witnessed during Girls' Generation's concerts.
Girls' Generation Second Concert, "Mature? We're 23 now.." /The Star
2 years after Girls' Generation's first concert, their heightened popularity, increased foreign fans, and maturity has particularly stood out.
When asked whether their new concept emphasized their maturity, Girls' Generation's member, Tiffany, answered, "Nothing was particularly emphasized. We're no longer the high school girls that we were, but 23 year-olds. There was no need to emphasize our maturity because I think that we matured naturally over the time." At this, Sooyoung immediately commented, "There's no need to mention our age by number…" and this drew laughter from everyone.
During the first performance of "2011 GIRLS' GENERATION TOUR" yesterday, Girls' Generation shed tears while singing "Complete". Yoona said, "The song 'Complete' is a song that moves us even if we're just listening to it on our own. But then all our fans held up banners which said 'We Missed You' during the song." She went on to explain the reason behind their tears and said, "We should've shown the fans good things since we've been away for so long. In the end, it was us who ended up being very much moved and we felt incredibly grateful towards the fans."
The reporters then went on to ask Girls' Generation about their opinion on why they appeal to foreign fans so much, and member Sooyoung, responded, "From our songs which are written by Europeans, to our dances which are choreographed by Japanese, everything is very international. The Korean culture, international flavor and our group's personality mix to produce a very good album, so I actually think that it's more of the people who help us to compose our albums rather than us."
Fans from Japan, Taiwan, Singapore and Europe travelled all the way to Seoul just to watch the "2011 GIRLS' GENERATION TOUR" which has suddenly changed into a global festival instead. Yuri expressed her gratitude by saying, "I read an article that said 'Coming to Girls' Generation's Country is like a Dream'. In the news, a foreign fan came to Korea to personally experience and live in the country that Girls' Generation is from. Because of that, she got very excited and fascinated by our culture. Through today's performance, we hope to put up a wonderful show for everyone and share our energy with the fans."
Girls' Generation is planning on touring other countries after the 24th's performance of "2011 GIRLS' GENERATION TOUR", and a clip from the press conference today can be viewed below.
Credits: Source: www.news.nate.com FrakerYA@youtube.com
Written by: gayqueenful@soshified.com
Translated by: Meehyun@soshified.com
Have a news item that you think Soshified should know about? E-mail us at tip@soshified.com.
Follow us on Twitter: http://twitter.com/soshified for the latest on Girls' Generation.