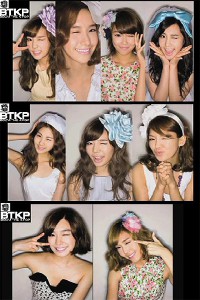 On July 21st, the second episode of Mnet's "BOOM the K-POP" featuring Girls' Generation was aired. In order to distinguish between the nine members of Girls' Generation, Japanese fans separated the girls into three different groups that best described and highlighted their features. The girls were placed in three groups; the "Four Devas", also known as the four heavenly guardians of Buddhism, the "Distinctive Personalities" and "The Americans".
Members Taeyeon, Yuri, Sooyoung and Yoona were chosen to be in the "Four Devas" as they were the more popular and recognizable ones among Japanese fans. Yoona's beautiful appearance and cute image gained the attention of fans, while Taeyeon was recognized for her outstanding vocals. "Black Pearl" Yuri caught the eyes of many with her tanned skin and overflowing charisma, and Sooyoung earned the title for being the most fluent member in the Japanese language.
Meanwhile, members Sunny, Hyoyeon and Seohyun form the "Distinctive Personalities" group. This is mainly due to their possessing special qualities that have allowed them to stand out among the rest. Seohyun's positive outlook in life is known even among Japanese fans, and she is famously known as the health enthusiast. Fans also find Sunny's persona delightfully cute, while Hyoyeon's powerful and natural dance skills have left a significant impression on fans.
Finally, "The Americans" more obviously consist of members Jessica and Tiffany. Born and raised in America, the two girls are known for their fluency in the English Language, and are said to have added a unique color and vibe to the group.
Many are commenting on Girls' Generation's hot popularity in Japan, and are intrigued by the different groups assigned to tell the members of Girls' Generation apart.
What are your thoughts?
Source: Sports Chosun via Nate
Written by: shizzles9@soshified.com
Contributor: ch0sshi@soshified.com
Have a news item that you think Soshified should know about? E-mail us at tip@soshified.com.
Follow us on Twitter: http://twitter.com/soshified for the latest on Girls' Generation.