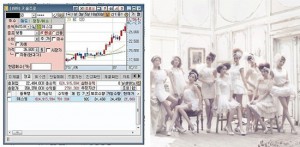 Believing in Girls' Generation, one samchon fan hit the jackpot.
Recently on the dcinside Taeyeon Gallery, a post with the title, 'Thinking of Girls' Generation, Investing in 700 different markets for 3 years. Confirmation of Profit.' was uploaded.
A netizen captured a picture of a shares account confirming he bought a share for 920 won of Girls' Generation's company, SM Entertainment, whose stock has now skyrocketed to 26,000 won. With the purchase price closing near 22 million won, the stock's value is currently estimated at approximately $650,000, with a return rate of 2791.30%.
This netizen wrote, "When it hits exactly one billion won, I want to liquidate it." He explained, "It could fall down or go up, I believe it will go up more. It's the hardest when the temptation to sell the stock comes to me, but I keep holding on and holding on."
He went on, "Even now I calculate my living costs and live saving my money. Till the day I sell the stock, I won't consider it my own money."
Source: Newsen
Translated by: somaek@soshified.com
Edited by: JeremyJay22@soshified.com
Have a news item that you think Soshified should know about? E-mail us at tip@soshified.com.
Follow us on Twitter: http://twitter.com/soshified for the latest on Girls' Generation.