In view of Girls' Generation's youngest member's 21st birthday, Korean SONEs gave their sincere congratulations by posting birthday advertisements for Seohyun in the daily newspaper. As one of South Korea's top idol groups, the 9-membered phenomenon has slowly started to make an impression worldwide, and not in pop culture alone. Of the 9 members, Seohyun is the youngest. However, despite her age, her exceptional writing skills and brilliance are widely recognized by the SM family and by overseas fans.
Back in June, Girls' Generation went to Paris, France together with their SM Entertainment label mates for the much anticipated SMTOWN LIVE in PARIS. Throughout the duration of their stay, Seohyun kept a diary in which she recorded her journey and feelings while she was in Paris. The journal, titled "Dream-like Life in Paris", was revealed on the 13th through Issue Daily under the title of "Seohyun's Paris Diary". Seohyun stated calmly that she would record her first Paris trip fully, complete with the heart fluttering feelings of a person in her early 20s.
Starting first at the famous landmarks of Paris, Seohyun spent the next day in local areas where the Hallyu wave was crashing through. Seohyun experienced and saw the true attractions of Paris during the rest of her trip, and also at the SMTOWN LIVE in PARIS during which she saw firsthand the extent of the Hallyu Wave in France. Photos which were taken by Seohyun herself have also been provided by her from her camera.
Posts in order-
1. The Europe I dreamed of, the first in Paris, France.
2. Become a Parisian today! The world is wide and overflowing with things you don't know.
3. This is Paris, France, and we are Korean singers, Girls' Generation.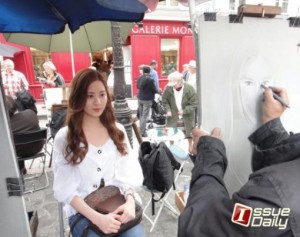 2. Become a Parisian today! The world is wide and overflowing with things you don't know.
It is my first time in Paris, France! When we first arrived, everything was new and amazing, and I loved the different experience. But after the first few days, things started becoming more familiar.
I made good memories at Montmartre Hill today. The Paris I saw from Montmartre Hill was stunningly beautiful. Ah, with the thought of wanting to save this moment somehow, I took lots of pictures and tried my best to preserve the image of the great scenery in my mind.
I also went to the Sacré-Cœur Basilica where the sight that greeted me in the back street was really wonderful. There were a lot of artists there, and the atmosphere felt so carefree and creative. I wonder how I would look like in a portrait drawn by a Montmartre artist… Therefore, I decided to ask for a portrait and sat down for 30 minutes with a fluttering heart. While waiting, I didn't feel tired, but was excited imagining how the drawing would look like. Also, while I was seated and waiting for the artist to finish, I felt so proud and glad that I was able to make new memories outside of my regular life while I was in a new place. When I received the portrait, I felt a little peculiar. It was drawn very beautifully, but it looked a little more like a Westerner's face than an Asian's face. Nevertheless, I expressed my gratitude to the artist by saying "Merci beaucoup" and I left the beautiful Montmartre Hill with memories that I will never forget.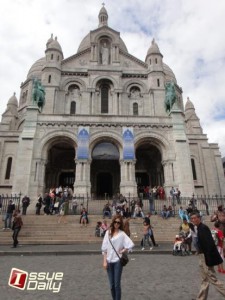 Afterwards, I went to the sorbet street at Ile St-Louis, which is a must-visit when in Paris. Everyone was holding an ice cream cone in their hand, and they said that it was a sorbet made only from fruits. There were long queues in all the stores that sold sorbets, but the wait was worth it as the sorbet which I ate was unforgettably refreshing.
While I was in Paris, I ate a wide variety of the local cuisine. Usually, I don't enjoy eating sweets, but when I was in Paris, I tried the traditional Paris cookie, macaroons, crepes and their chocolate. I also got the courage to try their escargot. However, out of all the different tastes, I thought that the sorbet was really awesome. During my stay in Paris, I really wanted to enjoy to my heart's content all the different cultures and see the various sceneries, as well as experience the different moments.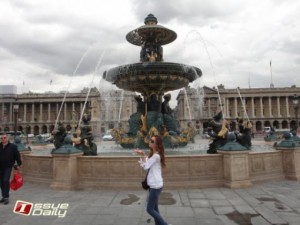 While spending this happy day, many other interesting things happened too. The people living in Paris know us! They were not Koreans who were living in Paris, but they were the local French. They spotted us immediately and came up to ask us, "Are you So Nyeo Shi Dae?" Of course, we were extremely surprised. I mean, someone in a foreign country could recognize us! I was really shocked… They specifically called us 'So Nyeo Shi Dae' in Korean, and not "Girls' Generation". Also, there were a lot of people who said, "It's really nice meeting you, and I'm going to watch the concert," and others who said, "I really like So Nyuh Shi Dae's music, and I'm French," in English. I didn't think that anyone would know us, but I was simply amazed and grateful that so many people recognized us before the actual concert took place.
I made another enjoyable memory in Paris today. Hwaiting Girls' Generation, Hwaiting South Korea!
Credits: Source: www.naeil.com
Written by: gayqueenful@soshified.com
K-Translator: ch0sshi@soshified.com
Have a news item that you think Soshified should know about? E-mail us at tip@soshified.com.
Follow us on Twitter: http://twitter.com/soshified for the latest on Girls' Generation.