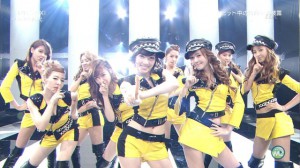 On the previous episode of Saturday Night Live Japan which was aired on the 9th of July, a parody of Girls' Generations' "Mr Taxi" was revealed. In the video, the male cast of the show was dressed up in full Girls' Generation attire as they danced along to the Gold-winning single. Donning on wigs, makeup, belly-showing outfits and knee-high socks, the 9 dancers sent the crowd into tears of laughter as they completed their performance with the trademark steering-wheel dance.
Saturday Night Live Japan debuted on Fuji TV on the 4th of June with Akashiya Sanma and Imada Koji as the hosts. The recent episode on the 9th of July was filled with laughter thanks to the parody, and it definitely shows Girls' Generation's success in Japan.
Check out the hilarious video below!
Source: wind1693@youtube.com
Written by: gayqueenful@soshified.com
Have a news item that you think Soshified should know about? E-mail us at tip@soshified.com.
Follow us on Twitter: http://twitter.com/soshified for the latest on Girls' Generation.