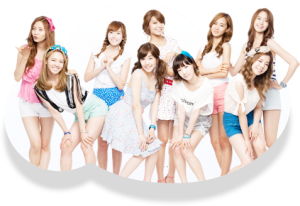 On July 8, Daum Communication revealed that they would be holding an event for a Girls' Generation summer photoshoot download through their cloud service.
Daum will be providing the Girls' Generation's summer photos through the Cloud promotional page at http://durl.me/budxy. The summer pictures will include four PC wallpapers, one iPhone wallpaper, and one Android wallpaper. The photos for each member will be opened every Tuesday and Friday, and photos with all the members will be provided on the August 9.
One group photo as well as a set of individual photos of all nine members from the Daum Cloud promotion have been released and they can be found here.
Source: Nate, Soshified Photos Section
Translated by: ch0sshi@soshified.com
Written by: michaelroni@soshified.com
Have a news item that you think Soshified should know about? E-mail us at tip@soshified.com.
Follow us on Twitter: http://twitter.com/soshified for the latest on Girls' Generation.