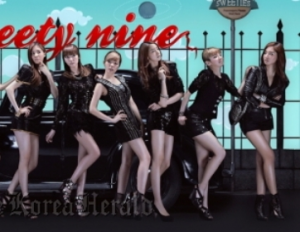 Girls' Generation and SMTOWN added a second concert in Paris for good reason: The girls have been gaining popularity in the European country of France.
"Sweety Nine Forum" is a French fansite dedicated to Girls' Generation consisting of 12 to 26 year-olds, and just like a fansite they talk about the girls a lot and in-depth. According to the Korea Herald:
The site has detailed descriptions of characteristics of nine members on its front page: Taeyeon, the most beautiful voice in the group; Jessica, unique personality with chilling charm; Sunny, Sunny Bunny the angelic voice; Tiffany, smiling eyes with a beautiful smooth voice; Hyoyeon, Dancing Queen with a unique and funny character; Yuri, the sexiest member with outstanding charisma; Sooyoung, the biggest eater who has both a tomboy and feminine side; Yoona, the pure beauty who excels in acting, modeling, singing and dancing; Seohyeon, the youngest member known for her purity and innocent side.
"Sweety Nine Forum" also recently ran a few polls regarding members' opinions on which girl is the most of a certain characterisitic. In the "Who's the sexiest member" poll, Yuri got first place with forty percent, while Tiffany garnered thirteen percent and Jessica had twelve percent for second and third places.
As reported earlier, Tiffany was voted the prettiest member with eighteen percent of the votes, with Yuri getting fifteen percent and Taeyeon fourteen percent. The full results are below.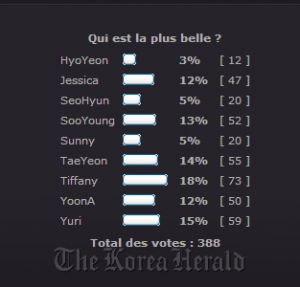 Hyoyeon was talked about the most in a discussion about dancing, earning her the well-known nickname of "Dancing Queen" once again. Taeyeon, Tiffany, and Jessica were mentioned as the best singers. Sooyoung, Tiffany, and Jessica were named the members with the best figures, and Taeyeon and Hyoyeon were said to have the best personalities out of the nine girls.
Source: Korea Herald (Lee Woo-young reporting)
Written by: residentbenchwarmer@soshified.com
Have a news item that you think Soshified should know about? E-mail us at tip@soshified.com.
Follow us on Twitter: http://twitter.com/soshified for the latest on Girls' Generation.