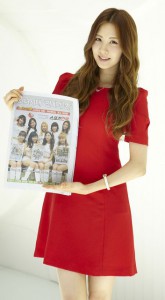 "Let's be together until Grandma Generation"
First solo interview during school days… "It's fresh"
"Starring in a Japanese drama" Topping various charts since announcing it

"SeoㆍChinㆍSo, introducing Seohyun's friend, Sports Hankook."
Girls' Generation's youngest member, Seohyun. She has a one-of-a-kind relationship with Sports Hankook. June 28th is her birthday as well as the anniversary of Sports Hankook's first published paper. It was Sports Hankook that delivered livid news about Girls' Generation's activities; from their debut in August 2007, to them meeting fans beyond Asia.
Sports Hankook was also the first place she had a solo interview with. Seohyun was just a high school student when she confidently revealed, "I want to star in a Japanese drama". She is now a college student and has been leading the K-Pop wave with her group members by taking over music charts in Japan after 4 years. It seems like it is only a matter of time before Seohyun's previously out of reach dream of starring in a Japanese drama comes true.
One June day, where the rain was chasing summer to begin, Seohyun met with Sports Hankook to celebrate each other's birthdays. Seohyun looked at the records Sports Hankook had of her and Girls' Generation since their debut and couldn't hide her smile. It was as if we were meeting as long-time friends, and were able to quickly fall into our past. A smiling Seohyun stated, "Let's continue on together until 'Girls' Generation' becomes 'Grandma Generation'."
▲First, happy birthday.
=Thank you. Happy birthday to Sports Hankook too.
▲Were you aware of your unique relationship with Sports Hankook?
=When I heard about it not long ago I was surprised. I knew there was a reason why you always write only good articles. Haha.
▲How did you feel?
=I felt like it must be fate. I will keep reading for sure. Am I too serious? Haha.
▲From Girls' Generation's debut till now we've gathered all the articles. We want to give it to you as a birthday present.
=Wow! This is the first time I'm seeing them in paper. (After looking at the articles without talking for awhile) After viewing articles on the internet and seeing them on paper, it feels different. You're really giving this to me? It is a present I can't forget. I will have to show it to unnies.
▲It feels like it was only yesterday when you gave your first individual interview after debut.
=That's right. At that time I really didn't know anything. I didn't know what to say and I didn't know what content was going to come out in the article.
▲(Pointing at the article) Seeing your debut self how does it feel? Is there anything embarrassing or anything you would like to hide?
=Not in the least. My hair bangs looked fresh. Looking at the old me is a really pleasant feeling.
▲At that time of the interview you said you would like to participate in a Japanese drama.
=I still have that dream. At that time I was really into "Nodame Cantabile" and lately I am watching a drama called "Hotaru's Light". It would be so nice if the day I participate in a Japanese drama comes.
▲At that time there were no plans for Japanese activities. If you look at the articles it's like you predicted your Japanese advancement.
=Haha. It appears so. My dreams have become a reality. If I have a goal and work hard towards it, it feels like the people around me are giving support. In the name Girls' Generation there are dreams inside it. The dream of making the world a girl's generation has not changed. Until Girls' Generation becomes Grandma Generation please be with us.
▲The time you most remember.
=I remember when we stood on stage for our first performance and we all cried for the longest time. Our period as trainees was so long, we went through hardships together and now we finally showed ourselves to the world. I think I will never forget it. It's amazing to see old interviews and they remind me to never forget my beginnings. Without knowing it people change little by little. I am most fearful of that. I will always make the effort to never change who I am.
▲Not too long ago your performance in Paris was a big topic. Can you feel the Hallyu fever?
=Yes, of course. Because of the steady effort of my sunbaes I think Hallyu is getting this much attention today. I don't think it's something we suddenly made. I think it's luck we are able to be active right now. A sense of responsibility is developed. We will pave a road so that there will be others who will promote overseas.
▲Personally which work do you remember the most?
=I did a duet with Joo Hyunmi sunbaenim. She is someone my parents like. Doing a duet with her was something I could never think of and I was so nervous. Because she warmly held my hand I was barely able to finish the performance. Thinking about it now I'm really thankful.
▲Were there hardships debuting at a young age?
=It's hard when people pay attention to even the little things you do. You become careful of every action and every word. Now I've become used to it and I've learned to be very thankful for even the smallest of attention.
▲It's Sports Hankook's 7th anniversary. If there is anything you would like to say.
=Whenever I meet Sports Hankook reporters I'm always glad. They are hard working and shall I say trustworthy? I ask to keep good articles in the future. Also always good news about Girls' Generation? I offer my greetings. Please keep watching over us.
Source: Sports Hankook
Translated by: ch0sshi@soshified.com, somaek@soshified.com
Edited by: shizzles9@soshified.com
Have a news item that you think Soshified should know about? E-mail us at tip@soshified.com.
Follow us on Twitter: http://twitter.com/soshified for the latest on Girls' Generation.