On June 27, MBC's "Come To Play" aired a "We Came To Paris" special featuring Girls' Generation's Tiffany, Hyoyeon, Yuri and Sooyoung, as well as a myriad of members from SM Entertainment labelmates TVXQ, Super Junior and f(x), centering on the group of artists who had just wrapped up their SMTown in Paris concert.
The show was filled with entertaining and hilarious moments; the guests singing, dancing, sharing stories, doing imitations and showcasing their talents. Sooyoung shared a funny story about her management giving her strict orders to not perform her screeching Go Hyun-Jung imitation in fear of her ruining her image, explaining her situation and even giving one last demonstration, making the audience erupt into laughter. French pronunciation of Korean names was also brought to light, the Girls' Generation members saying that they had laughed hearing "Hyoyeon-ah" being pronounced as "Yonyeon-ah (a derogatory name)" while "Sooyoung" had been pronounced as "Sooyeom (beard)".
Hyoyeon's popularity in Europe was also a topic of discussion, other members stating that she had received the loudest cheers during the concert in Paris. To this, Hyoyeon stated "The response I got was really amazing. I replied to the fans with long words of thanks. I think that they really enjoyed my dance performance."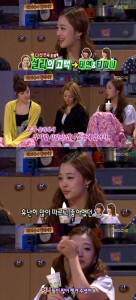 The program also featured touching moments; f(x) member Sulli tearing up when talking about Girls' Generation members Taeyeon and Tiffany. Sulli spoke about moving to Seoul when she was younger, becoming close to Taeyeon and Tiffany who lived in the same dormitory and took care of her like a younger sister and became her source of support. She expressed how sad and lonely she had felt when they had debuted and become busy, and how grateful she was to be able to see them after also debuting, saying a sincere "thank you". In reply, Tiffany expressed that she felt she should take care of her dongsaengs, while wiping Sulli's tears. There were many tears shed as the SM Town members shared their past experiences as trainees.
Source: NATE: [x][x], TVReport
Written by: procrastinatoress@soshified.com
Have a news item that you think Soshified should know about? E-mail us at tip@soshified.com.
Follow us on Twitter: http://twitter.com/soshified for the latest on Girls' Generation.