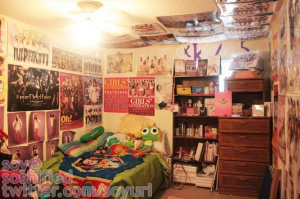 One American fan of Girls' Generation, the leader of the Hallyu wave, has revealed her room, which is filled with Girls' Generation's pictures.
The girl, who is known to be the founder of the international Girls' Generation forum Soshified and is currently attending a university in Florida, has posted pictures of her room which is filled with Girls' Generation on her Twitter. Her username, Soyuri (known as Soy on Soshified), also has reference to Yuri, one of the members. Girls' Generation pictures are up on her walls as well as the ceiling. One corner is filled with autographed CDs and accessories such as calendars. She also showed the devotion of collecting the bottles of Vita500 that Girls' Generation are promoting as models.
She stated, "The members asked me to show my room, so I did." Soshified is also known in Korea for having over 120,000 members (Editor's Note: They need to update their information, as Soshified currently has over 179,000 members).
Netizens are amazed at this news. They had reactions such as, "I've heard that they are popular internationally, but I didn't know it was this much," and "The room is full of Girls' Generation. It must feel like she's living with them."
The images of Soy's room were recently featured on her Soshified Spotlight interview. You can see larger images of Soy's room and read her Soshified Spotlight interview here.
Source: Jo!nsMSN
Translated by: typicalharu@soshified.com
Written by: michaelroni@soshified.com
Have a news item that you think Soshified should know about? E-mail us at tip@soshified.com.
Follow us on Twitter: http://twitter.com/soshified for the latest on Girls' Generation.