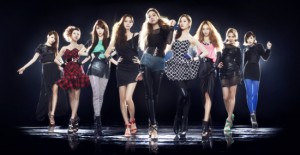 How did Girls' Generation capture the world?
Cable channel SBS E!TV "StarQ10" looked into the charms of Girls' Generation, who has been leading the Hallyu wave in various countries around the world.
With many samchon fans in Korea, Girls' Generation has gained the nickname of "president of the army". They have also been called the "pretty leg group" in Japan, becoming known as the leaders of the Hallyu wave.
Also, when plans were revealed of an American/Canadian Girls' Generation fanclub called Soshified (Editor's Note: For whatever reason, the Korean media generally never seems to acknowledge Soshified as having international members, and they just think of us as being Americans) organizing a field trip to Korea for 100 of its members, it showed just how popular the group actually is.
During this broadcast, along with showing proof of Girls' Generation's worldwide popularity, they will also be looking into 6 keywords behind "SM idol groups drawing a new Hallyu map with K-POP".
Source: Nate
Translated by: ch0sshi@soshified.com
Edited by: michaelroni@soshified.com
Have a news item that you think Soshified should know about? E-mail us at tip@soshified.com.
Follow us on Twitter: http://twitter.com/soshified for the latest on Girls' Generation.