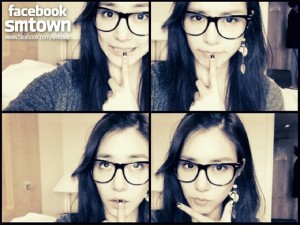 [Remaining Story in Paris] TIFFANY! TIFFANY! TIFFANY! She's super lovely even without makeup~!!! TIFFANY sent us this photo to express how she loves fans all around the world~!!! Thank you, TIFFANY! Also, she looks so smart with the glasses~! [from FACEBOOK SMTOWN Staff]

Going strong with their commitment to keep updating their artists' lives through their Facebook, SM Entertainment has posted two new pictures of Tiffany on the SMTOWN Facebook page (www.facebook.com/smtown).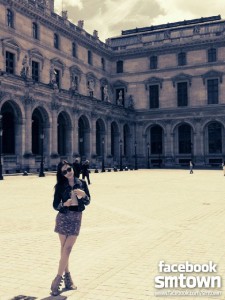 [Remaining Story in Paris] TIFFANY! We finally realized that… Paris is TIFFANY's city~!!! This photo is an art!!! What do you fans think~? [from FACEBOOK SMTOWN Staff]

Both pictures feature Tiffany in Paris, attracting the fans' attention as Tiffany was the only Girls' Generation member featured today so far on the Facebook page. The first photo shows Tiffany with her glasses, showing the look that made her earn the name "Nerd Fany". The second shows Tiffany posing very casually in front of the Louvre Museum, making fans agree to the caption of the photo.
What do you think of the new pictures posted?
Source: SMTOWN Facebook
Written by: spiceshoe@soshified.com
Have a news item that you think Soshified should know about? E-mail us at tip@soshified.com.
Follow us on Twitter: http://twitter.com/soshified for the latest on Girls' Generation.