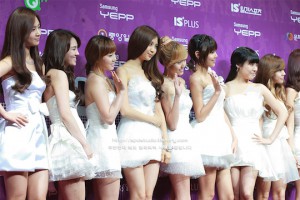 Girls' Generation have topped a survey by Jamsil S-Neurosurgery clinic that asked which girl group had best self maintenance to avoid shoulder injuries common amongst girl groups.
In the week-long survey, participants were asked "Among girl groups that have outstanding choreography, who do you believe are 'Shoulder Girls' who take good care of themselves to avoid injury?". Girls' Generation won with a clear majority of 52.2% and were hailed as the best "Shoulder Girls". They were followed by Orange Caramel with 14.2%, Sistar with 12.5% and T-ara with 11.1%.
Head of S-Neurosurgery, Dr. Yang Seungmin, believes that the survey shows which girl group the public think take good care of themselves. "Many girl groups are assumed to face the risk of injury. However, the participants have managed to select groups that are able to be active without any great injury, which led them to believe that they were the best at taking care of themselves," he said.
Dr. Yang also revealed that many idol group members have received treatment in 2010 due to shoulder and back pains from their activities. It is common for idols to be performing while in pain due to Shoulder Impingement Syndrome.
"They perform choreography that will please their fans which ultimately result in injuries to shoulders and back. For a group that travel in and out of the country like Girls' Generation, there is a deep recognition that the group avoids injury through consistent exercise and practice," Dr. Yang explained. This belief and trust in Girls' Generation is the result of the group's devotion to giving the fans the best performance possible all this time.
With this survey, public perception of the girls is clearly on a positive rise as their hard work and dedication are being recognized by the public. What do you think about the results? Share your thoughts!
Source: cjinews
Translated by: oniontaker@soshified.com
Edited by: doe@soshified.com
Contributor: cedge
Have a news item that you think Soshified should know about? E-mail us at tip@soshified.com.
Follow us on Twitter: http://twitter.com/soshified for the latest on Girls' Generation.