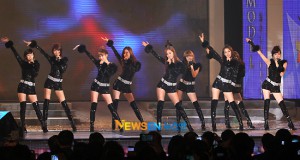 Girls' Generation appeared at a festival held at Hanyang University.
Girls' Generation has been appearing as a hot issue on online communities, such as Twitter and other social networking services. This is because Girls' Generation was on stage at the Hanyang University Festival that took place on the 17th.
That day, Girls' Generation performed "Gee", "Run Devil Run", "Oh!", "Hoot", and other hit songs, providing excitement at Hanyang University. Girls' Generation called for an especially loud cheer when they said they flew in to Korea during the middle of promotions in Japan just so they could attend this university festival.
There was also a huge response to Girls' Generation's performance.
One netizen said, "I never knew I'd come back to a school from which I've already graduated at this age just to see Girls' Generation. I've never followed a celebrity before, but I waited three hours just to see Girls' Generation and I still had a difficult time getting to the front."
This person also made people laugh by saying, "The male students' lion-like roars on May 17th will be forever remembered as a victory cry for Hanyang."
Another netizen said, "I thought Hanyang was going to collapse. As soon as the girls came out on stage, it's like every student lost their minds." He continued by saying, "I witnessed for myself the army-like chanting in unison, especially during 'Gee'."
This person continued, "The crowd was so intense that it's just a relief that nobody got trampled and killed. The crowd was great for YB as well, but to be honest, Girls' Generation took the cake that day."
On another note, Girls' Generation will start their first Japan tour in arenas with 10 shows in 6 cities starting with Osaka on the 31st of May. On June 1st, their first Japanese album "Japan 1st Album–Girls' Generation" will go on sale.
Source: Nate
Translated by: taengbear@soshified.com
Edited by: residentbenchwarmer@soshified.com
Contributor: 오이사랑싴@soshified.com
Have a news item that you think Soshified should know about? E-mail us at tip@soshified.com.
Follow us on Twitter: http://twitter.com/soshified for the latest on Girls' Generation.