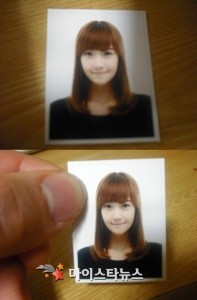 Recently, Jessica's ID picture has been posted in forums and fan cafes, and netizens are showing interest.
The photos, which are Jessica's national identification photos, show her with her trademark brown hair and wearing a black T-shirt. Her natural smile shows no rigidity, making people notice her remarkable beauty.
After seeing the picture, netizens showed positive reactions, such as, "Her smile is no joke. She's so pretty", "Where did her chicness go? She's a smiling angel", "She's prettier when she smiles", "The person who picked this picture up hit the jackpot", "Did this person find this picture at the picture shop and ask to keep it?", "Forget about my ID picture", and "I want to have it."
Sources: Fnnews.com, Nate
Translated by: jreddevil07@soshified.com
Written by: residentbenchwarmer@soshified.com
Have a news item that you think Soshified should know about? E-mail us at tip@soshified.com.
Follow us on Twitter: http://twitter.com/soshified for the latest on Girls' Generation.