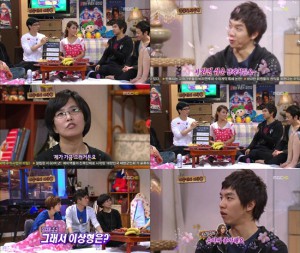 Singer Lee Seunggi still claims Yoona to be his ideal type.
On the 2nd of May broadcast of MBC Yoo Jaesuk and Kim Wonhee's Come to Play, Lee Seunggi indirectly said Yoona was still his ideal type. He started by saying he was an easy guy, and that he still doesn't understand why people hesitated in getting close to him.
MC Kim Wonhee then continued by asking about his ideal type, which revealed that Lee Sunhee asks Lee Seunggi occasionally, "Isn't Girls' Generation's Yoona pretty?". Lee Seunggi would often utter a short "Yes," not followed by any information.
Hearing those words, Lee Seunggi said, "Yoona is really good and pretty. But if I answer that, it would just bring up more questions. I think it's because I've been active since I was young, so I don't have an instinctive defense mindset."
Following that, Kim Wonhee asked, "So who's your ideal type?" in which Lee Seunggi responded, "I like those who have the same style as Yoona."
This is not the first time Lee Seunggi has claimed Yoona as his ideal type—he has revealed this information a few times before.
Source: Nate
Written by: spiceshoe@soshified.com
Contributor: JeremyJay22
Have a news item that you think Soshified should know about? E-mail us at tip@soshified.com.
Follow us on Twitter: http://twitter.com/soshified for the latest on Girls' Generation.