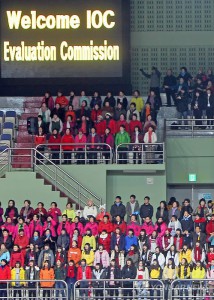 The National Chorus of Korea will perform in Pyeongchang, Seoul and New York in hopes of attracting attention to Korea to house the 2018 Winter Olympics.
On May 3rd, World Harmony representatives announced that the '2018 Pyeongchang Winter Olympics National Choir Bid' event will last for two hours at the Seoul Plaza, the Pyeongchang Alpensia Ski Jump Park and New York simultaneously.
The event will see the participation of 2,018 people in Seoul and Pyeongchang, as well as more than 200 choir members in New York. The involvement of 2,018 people represents the year 2018, making the numbers highly significant.

The National Chorus of Korea will sing under the conductor Jung Myunghoon. The choir in Seoul will perform 'Triumphal March' from the opera 'Aida', Pyeongchang will perform a Korea's folk song 'Pyeongchang's Dream' while the choir in New York will perform songs like 'I Have A Dream'. Finally, all the choir groups will sing together with the public to songs 'Symphonic Fantasia Korea' as well as 'Arirang'.
Someone associated with World Harmony said that "They are planning to compose a grand chorus and to register this record into the Guinness Books. On May 7th, they will send a chorus of 20-30 choir members to the site of the IOC (International Olympic Committee) Session in Durban, South Africa to attract attention there as well".
At the event, famous artists like Girls' Generation, CNBlue, In Sooni as well as well-known sports athletes are expected to make an appearance.
Stay tuned for more updates on the event!
Written by: shizzles9@soshified.com
Contributor: kpxsammyboy@soshified.com
Source: Nate
Have a news item that you think Soshified should know about? E-mail us at tip@soshified.com.
Follow us on Twitter: http://twitter.com/soshified for the latest on Girls' Generation.