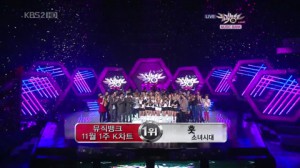 Our friends at the Korean Cultural Center of Los Angeles (KCCLA) are proud to announce that they are holding the 1st Los Angeles K-Pop Contest for Non-Koreans!
That's right, all you American fans, in this event co-hosted by KBS World, you just might win a chance to fly to Korea; get a free pass to see Girls' Generation on KBS' music show, Music Bank live; and an access to Mvibo aka Korean goodies heaven!
Eligibility
Applicants have to be 1) non-Korean who doesn't have Korean as their first language and 2) willing to make a trip to Korea if an air ticket gets rewarded. Please note that only ONE ticket will be given no matter how many people there are in one group.
Schedule
To start off, download the application here, and fill it in. Along with a demo CD/DVD that briefly introduces yourself, mail it to:
Korean Cultural Center, 5505 Wilshire Blvd, Los Angeles, CA 90036
Attn: K-pop Contest
Be sure to mail it before the 20th! The people who made the cut will be announced on the 28th via the KCCLA website.
The first round will be on the 14th of May, 2011 at the Korean Culture Center, where you can perform any kind of K-Pop song! Make sure to give it your best shot in front of the judges, and your name just might be announced as one of the finalists on the 16th of May.
The second round will be on the 27th of May, and finalists will compete on an even larger and professional stage, which will be recorded by KBS America to be aired on KBS.
Prizes
The first winner will receive a round-trip air ticket to Korea, and access to see Music Bank live. You never know when Girls' Generation would make a sudden comeback in Korea, and you just might get lucky! Not only that, you can also have a free access to Mvibo, where you can download all sorts of dramas, movies, and music videos for one whole year. If the 1st prize winner is a group of more than two, the other members (who do not receive the air ticket) will be given a Korean restaurant coupon worth $200.
The second winner will receive more than 20 assorted K-Pop CDs, $200-worth coupons to a Korean restaurant in LA, and free access to Mvibo for 6 months!
The third winner will receive $200-worth coupons to a Korean restaurant in LA and free access to Mvibo for 3 months!
Last but not least, for the participant(s) who receives the best response from the audience, the Shining Star Prize, will be awarded a CGV Cinema voucher (worth $150) and free access to Mvibo for one month!
So, what are you waiting for? You can start trying to win this opportunity of a lifetime by downloading the application here! Good luck!
Written by: spiceshoe@soshified.com
Have a news item that you think Soshified should know about? E-mail us at tip@soshified.com.
Follow us on Twitter: http://twitter.com/soshified for the latest on Girls' Generation.